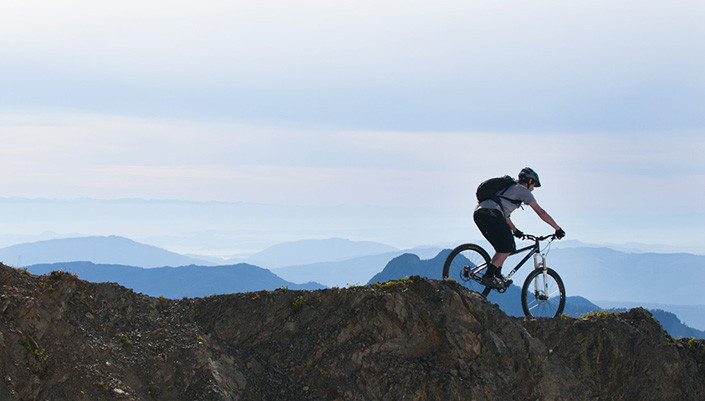 The hardtail has come a long way over the years, so we think you should buy one!
Bikes can be expensive, especially when you have your eye set on something like a brand new 1x11 Eagle equipped, full carbon Trek Remedy. It's no lie, the likelihood of spending more on bikes and bike gear has increased dramatically over the past decade and those out there who are looking for a good do-everything bike for a decent price are finding themselves unable to afford the bike they need.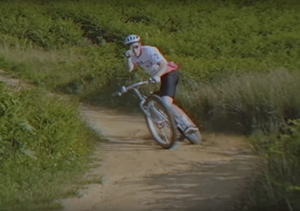 Can someone please tell Chris Akrigg it's not 1988?
image: ridestoke.com
So, what do you do if you have a modest budget and want a trail bike that can do it all? Simple - buy a hardtail.
Before you scream "What is this 1988...?" Yes, we understand you were just looking for the next best thing to that full suspension carbon dream ride, but, hear us out. Even though all eyes have been on the evolution of the carbon full suspension trail bike, the humble hardtail has become quite evolved as well.
Many of us are looking for a new, fresh take on riding bikes, but maybe what we need is to remember the lost art of the hardtail. Here are a few reasons why you should buy a hardtail for your next bike.
Geometry
---
No, it's not like high-end aggressive hardtails went extinct after the introduction of the first Santa Cruz Blur, but they almost did. Brands like Kona, Santa Cruz, and Surly did have aggressive trail hardtails available. In fact, Kona had an entire line (Scrap, Scab, Shred, Stuff, Hoss, Chute, etc.), but they were still lacking something to make them rival newer full suspension trail bikes of the time.
That missing something was proper geometry. To be properly usable out on the trails a bike needs relevant geometry, and for more aggressive riding this means a slacker head tube, shorter back ends, and lightweight, yet strong construction. Full suspension trail bike development has really helped define what makes good trail geometry, and subsequently, the hardtail has adopted these changes in geometry. Back when Kona had its line of aggressive trail hardtails, the frames were toughened up and so were the components, but they were still based around Kona's recreation bike geometry. The head tubes were too steep and the rider's position was upright, and although they were built to be ridden on the trails, there was still a huge difference between a Kona Stuff and a Santa Cruz Bullit when pointed down the trails.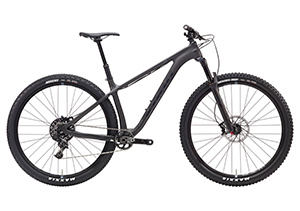 Modern trail hardtails now share geometry with their full suspension counterparts. The Kona Honzo shares similar geometry with the Kona Process 111, making it feel just as capable on the trails as the full suspension bike costing 3 times the amount. In fact, new geometry has made trail hardtails a heck of a lot of fun. Combine the Honzo's geometry with a top tier build kit and you have a hardtail that will keep up on any ride!
Newer trail development has seen the addition of more flow in trails, and when you thread the needle through a tech line on a hardtail, the feeling is second to none.
All about the wheels
---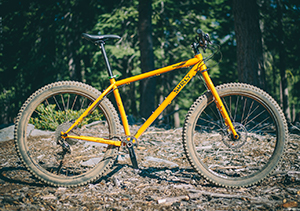 The wheel debate has been flogged to death over the past couple years, but one positive aspect of all the various wheel sizes is their effect on the humble hardtail. When manufacturers first started introducing the larger wheel sizes they did it with hardtails. In fact, the Surly Karate Monkey was one of the first production 29'ers available. Now, the Karate Monkey is compatable with both 27.5+ and 29" wheels. Today's wheel choices of 26", 27.5", 29" and Plus can all be found on hardtails and are are often interchangable on a bike with the addition of sliding dropouts.
Many of today's trail hardtails are actually utilizing multiple sizes in wheels. For example, the newest Surly Karate Monkey can take 27.5 wheel with Plus size tires up to 3", or you can run 29" up to 2.5". This allows the rider to have multiple ride options for themselves with one bike and one build kit.
If you haven't ridden Plus yet, it is fun! The only thing that makes riding Plus more fun is riding it on a hardtail. The extra cushioning from the tires, combined with the increased grip, make the standard hardtail ride significantly better. The changes in wheel size can affect bike geometry so that with different sized wheelsets you can maximize your performance between AM and XC.
Fun
---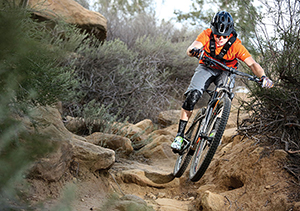 Many of us who follow the industry trends are lost and we don't even know it. With all the new improvements found in bikes, we often find ourselves thinking too much about those improvements and not enough about how much damn fun it is to ride a bike. Riding a hardtail will refresh this in your mind and will free you to focus on nothing but the trail and your love for riding. No time is spent flipping switches to make sure your rear shock is in the right setting or on trying to feel out if your rear shock is topping out a little at the end of its stroke...
Riding a hardtail as hard as a modern full suspension takes some skill, yes, but when you do... the feeling is pure joy.
Value
---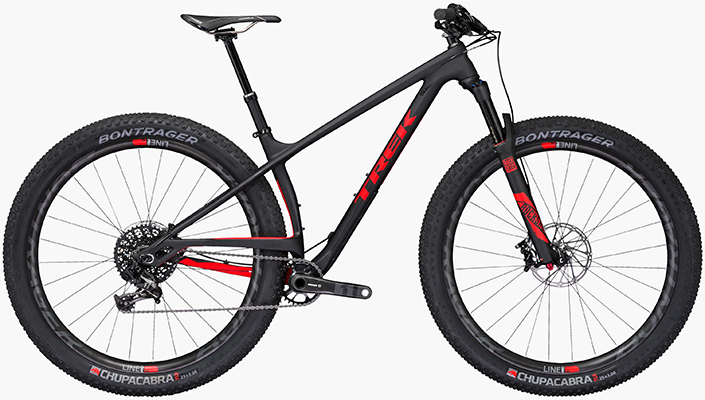 This ultra high-end Trek Stache comes at the same cost as a mid-grade full suspension mountain bike.
When I was working the sales floor and a customer was looking at entry level full suspension bikes, I would always show them what their money could buy them in a hardtail. $2500 won't buy you anything special in the full suspension market, but it can afford you dozens of options in high-end hardtails.
Often, we get convinced that we need the best of the best - with a hardtail you can, just without the rear suspension. For around $2500, you can get a Kona Honzo equipped with SRAM's new NX 1x11 drivetrain, RockShox Yari fork, and a KS Integra dropper post. Take a look at our Best XC Full Suspension Bikes for $1500-$3000 article and you will see you need to spend at least $3000 before you get that level of dropper post on a full suspension bike. Keep in mind you can spend upwards of $4600 on a Trek Stache hardtail, or even $4200 on a Chromag Surface 29 hardtail, but those may not be the most value minded decisions. Still, if you're in the market for a bike in the $1500-$3000 range, you'll find great options and value in hardtails.
Another thing hardtails give you is choice. You get the choice of frame materials, build kit, and wheel size, all depending on your budget. If you want something different than basic aluminum, you can find carbon, steel, scandium, and titanium frames. These choices are the root of all value as they allow you to allocate your budget to buy the bike set up you like.
So, if you're looking for something new, something to make riding fun again, then get an old fashion hardtail. And if you're still not convinced by me, I'll let the guys at Transition Bikes talk some sense into you with this video: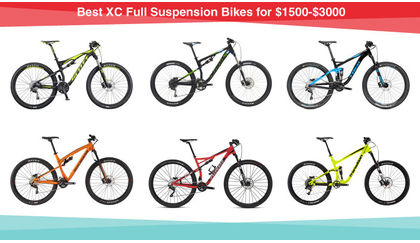 Looking for a new XC bike can be confusing and expensive so we thought we would stream line the process for you!
BikeRoar
has 6 best full suspension XC bikes from...
READ MORE

2016 was a good year for big breakthroughs in the bike industry
BikeRoar
selected the most innovative...
READ MORE