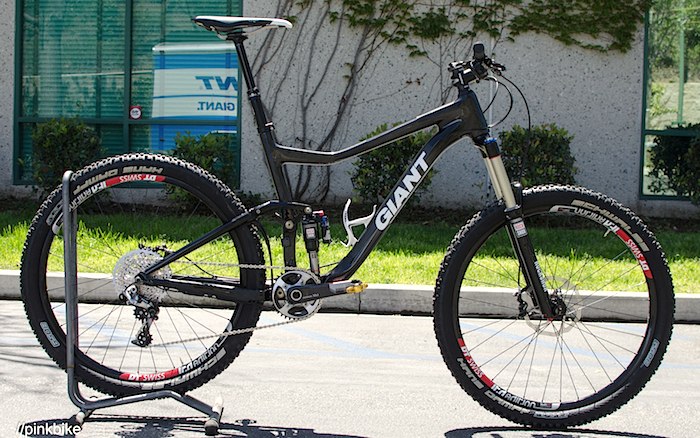 Source: pinkbike
I have been involved in MTB as a consumer and a bike shop professional for many years and can honestly say there has never been so much choice. Back in the 90's when suspension started getting good we began seeing the rise of the dual suspension bike, then in the early 2000's the market erupted with a plethora of new designs each with its specific purpose.
We have hardtail, dual-suspension, XC, trail, all-mountain, gravity and downhill, fat bikes....and even that is a broad picture. On top of all this, manufacturers also started marketing "one bike to do all", like a Yeti 575 and the rich variety of 5-6" travel bikes with adjustable suspension.
Not long after that the 29er appeared. That was many years ago, and the debate still rages as to which wheel size platform is best. I have noticed a steady decline in the number of 26" MTB's being built by some major manufacturers, particularly in the XC and trail market. The 29er has embedded itself successfully into the MTB community...and rightly so.
To confuse things even further, we now have another wheel size: the 27.5" (or 650b). I have created a simple diagram to give a general picture of the positives and negatives of each wheel size. This is a very broad overview. For more detail checkout our other articles "26 or 29 You Choose" and "An introduction to 650b".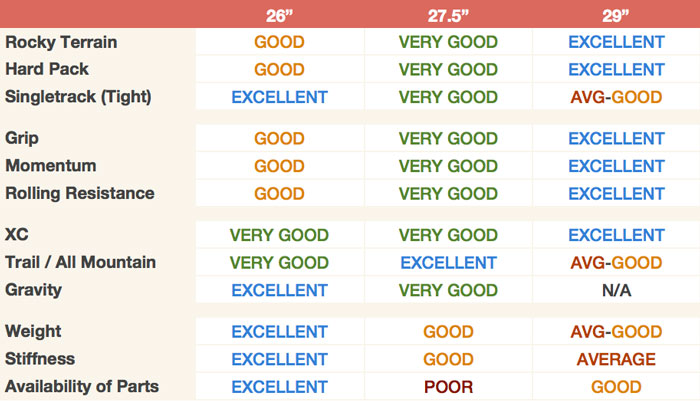 A comparison table of different MTB wheel sizes
Of interest in this table is the N/A under 29" for Gravity. This is quite simply because the 29er hasn't really been used in this area yet. Also the only "POOR" is under 27.5" for Availability - this is because new bike shops are not really stocking parts yet.
This leads me to wondering about other effects of introducing another wheel size to the MTB market. We asked industry leader DT Swiss about this and received the following reply:
"...we believe that the further development of different wheel technologies is certainly a plus for the consumer and the IBD as it shows that the industry is not sitting still, and that these developments (although they can be somewhat confusing for the end consumer and logistically challenging for the members within the supply chain) ultimately give consumers better choices of product that enhance their specific riding and performance needs. People come in all shapes and sizes, as does riding terrain.."

- Chip Barbieri, General Manager (US), DT Swiss
With respect to DT Swiss (who make some awesome gear it must be said!), this is a fairly typical response. The consumer is certainly not lacking in choice! and these choices equate to more and different products, a bigger market and increased growth. What wheel manufacturer wouldn't approve?
I think DT Swiss should be commended on recognising the difficulties this leads to for the "end consumer" and "members within the supply chain". As an ex-LBS employee, the holding of stock was always an issue and also the difficulty in providing a bike at the point of sale.
A massive choice is great for the consumer, but isn't it leading people to purchase from online stores rather than a local bike store (find your closest local bike store). An online store can hold a ton of stock, hidden away, without the cost of merchandising and using premium floor space. Hopefully your local bike shop will be able to accomodate all those MTB riders "keeping up with the Jones's"...surely in the end this is the attitude that drives new, bigger, better, shinier product?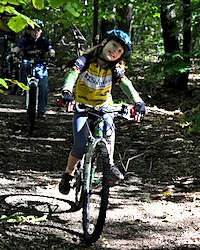 To most people it does add to unnecessary confusion. "You want a trail bike right? So 120mm or 140mm travel? Or adjustable between 100 and 150mm? Do you want that in a 26, 27.5 or 29" wheel?" You get the picture. For a large majority of people who just want to ride for the love of it, I get the feeling we are becoming lost and taking ourselves a bit too seriously. Where's the joy of the ride?
The industry is definitely not sitting still, though I think it is arguable whether there is room for three wheel sizes in MTB. For general mountain biking the difference between a 26" and 27.5" wheel is negligible, so is there room for both to survive in the long term? Only time and the market will tell.
Share your thoughts with BikeRoar in the comments below...