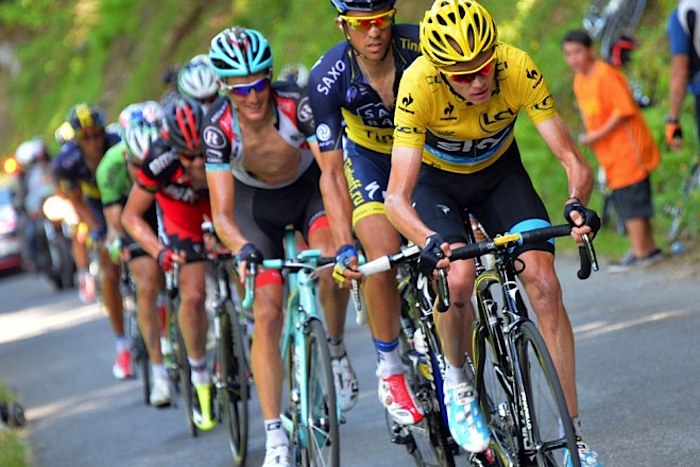 Credit: Graham Watson
When we originally came up with the idea of a "crystal ball" view of potential outcomes following the final TT, we never would have though one rider would be so totally dominant across the board. Chris Froome has been supreme in the mountains, time trials and even descending (which was questioned). Even Contador at his best did not seem so untouchable. Looking back it will be the stage to Mont Ventoux that highlighted the strongest man in the 100th Tour. In the words of Alberto Contador:
"It's true that my aim was to win the race but it's also true that the leader is on a level above everyone else and in a face-to-face battle, it's impossible to beat him..."

- Alberto Contador
 
So now we have the Alps to ride before finishing in Paris, which first up features a double ascent of Alpe d'Huez. Here are the 17 mountain passes yet to be tackled:
Hors Categorie x 5, Cat 1 x 3, Cat 2 x 5, Cat 3 x 4.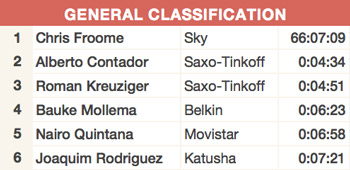 Overall current standings
Perhaps this is the toughest three days in the Tour in recent memory, and even though it looks like Froome has the top of the podium covered, there is less than 20 seconds separating second and third and only slightly more between fourth and fifth. The current positions second to sixth contain three of the best climbers in the world.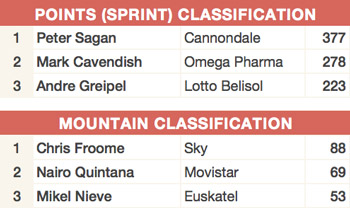 Current standings in points & mountain
These three stages will really show who has recovered the best after two and a half weeks of hard racing. There will be some tired legs and a spectacle of exploding riders splattered over the French Alps! This has been a great Tour and although not as thrilling as 2011 when it came down to the penultimate day's TT, it certainly has been more exciting than the 2012 three week yawn.
---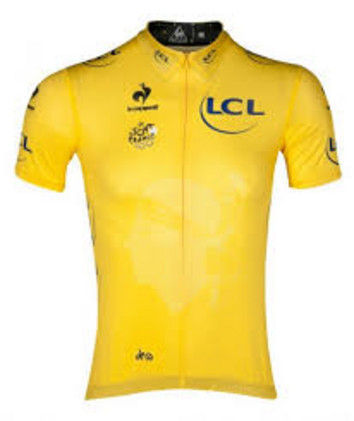 Yellow Jersey crystal ball
It doesn't take a genius to see that Froome will wear the yellow jersey in Paris (barring some catastrophic mishap). I have loved watching him race and I think he's a most deserved winner. Even with the Saxo-Tinkoff duo in the next two positions, Froome has shown he is able to meet the challenge in the mountains, especially with super domestique Richie Porte who blew the race to pieces on the Ventoux.
The race will be for minor placings. I look forward to seeing Quintana and Rodriguez battle for a stage win and even perhaps a podium place. My prediction for Paris: 1st Froome, 2nd Contador, 3rd Quintana.
---
Green Jersey crystal ball
The green jersey race is over with Sagan again being too strong. He picked up points in the intermediates, used his versatility to get away on hilly stages, and has managed to pretty much wrap up the points classification.
It will stay as is, although I pick a great sprint for the Champs Elysees on Sunday night between Cavendish and Greipel. Cavendish to win again on the day. Sagan for green overall.
---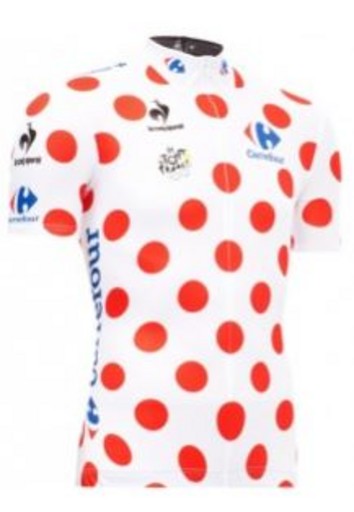 Polkadot Jersey crystal ball
The polkadots could be interesting in light of the Alps ahead. Froome (currently first in KOM) has already won two mountain top finishes and could do so again, although the climbers further down will be going all-out for a stage win and the jersey. I'm not sure if Rodriguez has it on the really long Alp climbs and is too far away on points anyway to trouble Quintana.
Froome will keep top spot, but the jersey race will go to Quintana. Even if he doesn't win the polkadot, he will still walk away with a white jersey and the young rider classification.
---
What do you think? Share with us your own predictions for stage wins and the jerseys on Sunday.