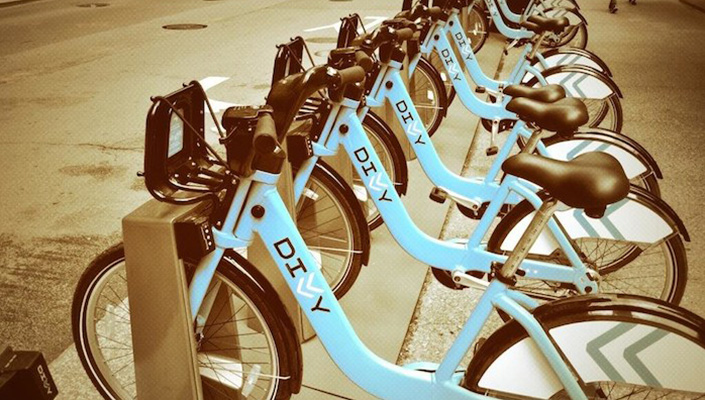 Photo: Divvy Bikes
When traveling to a new city, should you check out a metro bike or rent from a bike shop?
From Barcelona to Beijing and Melbourne to Montreal, bike share stations are popping up all over the world. According to the Mineta Transportation Institute, 172,070 people rode metro bike shares last year. Bike sharing is where you can pick up a bicycle at a self-service station in one part of town and return it to another. So if you're traveling to a new city, should you rent from the bike share or a bike shop?
CHICAGO
---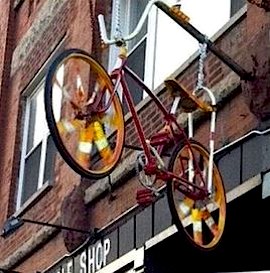 Photo: Rapid Transit Cycleshop
One of the newest bike share programs, Divvy Bikes started operating in the Windy City in late June. Right now, there are 750 bikes at 69 stations around Chicago. By spring, the city hopes to have 4,000 bikes at 400 stations. You can get a bike any time, any day. A 24-hour pass costs $7, often cheaper than a city cab. But if you ride for more than 30 minutes at a time, you will be charged extra. The bikes have three speeds, a bell, front rack and LED-powered lights.
When you're done, just place it in the Divvy dock. This type of bike is ideal for commuters or running errands. If you want to ride up and down Lake Michigan, then you might try Rapid Transit Cycleshop in Wicker Park. You can rent an upright comfort bike or cruiser for $25 a day. According to Ronnie, the mechanic, the bikes are not fancy, but at least you can find one that fits.
DENVER
---
It's no surprise that one of the fittest cities in the world has a bike share program. In Denver, Colorado, it's called B-Cycle. B-cycle says the average commuter spends 50 hours each year stuck in traffic, reason enough to rent a B-cycle. But it also claims that the average user loses 13 pounds their first year riding these bikes. More ambitious cyclists should rent from Bicycle Doctor on the corner of 9th and Broadway.
"We target to people doing triathlons and organized rides... those who want quality bikes. We remain competitive so that people can ride 100 miles of paths we have in Denver. On B-cycle, they can do that, but they're going to pay a lot more."

- Matt Hupperts, owner of Bicycle Doctor
Bicycle Doctor rents cruisers for $20 a day. Similar to Divvy Bikes, B-Cycle starts at $8, but you pay additional fees once you ride more than 30 minutes.
FRANKFURT
---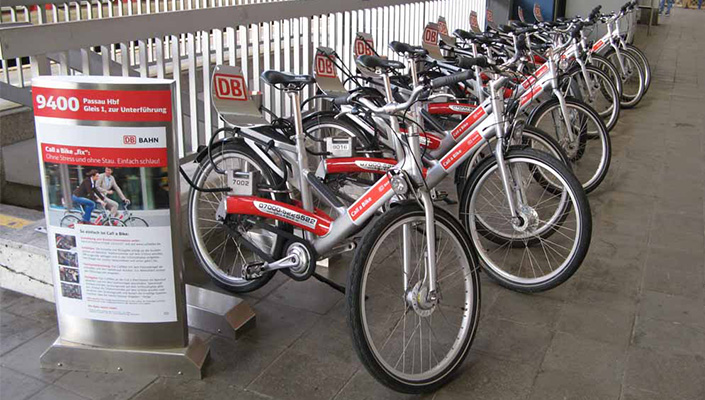 Photo: Call A Bike
Take the train to Germany's main transportation hub and hop on a Call a Bike. You'll find the bikes docked outside the train station. For €15, you can spend the day riding along the Main River bike path. The bike share program here is focused on tourists, so you'll be in good company. One of my best days in Frankfurt was riding the Call a Bike on the river trail. I put my backpack in a locker at the train station and hopped on a bike in a skirt and sandals. With all the walking I did around Germany, it was refreshing to be on a bike. There are a few shops that rent bikes, but finding them is a bit more difficult.
MIAMI BEACH
---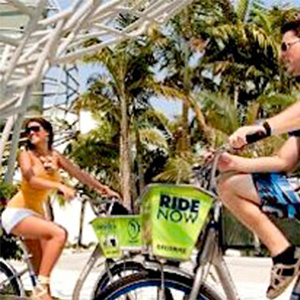 Photo: DecoBike
It's hard to miss DecoBike along the main strip in Miami Beach. The lime green and navy blue bike stations are located close to every hotel.
The silver bikes are one-speed comfort bikes with a basket, meant for your picnic lunch and beach towel. The seats are adjustable, but you have to take care of that yourself.
Danny's independent bike shop offers different kinds of bikes for the same price as the Decobike, $24 a day. But you can get a nicer road bike at the shop, which also provides helmets and locks.
"When you're there, you're dealing with a machine. When you're here, you're dealing with a human being."

- Danny Ruiz, owner of Miami Beach Bicycle Center
Danny's independent bike shop offers different kinds of bikes for the same price as the Decobike, $24 a day. But you can get a nicer road bike at the shop, which also provides helmets and locks.
NEW YORK
---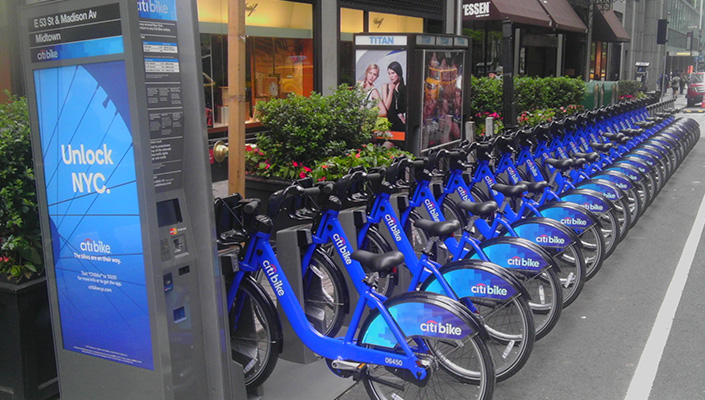 Photo: City Bike Share
The Big Apple's new Citi Bike program is ideal for commuters and locals, but not for the average tourist. As with everything in New York, you'll pay big city prices. You can rent a Citi Bike for about $10 a day, but will be charged $12 a half hour, each time you ride over 30 minutes. Tourists who want to ride around Central Park would be better off renting a bike from Central Park Bicycle Shop for $35 for the entire day. A ride around the park can take up to two hours, and it can take several minutes to put the metro bikes back in their docks.
---
Pros and Cons of City Bike Programs
THE GOOD
Great alternative form of transportation.
Designed for locals commuting to work or for running short errands.
Metro bikes can be rented any time or day of the week, when some bike shops are closed.
Easy to find rental stations with the help of online maps.
Annual passes may save you money, but you still need a credit card to pick up the bike.
Cheap, but only for short commutes.
THE BAD
Many programs in the U.S. have limited ride time. You are charged extra if you ride more than 30 minutes at a time.
The bikes do not come with a helmet or lock.
Bikes are one-size-fits-all.
Bikes are heavy and not made for workouts.
If there is a technical problem with the credit card or kiosk, there may be a call button, but no one physically there to help.
There may be age restrictions - in some cities, you must be over 16 to rent the bike.
May take some business away from local bike renters.
Pros and Cons of Renting from an Independent Dealer
THE GOOD
Unlimited amount of ride time for day rentals.
No limit on where you can ride.
Choose what type of bike: comfort, cruiser, road or mountain.
Ideal to get a bike that fits your body type, rather than a one-size-fits-all.
Best bet when you need a bike for exercise.
Most rentals include a helmet and bike lock, and some even supply lights and a basket.
Deal directly with local people who can help with questions and guide you to the best places to ride.
THE BAD
If you only plan to use the bike for a short time, then it may not be cost effective to rent from a dealer.
You may have to rent a bike for more than one day, if you want it before or after the shop is open.
Some bike shops don't rent their bikes, so it can take some time to find a bike shop that does.
The Bike-Sharing World Map:

View The Bike-Sharing World Map in a larger map
---
Have you used a City Bike service before? Let us know what you prefer (and why) in the comments below...