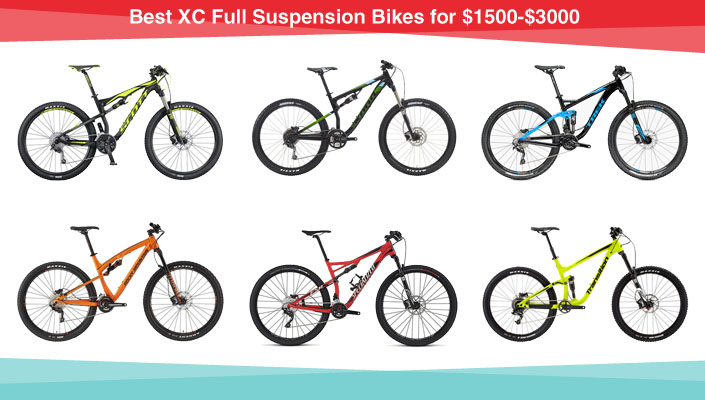 Best XC Full Suspension Bikes for $1500-$3000 by BikeRoar
Buying an entry level full suspension bike can feel overwhelming. There are plenty of bikes to choose from, but all seem to come with some significant compromise. Finding the precarious balance between performance, durability, and value could be akin to finding the holy grail. If a company managed to pull it off, and find the balance, they could live forever as the people's champion, immortalized in the hall of MTB heroes.
With that being said, it's rare for people to start anywhere else than at the entry level. We at BikeRoar thought long and hard about what entry level bikes are the best for you the consumer to spend your hard earned money on. Picking any 'best of' list is always a difficult task, there is never a standard rubric for judging all bikes, but for us we based our judgement purely on what's best for the consumer. Features, price, durability, and performance were top of our mind when thinking about all the bikes on our list.
---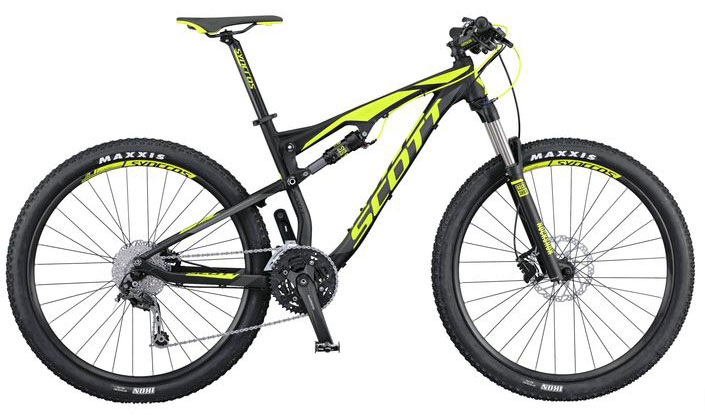 Scott managed to pack a lot of value into the 2016 Spark 960
Using the same geometry as its carbon siblings, the Scott Spark 960 is reasonably light weight and durable. The Scott Spark 960 allows you to easily change the BB height and head tube angle thanks to a flip chip in the linkage. The 120mm RockShox 30 Silver TK Solo Air gives you both rebound adjustments and the ability to lock out the fork. X-Fusion made a proprietary rear shock for Scott that rides surprisingly well out of the box for a bike of this price. The shock features remote controlled 3-way adjustments and on the fork rebound control giving the rider lots of on-the-fly adjustability.
The rest of the build kit on the Scott Spark 960 is comprised of Syncros and Shimano product - nothing to write home about, but it all does a decent job. The real value in the Spark 960 is in the fact that it shares the exact same adjustable geometry as its higher end carbon incarnations. Nothing makes a bike feel more entry level than bad geometry. With the Spark you get a proper backbone that you can build upon over the years. Adding a SRAM NX drivetrain and a dropper post would be a good start.
Pros:
Adjustable geometry
Remote shock controls
Cons:
Obsolete 3x drivetrain
No dropper post
---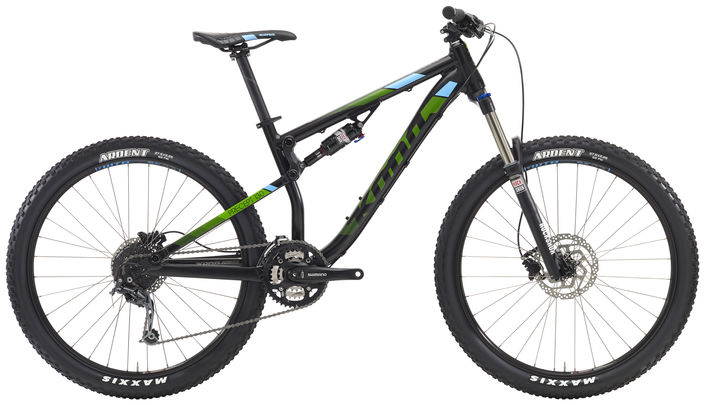 Value and durability are the main strengths of the Kona Precept
Kona's entry level 27.5 full suspension truly is hard to beat. It takes geometry cues from its big brother the Process 134, making in one of the few out-of-the-box shred machines offered at this price point. 130mm of travel, reliable, and consistent Swinger Independent Suspension design, combine with through axles front and rear, the Precept 130 is the perfect budget bike for those looking to ride hard without much fear. The Precept climbs decently, but it really comes to life when you ride it hard over aggressive terrain. The Swinger suspension works quite well at smoothing out the rough stuff and the front-and-rear thru axles keep this entry level bike quite stiff.
The Precept 130 features a Shimano Deore/LX level componentry kit, fantastic RockShox Monarch R DebonAir rear shock. And a RockShox Sektor Silver TK Solo Air fork. With a 68-degree head tube and relatively short 425mm chain stays the Precept is a fun, lively bike that will no doubt leave a smile on the face of a first time rider.
The Precept does have its compromises though. Yes, it is a little heavy, yes, it's not the best climber, the Sektor fork is a little lack lustre, and the 3x9 drivetrain is obsolete. BUT all of this can be corrected, or more importantly, you're not wasting money upgrading the Precept 130. SRAM's new NX drivetrain would fit perfectly on the Precept, as would RockShox Revelation fork.
Pros:
Durability
Monarch R DebonAir rear shock
Cons:
Obsolete 3x drivetrain
On the heavy side
---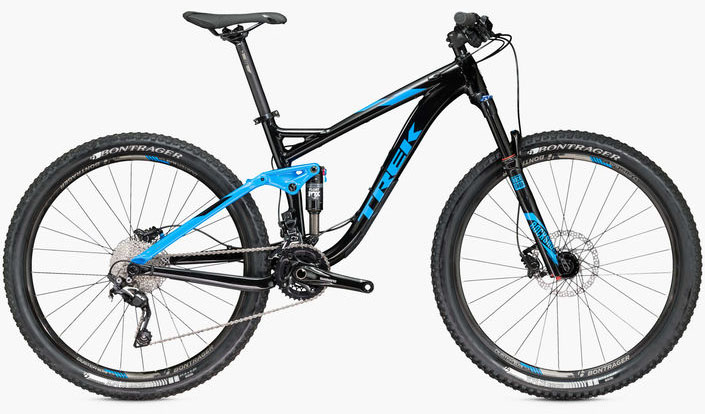 The Trek Fuel EX 7 makes comes in both 650b and 29"
The Trek Fuel pretty much makes everyone's best-of list every year and it's easy to see why. Trek uses its patented ABP pivot to have a full floating 120mm of travel. This means you get active suspension whether you're using the brakes or not. Combine ABP with a free floating rear triangle and you get an plush, active suspension that can perform over chatter, on big hits, and under hard braking.
The Trek Fuel EX comes in both 27.5" and 29" and is supported by a Shimano Deore/SLX 2x10 drivetrain and brakes. The rims are Bontrager tubeless ready Duster Elite and they use Bontrager XR3 Expert tires making for a fantastic stock wheelset for the price. The factory spec'ed RockShox Revelation SL Solo Air is a decent fork with all the controls you would need for a bike like this. The proprietary Trek Float EVOL rear shock has the ability to make the 120mm of travel feel like 140mm with its small bump compliance and ability to soak up big hits.
The Fuels Alpha Platinum aluminum frame comes with some surprising refinements in the internal cable routing, including a spot for a stealth dropper, and a replaceable, and functional, down tube guard.
Pros:
Trek Float EVOL rear shock
Frame construction and refinements
Cons:
Not as durable as others on this list
No dropper post
---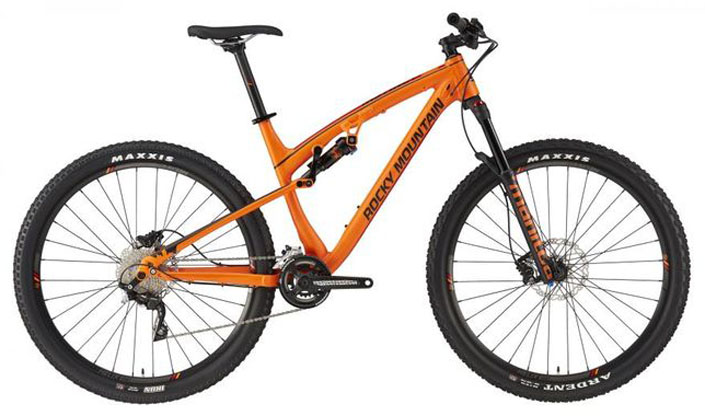 The infinitely adjustable Instinct is the perfect bike for any rider
Rocky Mountain's Thunderbolt, Altitude, and Instinct have been bike review darlings since their redesigns and introductions a few years ago. The smooth lines and bright colors made the Rockies easily recognizable in both magazines, and on the sales floor. Aesthetics aside, the Smooth Link, Ride-9 equipped bikes rode fantastically well, with a supportive-yet-supple stroke and easily the most versatile geometry on the market the bikes were a hit. The Instinct uses Shimano Deore/XT 2x10 drivetrain, Shimano hubs, Race Face Ride cranks, and it all weighs in at a respectable 30.6 lbs.
The Instinct had always stood out as it feels like the best, most versatile use of 29" wheels of any bike so far. The Ride-9 adjustable geometry chips allow the Instinct to ride like a nimble XC race machine, a slacked out enduro rig, and anything found in between. Ride-9 is Rocky Mountains 50-cent-name for 9 position adjustable geometry. Adjustable geometry is not new to the market but I personally have never used a system that is as easy to change and effective as Rockies Ride-9. With an Allen key and 120 seconds of time you can switch your head tube angle from 67.7-degrees to 69.3 and a BB drop of 39.9mm to 20.6mm.
Some reviewers argued that the performance of the Instinct was excellent but it seemed to lack personality. Well, personality is usually found in the different quirks that make a bike unique. Because of the Instinct's ability to transform via Ride-9, it can be almost every bike. If you like your bike to ride stiff and slack, there's a setting for that. If you like it to be steep and plush, there's a setting for that. And because it can be the bike for every rider, it was an easy decision to place it on this list.
Pros:
Adjustable Ride-9 geometry
2x10 Shimano XT drivetrain
Cons:
Manitou fork
No dropper post
---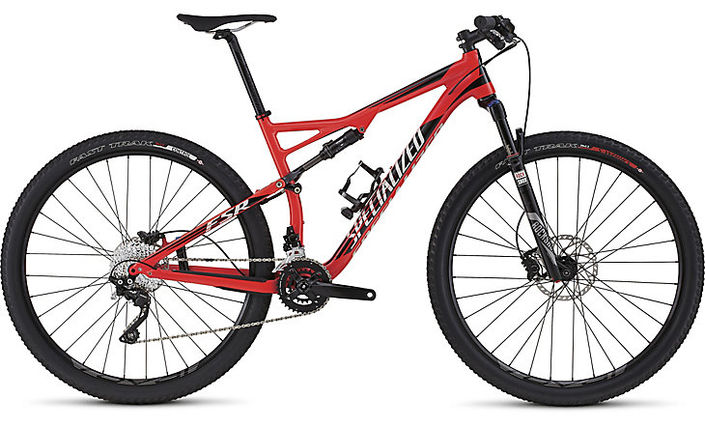 The Epic Comp is a proven and affordable race rig
The Specialized Epic has been one of the most widely used XC race bikes and it's easy to see why. The Epic COMP is made from Specialized's extremely stiff and light M5 aluminum, paired with quick and nimble geometry. The frame is manufactured with internal cable routing uses the 100mm Specialized/Fox proprietary remote Mini Brain rear shock. The Mini Brain shock allows the bike to tell the difference between trail and rider input making sure it's always reacting appropriately and making the best use of the 100mm of travel.
The Epic COMP features a mixed, but balanced build, seeing the use of SRAM, Shimano, and Specialized house products throughout the bike. It uses 160mm Shimano Deore BR-M506 brakes, Shimano XT Shadow Plus 2x10 rear derailleur, and SRAM running gear. Specialized Roval wheels and Fast Trak Control tires gives the Epic COMP good contact with the ground.
The bulk of the benefit of the Epic COMP is in the frame and the suspension, The M5 aluminum and Mini Brain rear shock make the Epic COMP one of the best XC platforms on the market. This bike is built to race.
Pros:
Frame construction/geometry/weight
Mini Brain rear shock
Cons:
Mixed drivetrain (SRAM/Shimano)
No dropper post
---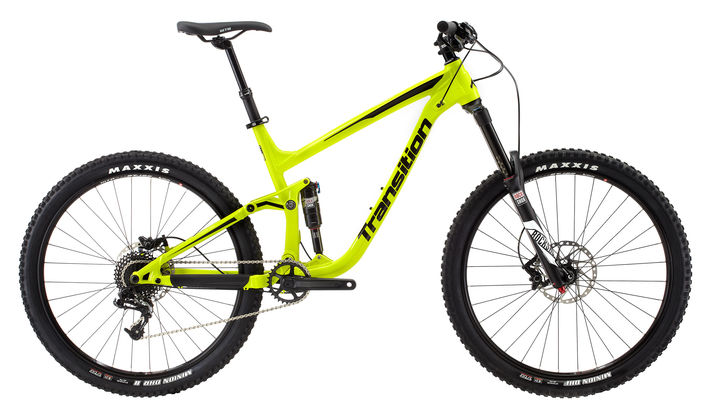 The Transition Patrol 4 is the most modern, uncompromising bike on our list
With 160mm of ride-it-however-the-hell-you-want, the Transition Patrol is at the top of our price range but it is mind boggling that you can get this quality of a bike for a mere $2900 US. Transition is a smaller company from the Pacific Northwest and they have a history of only making bikes that shred. Even their CX bike and XC race bike are built to ride as hard as possible. The Patrol frame is supported by RockShox 160mm Yari RC fork and the absolutely stellar RockShox Monarch RT Debonair rear shock making it one of the best suspended bikes on the market for the price. Transition uses long, low, and slack geometry and their Giddy-Up link suspension with specifically tuned chain growth providing increased climbing traction without sacrificing efficiency.
The Patrol is spec'ed with a RaceFace cockpit, RaceFace Aeffect Cinch cranks, and the modern 1x SRAM GX drivetrain. Shimano provides the stopping power with Deore brakes and 180mm centre-lock rotors. The Patrol 4 is also spec'ed with the KS 100mm eTen Integra dropper post making it the only bike on our list that comes stock with a dropper.
All-in-all, the Transition Patrol 4 is an extremely versatile, durable, and shred worthy ride. This bike is capable of handling multi-day all mountain epics, it can be used to crush DH laps, and it even placed 4th in the Dual Slalom event at Crankworx Whistler 2015. Spend 30 seconds on the Patrol and you will be smiling no matter what the discipline you're riding.
Pros:
Monarch RT DebonAir Shock
KS dropper post
1x SRAM GX drivetrain
Cons:
A little on the heavy side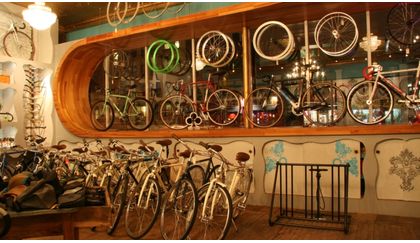 Finding the right bike shop is just as important as finding the right bike
BikeRoar
gives you some great tips on how to find the best bike shop...
READ MORE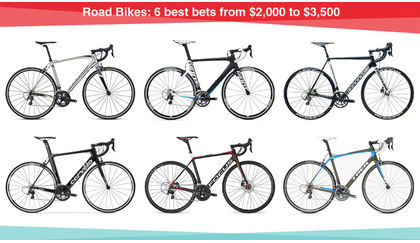 With so many road bikes available it can be difficult to know what one to choose
BikeRoar
brings you our 6 best bets for road...
READ MORE