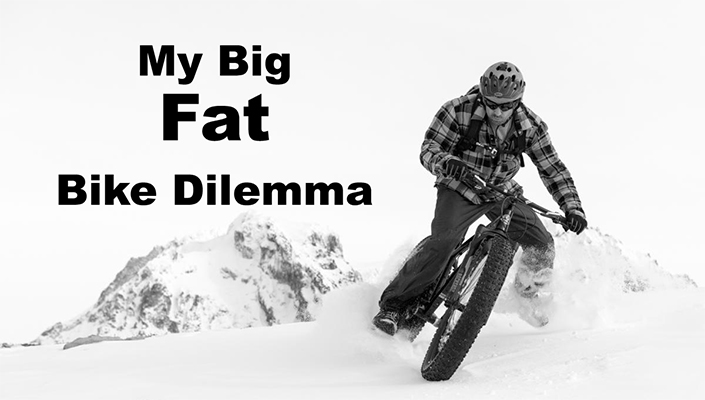 Originally cast as utilitarian winter bikes, fatbikes have since been adapted to all types of riding
Fatbikes (a.k.a. fat bikes or fat-bikes) - a relatively recent cycling niche - are designed to carry adventurous riders out into wild places not normally accessible by bike. Enormous tires, between 4 and 5 inches in width and seated on 80mm-100mm rims, run at a very low inflation to provide a large footprint and massive grip to help the fatbike float through sand, snow, mud, and other variable terrain, opening the door to epic beach rides, untracked exploration, and mid-winter expeditions.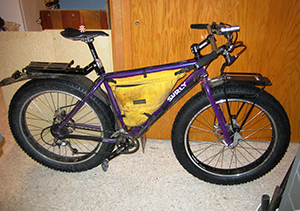 The first production fatbike, the Surly Pugsley, was released 11 years ago, and since then several evolutionary branches have sprouted, bringing with them the attendant controversy that seems to go hand-in-hand with any development in the world of mountain biking. (Visit any online forum, type in 26" wheels vs. 27.5" vs. 29", and brace yourself for the venom and vitriol that will spew forth onto your keyboard!)
As bike manufacturers do their best to hustle their best designs into shops around the globe, a whole new array of dimensions are being offered. Tire size, hub spacing, and bottom bracket width are all being hammered out to find the sweet spots of functionality.
The 100mm bottom bracket is nearly standard on fatbike frames at this point. Both threaded and press fit shells are common, and there are now a wide variety of cranksets available, from heavy duty to ultralight carbon. However, the resulting chainline (the direction the chain follows from the front chainring to the rear cog) may still not be perfect in some instances, so manufacturers Salsa and Surly have introduced an even wider 132mm shell for the best possible gear alignment.
Tire width on fatbikes falls under one of two nominal labels: 4-inch or 5-inch. So-called 4-inch tires were the first real fatbike tires and appeared on classic models such as the Salsa Mukluk and Salsa Beargrease and the aforementioned Surly Pugsley. These tires are actually between 3.6 and 3.8 inches wide and are mounted on rims that are typically between 60 and 80mm wide.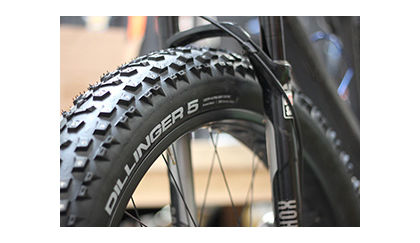 Then the massive 5-inch tires came along, intended for maximum flotation over extreme terrain: deep sand, snow, rocks, and gravel. These giants are actually 4.6- 4.8 inches wide and are ideally mounted on rims 80-100mm wide. They are featured on the Specialized Fatboy, Moots Frosthammer, Salsa Blackborow, and Framed Minnesota XWT.
As tires and rims got bigger and wider, frames and forks had to expand to provide the necessary clearance. Front hub standards began at 135mm with rear disc spacing (original Surly and Salsa), or 135mm with front disc spacing, with either quick-release skewers or 14mm thru-axles. Then they got a bit bigger, moving up to 142mm (the standard size of a regular mountain bike's rear axle) and are now moving towards a 150mm width with a 15mm thru-axle to accommodate the industry-standard RockShox Bluto fork.
Things proved slightly trickier at the back end of the bike. In the early days of fatbiking it was quite a feat to get the chain to clear the wide tires, so the seat stays and chain stays were bent toward the drive train side of the bike by 17.5mm. To bring the wheel back to the centerline of the frame, the rim then had to have spoke holes closer to one sidewall. It seems like a lot of unnecessary drama when looking back on it now, but at the time the design was essential as it allowed the rider to use any standard mountain bike hub or internally geared hub.
170mm centred frames came next, featuring a symmetrical design which did not require an off-set spoke pattern and therefore allowed for the creation of stronger wheels that ran on 170mm rear hubs. No sooner had this design been finalized, then along came the big fat 5-inch tires that created a whole new set of clearance issues - the 170mm rear hubs, improbable as it sounds, were now too narrow, so rear axle dimensions swelled further to accommodate 190mm quick-release hubs or 197mm thru-axles.
One advantage of all this extra space is that, in theory at least, wheels and tires of different sizes are now interchangeable on one frame. For example, the new Trek Farley is built to work and ride equally well using either 26" x 5" or 27.5" x 4" wheels, which gives the rider unparalleled freedom and the opportunity to have even more fun with their fatbike. Although Trek don't specifically mention it, it is also possible to run standard 29" wheels with their regular 2.2-2.4 inch wide tires on the Farley. This means the bike can be used as a fair-weather commuter with narrow 29er wheels, an off-road trail racer with 27.5" wheels and 4" tires, or a true extreme adventure machine with 26" wheels and enormous fat 5" all-terrain tires.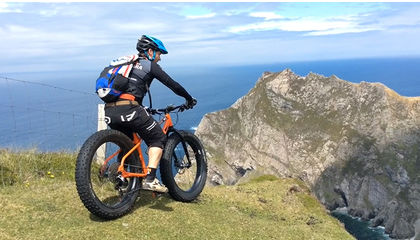 Fatbikes have found their place in adventure riding
Awesome, but confusing, right?
Well, just to add an extra element of diversity, famed Minneapolis bike builder Erik Noren has just launched his own brand, Cake Fatbikes, that specialize in producing 24-inch fatbikes for shorter riders, and a line of women-specific fatbikes. Presumably this means that standard 26" wheels could be swapped for the 24" fatties in the same way the Farley swaps 26" for 27.5" for 29"!
So, what's the best fatbike for you?
James Stull, co-owner of 9:ZERO:7 bikes in Anchorage, Alaska, says the most common query is on rim width.
"Unless you have some epic trips or hard-core events planned, 80mm rims are your best bet. Lower weight and lower rolling resistance make 80s the best all-around option. That said, if your adventures require maximum floatation, there is no substitute for increasing the size of your contact patch and going for the big 100mm rims."
"As far as width of the rear end goes, it really depends upon whether versatility is a consideration. The new 190mm rear hubs give more options as far as tire width goes, so if I was undecided I would lean in that direction."
It can be easy to get bogged down by the technical jargon of fatbike diversity, but here's the bottom line: fatbikes were designed and built to be fun, to go places where most people thought bikes couldn't go. If you're still dubious, check out Wade Simmons, the undisputed godfather of MTB freeriding, on his Rocky Mountain Blizzard fatbike in 2 Fat 2 Furious: A Fat Bike Freeride Film.
Then go ride one for yourself.
All these fat-specs making you feel 2 Fat 2 Furious... ?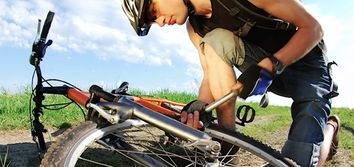 All these new tire size options have you confused on what tire pressure to run?
BikeRoar
breaks down tire pressure and what is the best...
READ MORE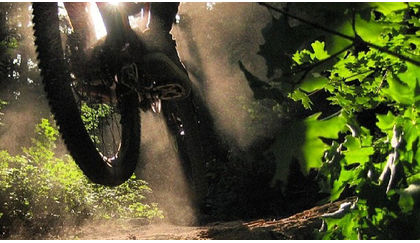 losing your grip? or maybe you're just in the market for some new tires?
BikeRoar
gives you their definitive list of the best tires...
READ MORE