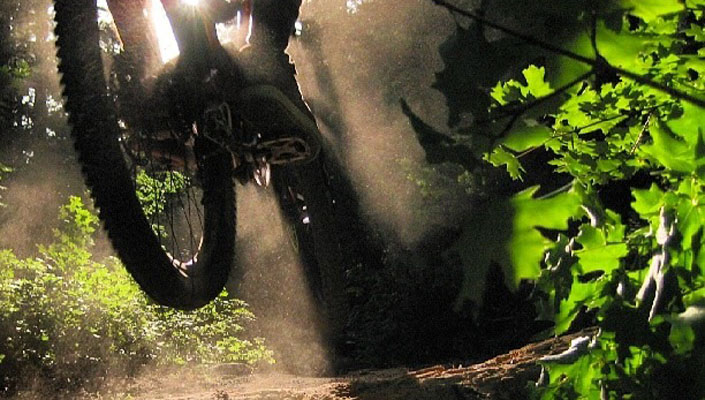 Good tires help make the ride.
Putting a list together of top tires for mountain biking is no easy task. Almost every brand is making multiple tires that could be considered for any "best of" list. Where you ride is also a huge determinant of what one would consider the "best tire". Someone riding the unreal, wet and loose steeps of Squamish BC Canada might have a differing opinion on the right 2.35 tire than someone rolling through the dusty hills of Moab. There are many factors to consider when rating tires, but to keep it simple and applicable to most I used these these to guide my selections:
Performance: Pretty straight forward - how well does the tire work? Does it excel in all conditions?
Durability: Does the tire last? How does it perform when it has had some wear?
Value: How much does the tire cost? Are you getting your money's worth?
---
The Bontrager G5 Team Issue tire is a great downhill tire. Back in 2010 Bontrager picked up Frank Stacy, their 'rubber wizard' who previously honed his tire design craft in 15 years with Specialized's tire department. This proved to be a good move. I've ridden the G5 Team Issue in all conditions, wet, dry, loam, rock, bike park, and local trails, and it seems to excel everywhere. Dual step shoulder knobs allow for high traction while you're railing corners. The dual ply sidewalls help to keep the sidewalls strong giving the dual step shoulder knobs strong support. Even when well worn this tire resists folding in corners and stays grippy, even in wet.
Honestly, it was neck and neck between the Bontrager G5 Team Issue and the 60tpi Maxxis Minion DHF. I've ridden both, I have friends who have been sponsored by both, and not many people can tell the performance difference between the two. The only reason why I chose the G5 Team Issue is value. Bontragers G5 Team Issue is priced at $65 USD while the Maxxis Minion DHF 60tpi comes in at $70 USD.
---
When I first rode this tire on my Kona Process 153 DL I was a little skeptical. I debated between the Schwable Hans Dampf and the High Roller 2 and after a few rides I was happy with my choice in Maxxis. I rode the High Roller 2 on everything from mellow and smooth XC, grinding 4 hour climbs with a 1 hour descent, and jump laps in the bike park in every condition possible.
Riding the tire upright they move along quicker than one would expect thanks to the center align lugs. Yes, there are meaty side lugs, but they don't slow you down when you're climbing or cruising along. What they do provide however is the ability to lean into your bike and corner like you mean it even when run tubeless. Earning your descent is the name of the game in aggressive all mountain riding, and with the Maxxis High Roller 2 3C EXO you're able to take full advantage of the trail every time it points downhill.
---
All mountain riding is a mixed bag - you can get crushing climbs, out-and-back singletrack, steep descents, and everything in between. Schwalbe's Nobby Nic is my tire of choice for this discipline. The Nobby Nic has slightly smaller lugs than the Maxxis High Roller 2 making it roll with less resistance. The weight is kept down with the use of Schwalbe's tubeless ready SnakeSkin sidewall technology, but the durability is high. Dry and dusty conditions are easily handled, but super wet, rooty conditions can get a little slick with this tire. I rode these tires on multiple bikes for multiple seasons and they always lasted longer than expected and with little performance change as they wore out.
The Nobby Nic edges out the my other favorite from Schwalbe, the Hans Dampf, due to it's price. The Nobby Nic can be found anywhere from $90 USD, or sale priced at $60 USD. For its general usability, durability and price I suggest the Nobby Nic from Schwable for general all mountain use.
---
The Mountain King from Continental is a fast, light, well balanced XC tire. I have ridden this in both 29 and 27.5 and found the performance to be quite good in both. The Mountain Kings lug pattern allows it to ride quickly through dry conditions with lots of grip for good climbing and quick acceleration. The tire does get a little slick when you're aggressively riding in wet conditions which is not out of the ordinary for an XC tire.
The Mountain King comes in Continental's patented Black Chili Compound which gives it good tacky grip and decently long life. With a MSRP of $65 USD you cannot go wrong here. Yes, I admit there are some better performing XC tires on the market, but they can cost upwards of $99 USD and have the same or worse durability as the Continental Mountain King, and for this reason I am selecting it as the top XC tire for 2016.
---
The new Maxxis Crossmark II sees minor tweaks to its knob pattern, but remains fast on the centerline. Re-designed side knobs allow for better braking and cornering, yet Maxxis accomplishes those performance improvements without sacrificing the speed or the weight of the tire.
For us amateur racers who don't have a garage full of sponsor supplied tires to choose from, the Crossmark II is a great option. The dual compound 60 tpi Crossmark II will last through a hefty amount of training and racing in all conditions. This tire feels fast on sprints and corners extremely well allowing you to use it for almost any race anywhere.
---
It's a Minion for your fat bike! Fat bikes are all about Velcro-like grip, and how could you possibly get any more grip than running a 4.8" Minion at 10 psi? Seriously, I feel you could climb trees in the dead of winter with these tires.
One of my biggest complaints with fat bikes is that you can't ride them very fast on the downhills. This tire allows you to push the capabilities of your fat bike and for that I chose it as my fat bike tire for 2016.
---
Plus sized bike tires are the future and my choice is the Nobby Nic Plus. At 2.8 and 3.0 inches the Nobby Nic Plus solves any grip issues the regular ones suffer from in wet conditions and adds extra cushioning thanks to it's larger-than-normal volume.
SnakeSkin Sidewalls help keep this tire light but extremely durable. Fast rolling, ultra cushioning with un-compromised grip make the Nobby Nic Plus my choice for plus tires in 2016.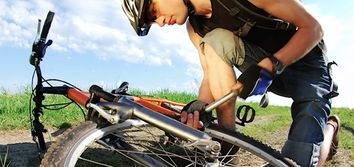 All this tire talk got you thinking of replacing yours? Maybe your tires are fine and it's just your tire pressure that off.
BikeRoar
gives your the low-down on everything tire...
READ MORE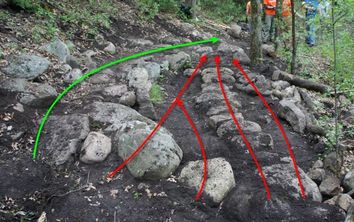 Anything can happen When you're out in the woods having basic trail bike skills can keep you safe.
BikeRoar
gives you some tips on how to choose a line and how to...
READ MORE