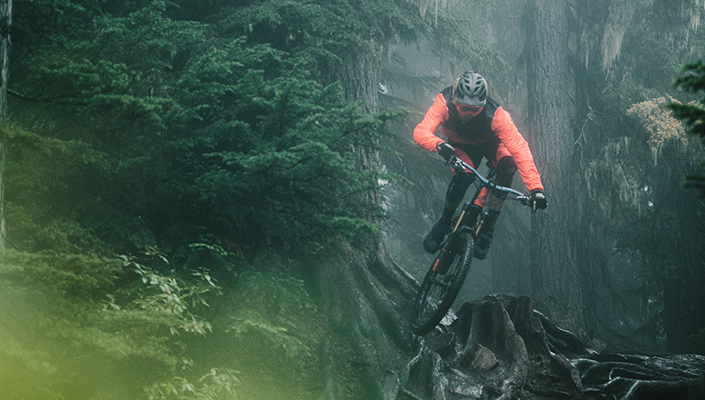 From aggressive enduro to beginner XC - PLUS bikes can work for you
We here at BikeRoar have made brief mention of PLUS sized bike/wheels/tires a few times over the past year, and without going to deep into the technical details, thought we should step back to make sure you are properly filled in on PLUS sized bikes and why you'll want one.
What is PLUS? Where did PLUS come from?
---
Yes, PLUS sized bikes are another new standard. Easily put, PLUS sized bikes run higher volume tires and they require a few things such as wider rims, wider rear triangle for tire clearance, wider hubs, and wider cranks. Before you curse the industry for creating yet another standard, keep reading and maybe you'll find some inner peace.
PLUS sized bikes usually sport 27.5+ or 29+ wheels. Tires used generally vary between 2.6 to 3.0 inch width and rims are widened as well. The bikes using PLUS sized wheels have ranged from overland full suspension, trail hardtail, and aggressive dual suspension, giving PLUS size relevance in many markets.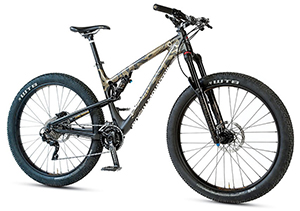 Although Surly may have been the first to introduce PLUS sized bikes, it was Rocky Mountain's 2014 release of its Sherpa overland bike which gained the industry's attention. The Sherpa was essentially a Rocky Mountain Element with larger than normal 27.5+ tires on it, and was meant for bike packing and long overland style riding. There was considerable interest from the market in the chubby-tired Sherpa, but most thought this would be a one off niche bike.
Since 2014, we have seen almost all of the major tire and bicycle manufactures announce and produce products in this PLUS size. Ibis just released their famed Mojo 3 in PLUS size, Specialized Stumpjumper went PLUS, Trek has the Stache 29+ and my guess is their Remedy 29 will get a PLUS sized makeover as well. If your not getting my hint, PLUS is here to stay.
How does PLUS ride? And who is it for?
---
Stable, grippy, faster than fat bikes, slower than a regular 27.5" or 29". Confused? Everyone is, and its going to take PLUS some time on the market before it settles into its own. Many people who rode PLUS commented that it's the perfect platform for a beginner to intermediate rider. The increased traction, increased stability, and slightly slower rolling speeds could really help those who are new to technical MTB riding.
With that being said, most manufactures are producing PLUS bikes for the advanced rider and high end bike market, so what gives? The stability and strength of PLUS is something 29 and 27.5 are lacking. When I'm riding a 29er and I'm cornering hard, I feel the wheel flex; it's not uncommon for me to leave a corner with a few broken spokes. I have to admit 29" wheels are not stiff enough for me. When you increase the diameter of the rim you subsequently lengthen the spokes making the wheel more flimsy. Widening both the hub and rim strengthens the 29" wheel. So yes, for a guy like me who's an aggressive rider weighing over 200lbs, PLUS excites me!
Now I know what PLUS is, but what is BOOST?
---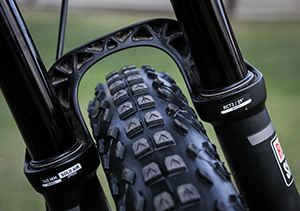 Rockshox Pike comes 27.5+ and 29+ giving clearance for 3" tires
image: bikehub.co.za
A number of years ago Trek and SRAM had a backroom meeting to discuss Trek's concerns and needs for a new hub standard. After this meeting and a few years of engineering, BOOST was born. BOOST is essentially SRAMs product line to support PLUS bikes; it takes the cooperation of both the bicycle manufacturers and the component manufacturers to introduce a new standard.
SRAM BOOST hubs are 12x148mm (rear), 15x110 (front), and require a new fork with the increased clearance as well. RockShox introduced BOOST REBA, SID, and PIKE to support the new PLUS standard. Cranks also have to be increased in width, so XX1 and X1 cranks have been introduced first and with others planned down the road. You can now find a large cross section of SRAM's components supporting BOOST in 2016.
Can I upgrade / adapt my current bike to fit PLUS / BOOST?
---
No you cannot. PLUS starts at the frame with a wider rear end and wider cranks to keep chain line. Then you need the right brake adapters, wheels, tires, fork, etc. I wish it was easy as a simple upgrade kit, but sadly it is not. I've heard stories of some 29" hardtails having the clearance for 27.5+ rims and tires, but then you're not getting the increased stiffness of wider hubs, so what's the point?
Okay BikeRoar, is the PLUS / BOOST standard just a money grab?
---
Hopefully by now you realize the benefits and need for PLUS and BOOST, but some Googling on the subject reveals many angry "MONEY GRAB!" comments. Well, PLUS was an idea that started at the engineering table and not the marketing boardroom. Quickly after the release of 29 and 27.5" wheels, engineers throughout the industry saw their deficiency. They were flexy and quite a bit weaker than 26". Now, before you pick up your pitchfork and march to town hall demanding the return of 26", it's not going to happen. The benefits of larger wheels are too positive to dismiss. If we have to live through this awkward growing phase, then trust me, it will be worth it.
So, does PLUS matter to me right now?
---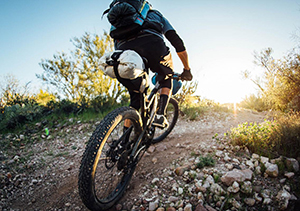 PLUS isn't going anywhere but up
image: bikes.com
Chances are it probably doesn't immediately affect you. You have your bike that's newish, it's 29", and you'll keep it for the foreseeable future, right? But when you go to buy your next bike, fork, or wheels, this may be an issue. Whenever a new standard is produced, the industry supports the older standards for some time, but slowly begins to decrease manufacturing the products needed to keep those bikes running. Even now, 26" spokes and tires seem to be placed on backorder more often than not. This could be the future of non-PLUS 29" and 27.5", as well. With regular 27.5 and 29" standards only being around for a few years, the supply for these bikes may dry up a lot faster than it has for 26".
If you are in the market for a new bike I strongly suggest looking for a PLUS bike; I hope I've helped you understand the standard enough to give you confidence to buy. If you are a beginning to intermediate rider, you will appreciate the stability, grip, and control of PLUS. If you are an advanced rider, then you'll love the increased stiffness and strength of PLUS. Either way, it doesn't look like consumers will have much of a choice. Call it déjà vu, but a new wheel standard is here to stay.
We're used to tires on MTB changing sizes but what about tire size increases for road bikes?
BikeRoar
lets you know why you MUST run wider...
READ MORE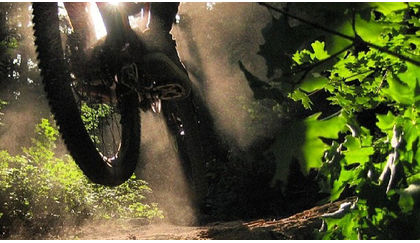 losing your grip? or maybe you're just in the market for some new tires?
BikeRoar
gives you their definitive list of the best tires...
READ MORE