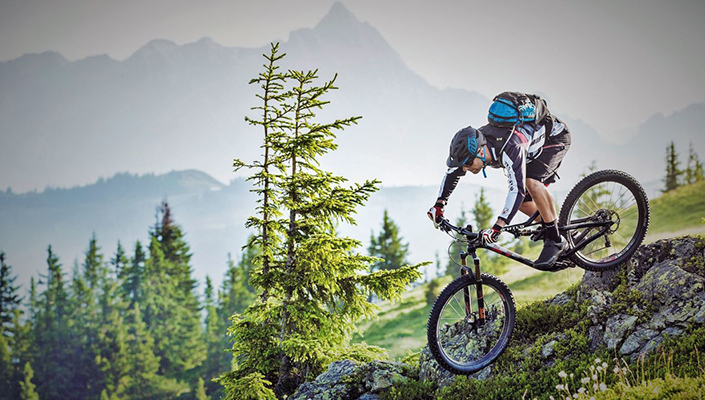 Dropper posts have opened up a whole world of possibilities
Yes. The end. Here's why.
As far as I am concerned there are only positive performance and experience enhancements that come along with adding a dropper seatpost to your ride.
Generations of mountain bikers have ridden without the luxury of having a little button on their handlebar to drop their saddle height on demand. Now it seems that gone are the days of having to stop, get off your bike and manually change your your saddle height depending on the next piece of terrain ahead of you.
Most commonly found on enduro or AM/trail mountain bikes, dropper posts completely change the way you ride your bike and how you approach obstacles on the trail. It doesn't seem to take the average rider very long to become comfortable with the action of the dropper, and discover a whole new world of efficiency.
Where to start:
---
There is no shortage of options available on the market these days, and choosing the right one is a very important decision. Almost every suspension or component company is taking a stab at bringing a dropper to the table. These little 'shafts of convenience' have been one of the most upgraded accessories on mountain bikes globally in each of the last four years. There are five main factors I like to consider while shopping for a new dropper: Price, Performance, Durability, Serviceability, and the all-important Aesthetics. Not necessarily in that order.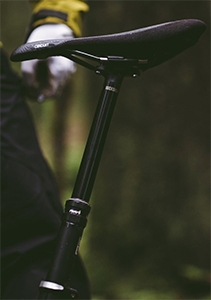 Price - There is a range from $110 to $480 USD difference between the most entry level to the most elite dropper posts. Shopping in your budget is very important, but let me stress the fact that you get what you pay for.
Performance - Consistency is key to the performance factor. You want precise, easy action from the lever without fumbling about with cable tension or air pressure before every ride. Riding in cold weather? Certain posts will work better in the cold like the Race Face Turbine, designed in Canada.
Durability - Under warranty or not, when a dropper post fails it usually means temporarily going back to the barbaric straight post until your dropper can be serviced or repaired. All manufacturers will have a suggested service life interval. Choosing a post with lengthy service intervals will speak volumes towards how durable the product is going to be.
Serviceability - Some posts will require occasional maintenance that can be performed at home or your local bike shop of choice. My personal favorite, the RockShox Reverb, is completely rebuild-able by any experienced mountain bike technician with the right tools and service kits. Some suspension and post manufactures (KS and Cane Creek in particular) only allow authorized service centers to repair their product in certain countries.
Aesthetics - A question I like to ask when purchasing pretty much anything is, "Does it come in black?" Suspension brands like Fox, X-Fusion, RockShox, and DVO like to match the color of their posts with the color of their suspension - something to consider if you like to match things up front to back on the bike. Each rider places aesthetics at the top or bottom of their list is seems. Your call.
Operation:
---
I like to compare the operation of the dropper post to the modern office chair. When you lift your body weight and pull the lever, it pops up to the top. If you aren't quite in the most efficient position to attack your next task, you simply pull the lever, apply body weight until you have found the desired height, then let go of the lever. Attach a longer cable and a hand remote to activate that lever and there it is - an office chair for your outdoor oasis. Most droppers are using a similar style of hydraulic cartridge that require a nitrogen or air charge to keep them operational.
What size?:
---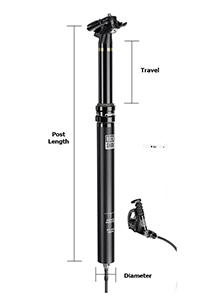 There are dropper posts available in almost any shape and size. You can really help your search by narrowing down what options apply to you. Most common seat post diameters in the industry have settled at 30.9mm or 31.6mm. You can find this stamped on your old post or on the tech page of your bike's manufacturer's website. Hard tail frames often run a 27.2mm seatpost which really limits your dropper options, but can make it easier to choose.
There are three measurements you must find out before you slide any post into your bike.
Seat Tube Diameter - The circumference of your bikes seat tube can be measured with a caliper to be exact. Your old seat post may have it stamped near the bottom as well. Avoid using shims on your bike any time. This can lead to frame or dropper post damage.
Length - How much seat tube can fit into your into your frame? This may limit what options you have as well.
Travel - How much travel do prefer, most riders will want the maximum amount of travel to fit their body.
The amount of travel you have to lift or lower your saddle is most commonly narrowed down to 100mm, 125mm, or 150mm. Think of them as small, medium, or large. If you ride a small bike you are going to want a small post - 150mm is more than likely too much rise for your leg length.
As an example of putting it all together, I have a seatpost that reads 30.9mm x 420mm x 125mm on my Rocky Mountain.
Cable or Hose Routing:
---
Depending on what options your bike has for the cable or hose routing, you will have to decide between an external or internal cable route. Most newer mountain bike frames will have properly engineered holes in the frame to accommodate a cable or hose running internally, which helps to keep the cable out of harm's way and look clean. It not is recommended that you modify your old frame for internal routing and use at your own risk if you have.
Recommendations:
---
After spending a few years riding and servicing multiple different brands of droppers, I have seen the most reliability and serviceability out of the Reverb from RockShox. The Race Face Turbine and Easton Haven are coming on strong this season and claim to have the most reliable hardware on the market, but time will tell. The price definitely reflects the quality when it comes to the dropper seatpost market; spend a little more time saving to get one that will last and prevent you from having trouble mid-season.
There are many places to buy a new dropper post from online retailers stores, local bike shops, and the used bike market. The more expensive components like suspension and dropper posts are usually well served purchasing from a local bike shop from a staff member you trust. There can be anything from warranty work to major recalls that will be taking care of on one of your more expensive and accessories. If your shop is not able to repair the post in-house, or you purchased online, you may be waiting weeks to see your dropper post repaired or warrantied, losing weeks of your riding season to a non-working seatpost is less than ideal.

Check out the Comparison
4 of the bestdropper posts from RockShox, Race Face, KS, XFusion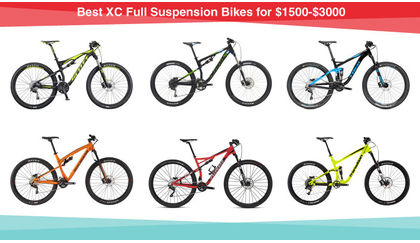 Looking for a new entry to mid level full suspension bike?
BikeRoar
has you covered with 6 of the best bikes for...
READ MORE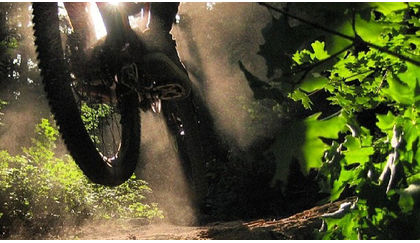 losing your grip? or maybe you're just in the market for some new tires?
BikeRoar
gives you their definitive list of the best tires...
READ MORE