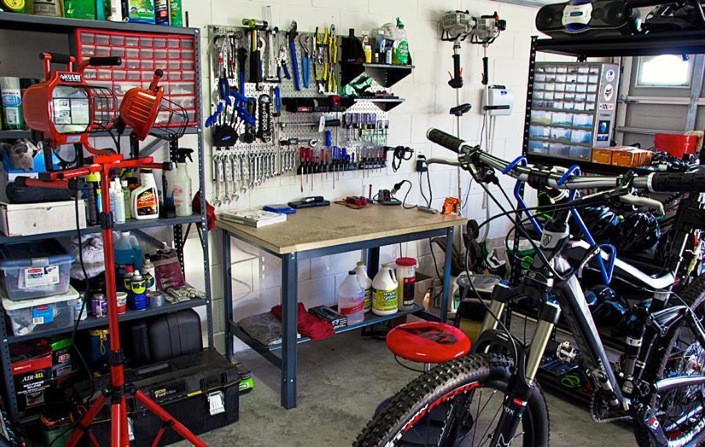 One of the joys of cycling is spending time in the garage with your bike and a few tools. It doesn't take much to learn the basic skills: patience and application plus some friendly advice from a fellow cycle nut or your local bike shop is all that is required.
Tending to your bike with respect and care is part of the passion of cycling. So to start off, here are some skills and practices that will awaken the bike mechanic hiding within every cyclist!
---
1. Wipe after every ride
Keep a rag stored close to where you park or hang your bike and wipe the chain as soon as you hop off after a ride. Grab the chain with a handful of rag and rotate the cranks backwards.
This will clean off any road grime picked up from riding and will keep the whole drivetrain clean. It also reduces the frequency that you'll need to degrease and re-lube, and results in greater chain longevity.
Feeling enthusiastic? Check out "Keeping it clean" for some tips on cleaning your bike.
2. Then apply lube
Never work on a dirty bike! There is no point applying lubricant to a dirty, greasy chain. The 'wipe after every ride' discipline makes cleaning the drivetrain before applying fresh lube an easy job. Drop a small amount of lube to the chain while rotating the cranks and wipe away excess.
More detail is available in "How to clean and lube your chain in 5 steps"
3. Learn to change a flat with ease
I am often amazed by how many regular cyclists can't, or have real difficulty with, simply changing a tube or repairing a puncture. If you are one of those, then this is the place to start your education. There is plenty of information out there like "How to change a flat tyre", or you could visit your local bike shop for a quick lesson.
4. Get a torque wrench
Many bolts on a modern bike (particularly carbon frames) require specific tolerances to ensure proper binding and prevent damage. The only way to measure this is with a torque wrench. Make sure you purchase a torque wrench that can measure as low as 5-7 nm as this is the range you will find on certain parts of a bike (like the seatpost).
Most important is to check the crank bolt. Do this every few weeks or as part of your pre-ride safety check routine.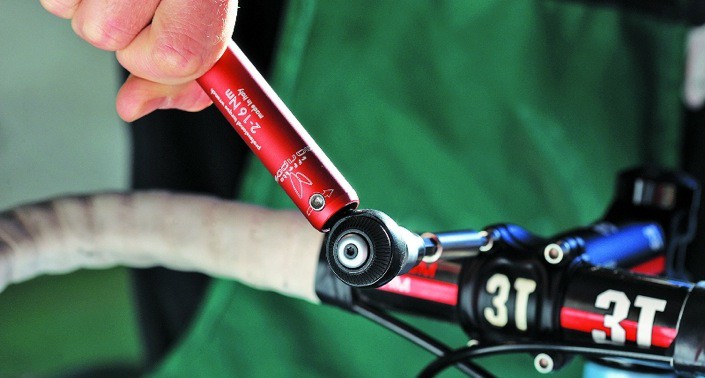 5. Check tyre pressure
Get in the habit of checking tire pressure before every ride, especially on a road bike. Riding with pressures below 100 psi in a road bike tire is a one-way ticket to flat-ville. On a mountain bike, knowing the best tire pressure is part of learning to ride. Get to know your trails and experiment with tire pressure until you get it spot-on!
6. Watch for wear
Keep an eye on consumables like brake pads, tires and your chain. Checking chains is an easy process, as you can see in "Chain stretch: Knowing when to get a new chain". Replace when necessary. Tires and brake pad checks merely require the application of common sense. Brain surgery skills are unnecessary.
7. Learn how to adjust gears yourself
This is one of the more difficult skills and does require some practice to get right. It is a good idea to see your local bike shop for some pointers on acquiring this skill. Check our "How to adjust your rear derailleur in 5 easy steps" article, or if you're feeling confident, try "How to adjust your front derailleur in 5 easy steps".
It is probably the best skill to learn. When you buy a new bike, the gear cables are set up so the gears work smoothly, BUT, with time the cables stretch, resulting in the gears going out of tune. This happens to a certain extent throughout the life of the cables and they therefore require constant adjustment.
It is a great feeling being able to adjust the gears so that the chain moves smoothly and precisely between the cogs.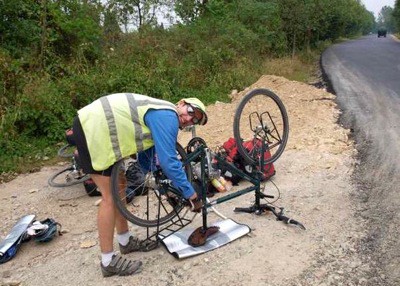 Photo: Jules & Jess / The Long Way Home
8. Mobile mechanic
Put together a tool kit for on the ride. It should feature tire levers, spare tube, mini pump and mini tool as a minumum. Make sure the tool has a chain breaker and get familiar with using it!
9. Grease!
If it has a thread it needs a dab of grease. We're talking nuts, screws etc. This will help protect the threads and prevent over-tightening and seizure.
10. Loctite your crank bolt
Use Loctite 242 blue. This fastener is designed for bolts that require disassembly for servicing. It will prevent any crucial bolts from vibrating loose while riding (such as your crank bolt). I have experienced much pain regarding this. There is probably no worse bolt to come loose than the one holding your crank-arm onto the bottom bracket. A must have workshop tool.
---
BikeRoar is here to help. If you have any questions, or want us to cover an area we may have missed, give us a shout via our social media channels or in the comments below!