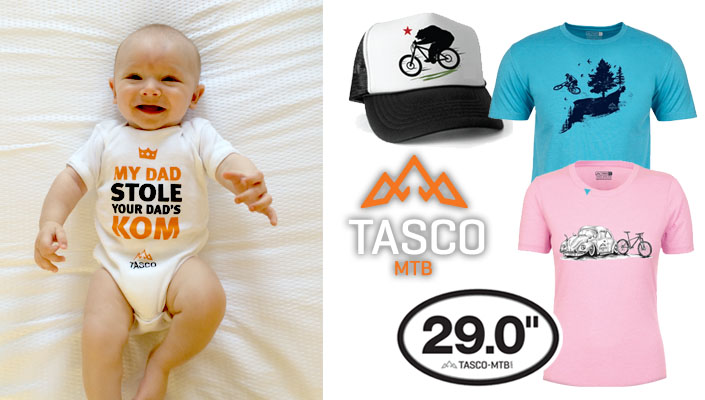 Mountain bike lifestyle apparel and products by TASCO MTB
You may have seen the somewhat adorable "My Dad stole your Dad's KOM" onesies doing the rounds on Facebook. According to TASCOs owner, Nate Miller, they flew off the shelves... but it's not all they do. I spoke to Nate to find out more.
Jordana Blackman: "Nate! Great to connect. We from BikeRoar want to hear more about TASCO. Where did it all start?"
Nate Miller: "Well, my friends and I - we had a MTB race team and decided to make a few t-shirts for after the race. I noticed we would always put on surf type gear. I love surfing, love the vibe and culture, and thought it would be cool to have something similar for mountain bikers. Something lighthearted and fun. Then, once I looked into it a little bit more I saw there really was a black hole for that market."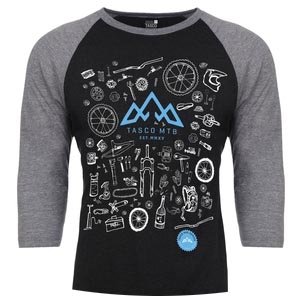 JB: "Cool! So where did you start?"
NM: "The Braaap Bear and Gear Bear were our first two shirts. We're based in San Diego, which is heavily influenced by surf culture and at the time [last summer], the California Bear was EVERYWHERE. So it was pretty easy for me to jump on the bandwagon. We took that idea and gave it to local artists who also happen to be riders. And of course, locals to San Diego. One of the guys - Skywalker - is amazing. He does all kinds of murals around town and is a mountain biker also."
JB: "The artwork is really cool, I've had a look at the site - So where did the name TASCO come from?"
NM: "Originally I had the name oso mtb... but 6 month after I started selling the t-shirts and the business started growing, I went to go lock the name down and trademark everything and the trademark had been taken! And by a really big brand as well and I didn't really feel like getting caught up in all that garbage. So after that we went through a rebrand. How TASCO came about was I was sitting there thinking of names and my 11 year old son walked into the room. And he said to me "Why don't you just call it The Awesome Shirt Company? Seriously, that would be so awesome!" - So I did. T A S Co!"
JB: "How cool! I love when things like that happen, you know? You're sitting there all bummed out because the name is taken but then you rebrand as something even better!"
NM: "Exactly. I was introduced to Tim Vangilder from Cassette Creative, who is a genius with designs, and he really brought a lot of good ideas to the new logo and the entire rebranding. It has a different feel with the new stuff. The new artwork coming out is cool - slightly techy and slightly fun."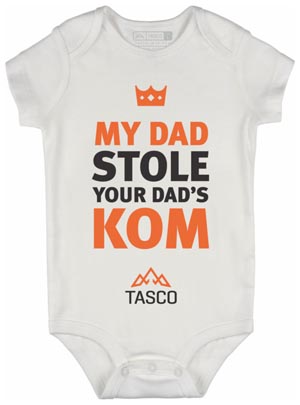 JB: "Now, what about the KOM onesie?"
NM: "That was actually a pretty funny story because it sort of came out of friendly rivalry. A buddy of mine has a shirt store and had a kids shirt that was selling really well - "My dad surfs better than your dad". So I wanted to do something different, not just like "My dad rides better than your dad" and then I came up with the KOM idea. And it has been a real attention getter, it's selling really well."
JB: "What about the future? What can we expect from TASCO in the next while?"
NM: "For me, the need is lifestyle apparel. I have no desire to go into the space of riding kit, like jerseys and stuff. That's already being done, and pretty well, as well. We are selling online at the moment because bike shops aren't set up for lifestyle apparel yet. Not as well as surf stores at least. They just don't have that mindset. But I hope they will - that's something to think about. I'm not an artist and don't claim to be, but I'd like TASCO to be a showcase for people who are. I want to set up a network of artists and grow."
Check out TASCO here http://www.tasco-mtb.com/ and use the BikeRoar exclusive discount code "BR5" for an extra 5% off your order!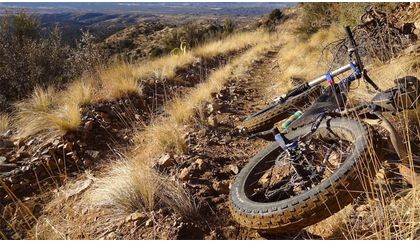 Unlike road cycling, the variety of surfaces encountered when mountain biking requires decision making regarding the most appropriate tire choice. Never mind the varied surfaces you could be riding on, you also have to take into account how the weather will change these surfaces, and on top of that there is riding style, and how far you want to push them...
READ MORE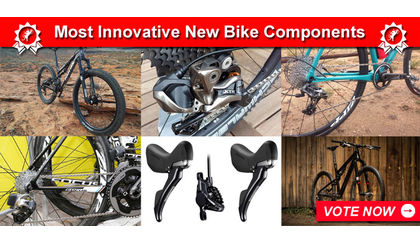 2015 has seen some awesome new products emerging. Some are an innovative improvement on existing technology, others perhaps herald a new era of how we ride our bikes...
READ MORE