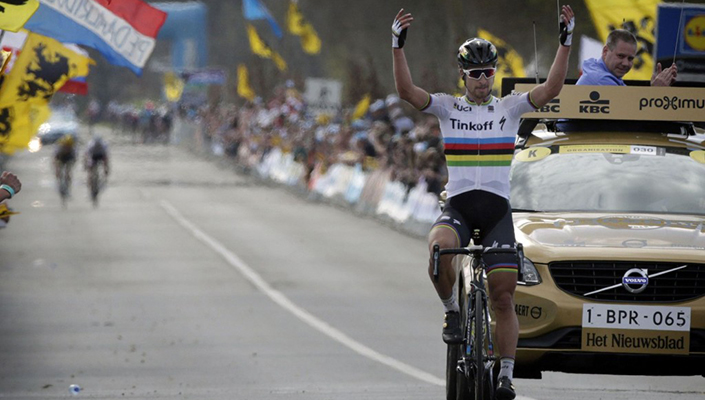 Peter Sagan may be moving on from Tinkoff in the 2017 season
Pro peloton gossip has it that World Champion Peter Sagan will leave Team Tinkoff to join Team Astana in 2017, with a contract worth between 4 and 5 million euros per season ($US 4.47 - 5.6 million). It is rumoured Sagan will also be taking with him his brother Juraj Sagan, Rafal Majka, Erik Baška, and Michael Gogl.
Riders change teams all the time, and Tinkoff's team owner Oleg Tinkov has made no secret about withdrawing funding at the conclusion of the 2016 season, so why all the fuss?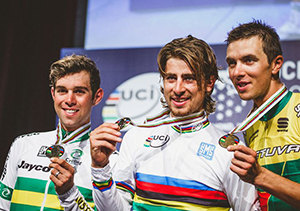 Two reasons: firstly, Sagan - the current world champ, classics star, Tour of Flanders winner, 4-time Tour de France Green Jersey winner, and one-handed wheel stand guru - is by far the most popular and bankable star in the world of cycling. Secondly, he is not just bringing his brother and a few teammates with him - he also may be bringing a financial guarantee from bike manufacturer Specialized.
Such is Sagan's standing in the sport, and such a strong link between him and the U.S. bike brand, that BikeRoar understands Specialized have offered to contribute funds, or a guarantee of funds, toward Sagan's signing. It is an unprecedented move, but Peter Sagan is a truly unique package, and by shepherding him from Tinkoff to Astana they are at least confident he'll still be riding their bikes.
Key players who wish to remain behind the scenes have confirmed the deal has been agreed upon in principle, but under UCI rules a team cannot officially 'recruit' or conclude a contract outside the official contract window that lasts from August 1 to December 31. Negotiations can be entered into but the rules also prohibit teams and riders from revealing any details outside the transfer window.
Astana Team Manager Alexandre Vinokourov confirmed that talks had taken place but would not make a detailed comment.
Astana's current team leader and winner of this year's Giro d'Italia, Vincenzo Nibali, has been linked to a new Middle Eastern outfit, The Kingdom of Bahrain Cycling Team. His exit from Astana would be crucial in securing Sagan's signature and making Sagan's arrival financially viable.
Nibali's manager Alex Carera was dismissive of Sagan's proposed transfer.
"I cannot see it happening," he said last week. "There are too many people involved: Sagan, his manager Giovanni Lombardi, Vinokourov, Oleg Tinkov, the people at Specialized... very difficult." Despite his misgivings, all signs indicate that the deal will indeed happen, and that Sagan will get to stay atop his beloved Specialized steed.
Sagan's Specialized Tarmac
---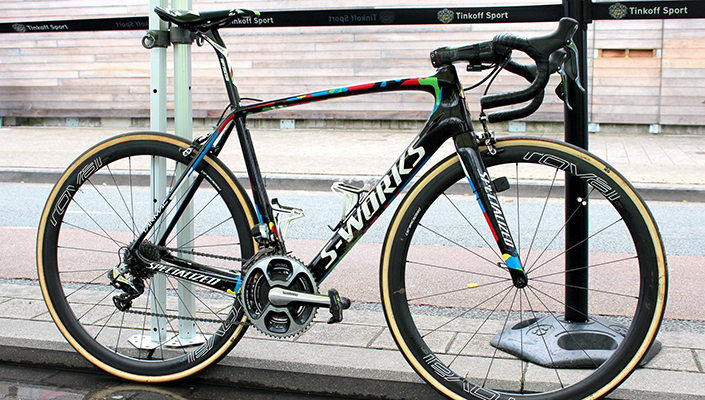 Peter Sagan's custom Specialized S-Works Tarmac
Sagan's bike of choice is generally his Specialized S-Works Tarmac, which is custom painted in the colors of the world champion. As well as the black and rainbow paintjob, the names of all the world champions are listed within the S-Works logo. His name and PS logo adorn the top tube, with the Slovakian flag on the bottom tube.
He sits on a custom Prologo Scratch 2 saddle and rides Look KEO Blade pedals, which are both decorated in the same colors as his bike.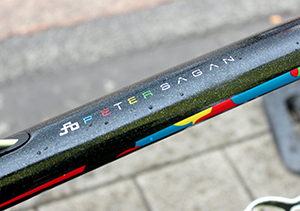 FSA is a major sponsor of the Tinkoff team, but being world champ gives you the freedom to call some of your own shots. Sagan opts for a Zipp SL Sprint stem. The oversized carbon unit is exceptionally stiff and strong enough to handle his enormous horsepower, and is attached to FSA Energy aluminium handlebars.
Sagan's 56cm bike frame usually sports a Shimano Dura-Ace Di2 electronic groupset with a 53-39 tooth front chainring and an 11/28 rear cassette. Close inspection at the Tour of Flanders start line revealed that even though his chainring had the usual 53-39 stamp on it, his inner chainring only had 36 teeth to better manage the brutal cobblestone climbs. His Tarmac generally runs 26mm-wide handmade tubular tires from French specialists FMB, with patented cotton casings and Spesh's Gripton rubber compounds and file tread pattern.
Sagan's Specialized Roubaix
---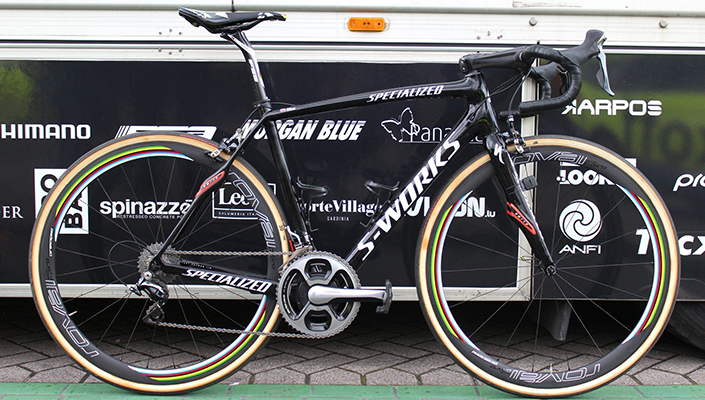 Sagan's slightly less flashy Roubaix
Sagan will only ride his other bike - the Specialized S-Works Roubaix - once a year for the Hell of the North, Paris-Roubaix.
The Roubaix was first launched in 2004 and this is the fourth version, dubbed the SL4, comprised of Specialized's top grade of 11r carbon fiber. Sagan's machine is not quite as customized as his Tarmac, but he still has the world champ rainbow decals on his K-Force SB25 seatpost and Roval Rapide CLX 90 wheels (the yet to be officially released improvement of the CLX 40/60s).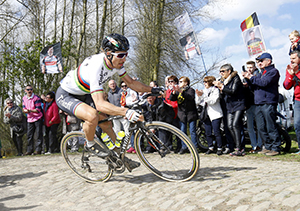 The Roubaix is the wagon of choice for Hell of the North
image: tinkoffteam.com
The Roubaix features Specialized's Zertz inserts in both the seatsays at the rear and the fork at the front - the manufacturer claims the inserts are "viscoelastic dampers which help absorb road vibrations before they reach the rider." Sagan adds another 4mm to his tires for the Roubaix, bringing them out to a plush 30mm. This allows him to run them at a significantly lower pressure, which provides a bigger contact patch and offers extra grip, comfort, and control over the pavé.
Despite the rest of the team sticking with Dura-Ace Di2 electronic group sets, Sagan opts for the mechanical version for this particular race. When quizzed about his reasoning for this he remained tight-lipped, but presumably he feels that the old-school mechanical shifters can take more of a pounding across the cobbles than the newer electronic model. Due to the relatively flat nature of the course from Paris to Roubaix, he uses a 53-44 tooth chainring on the front, coupled with an 11/25 rear cassette.
Whichever bike he's on, all Sagan's physiological data is captured on an SRM power meter, his valuable head is protected by an S-Works Evade helmet and he wears Specialized S Works 6 road shoes.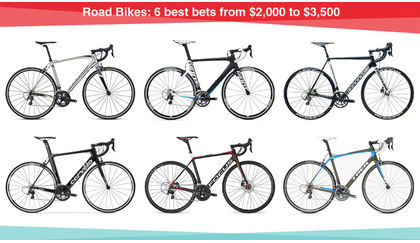 Your favourite pros have finally inspired you to retire your old bike and pick up a new ride?
BikeRoar
has 6 best bets for road bikes from...
READ MORE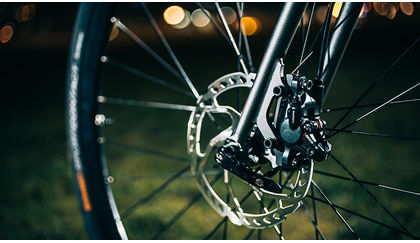 With the introduction and suspension of disc brakes to the world of professional road racing making headlines across the globe
BikeRoar
asks: are disc brakes really worth it on road? or are...
READ MORE