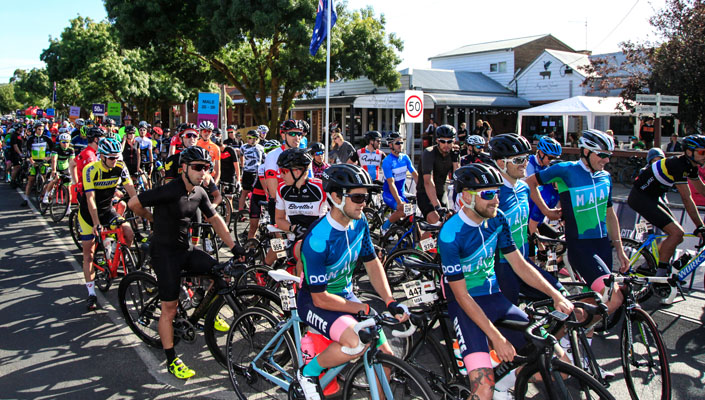 Gran Fondos allow the average joe to race like a pro
When is a Gran Fondo not a Gran Fondo? According to many riders, as soon as it becomes a race. A look at Wikipedia tells us a Gran Fondo is a type of long-distance road bicycle race in which riders are individually chip timed and have the right of way at all intersections.
Another mass participation-style ride, a randonnée cyclosportive, or Cyclo Sportiff, is defined as a short to long distance, organized, mass-participation cycling event, typically held annually. The Italian term Gran Fondo is commonly used for these events in the United States, Australia, and some other English-speaking countries.
OK, so technically a Gran Fondo can be a race, but most of us in the US and Australia generally understand that a Gran Fondo is a participation ride rather than a race in the typical sense.
Last month, Cycling Australia, the nation's governing body for the sport, staged the first ever National Gran Fondo Championships. The event was run in conjunction with the National Road Championships, a weekend of elite cycling that draws tens of thousands of spectators to the tiny Victorian town of Buninyong. The 14 Gran Fondo winners across the 7 participating age groups - 7 men and 7 women - can now rightfully call themselves National Champions.
Is this a real and legitimate race? Or is it participation riding gone mad?
Maybe it's a little bit of both...
---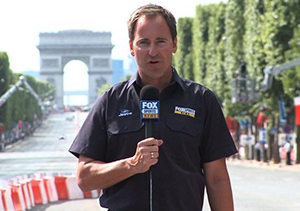 Cycling Australia's Scott McGrory sees no such confusion.
"For years the idea has been thrown around for a Gran Fondo National Championship. Other organizations and race organizers have approached us about it, but here's the thing: only Cycling Australia can deliver a National Championship. If somebody else tried to run it they'd need us to sanction it anyway."
"This year it all came together with the women's elite road race being moved to Sunday morning and the elite men moved back to Sunday afternoon - now we have Super Sunday, with all the elite rider racing on the same day, which provides much better spectator viewing and better TV. It also frees up Saturday, so we thought 'This is the time to give it a go.' "
"Now any rider - CA licence or not - can ride the same course as the elites in the same conditions - closed roads, barriers, support vehicles etc. It's the only chance they'll get to do that, and we're thrilled to be able to provide the opportunity."
According to McGrory, the advent of a Gran Fondo National Championships means that the incidence of under qualified riders taking part in the elite championships will drop off. In Australia, any rider with a Cycling Australia licence can take part in the National Championships, and in the past many riders have signed up just to say they have ridden the Nationals, and perhaps even get some very brief TV time, regardless of the fact that they are hopelessly outclassed and represent a real safety hazard to the genuine elites. Now (hopefully) these riders can choose to ride the Gran Fondo championships, which no doubt represent a much better chance of success for them.
Only 260 riders lined up to take part on January 9, far fewer than anticipated and a mere fraction of the huge numbers that attempt the iconic 3 Peaks, Round The Bay and other established events on the Gran Fondo calendar.
According to Cycling Australia, the plan is to build the event up over the next few years, capping the start list at 1,000 riders. That seems fair enough, and the logistics and timing all make sense, but it doesn't really address the question that many critics were aiming at Cycling Australia: how can you "win" a participation ride? At the risk of upsetting the legions of crossfit fans out there, it's a pretty good comparison - is winning a mass group ride like being the most awesome exerciser in your neighborhood?
"It's not quite that confusing," says McGrory. "Not everyone is going to race - some people, maybe even the majority, come here to take part, and to ride on the same course as the elites. Then there are those semi-elite, serious riders who are here to try to grab a National title. There's no reason they can't co-exist peacefully. Most races have a broad spectrum of talent and experience, and it's no different here. Is it as good or satisfying as a National Masters title? To some people it may not be, but for others it might mean even more."
Winner of the 50-54 age group, Jon Leighton, sees the ride as much more than just a race for elite age groupers.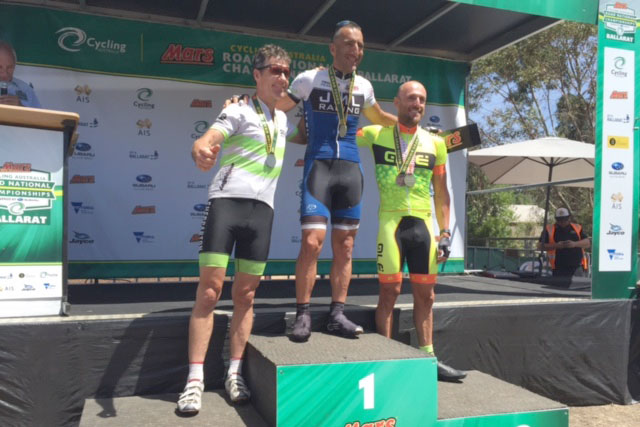 Jon Leighton - winner of the 50-54 category
"It's a fantastic combination of elite racing and participation," he enthused. "It's a real title, no doubt about it. I consider myself a National Champion and I'm incredibly proud and happy. But I think this race has potential to do much more than just provide a platform for riders like me. I have a couple of young guys in my team" - Jon is the owner and Director of JML Racing - "that rode today as preparation to ride in next year's National U/23 race. This gives them a taste of what top-level racing is like, on the very course that the U/23s ride on, without the pressure that can come with throwing young riders into the mix too early. So I see this event as a great developmental tool for Cycling Australia, to groom and prepare potential future champions."
Lena Simpson and Kate Riley both made the journey to Buninyong from Adelaide in South Australia, not to race for line honors, but just to ride the same course that the pros will ride on the following day.
"We'd probably come over to watch the Elite road races anyway," said Simpson, "but when we saw we had a chance to ride the course it was too good to miss. It makes it a great weekend of cycling - riding and watching."
Would the race have a different feel if there were 1,000 or 2,000 riders rather than the 260 that crossed the finish line this afternoon?
"Definitely," admitted Riley. "It might get a bit crowded and some of those descents could get a bit scary, but some of the other big Gran Fondos we do have 3,000 riders or more, so you get used to it."
So, is a gran fondo a race or a participation ride?
---
Jon Leighton is adamant: "It's a race for me and the guys I was riding with were definitely racing."
Lena and Kate take the opposite view. "I wasn't racing, that's for sure," Lena Simpson says. "Except when I was about to be lapped by Matty Keenan - then I went full gas."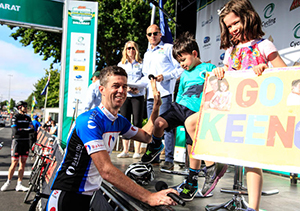 Matt Keenan - the voice of Australian cycling
image: sbs.com.au
Matt Keenan, TV commentator and the man dubbed "The voice of Australian cycling", was one of the handful of cycling royalty that graced the course, along with Tour de France Green jersey winner Baden Cooke and Commonwealth Games gold medallist Rochelle Gilmour. The opportunity to ride alongside these stars was a big part of the appeal for many of the riders we polled after the ride.
The success of a cycling event can be judged largely by the numbers of participants, and the satisfaction level of those participants once the ride is over. While 260 is hardly a record-breaking crowd, I couldn't find anybody who didn't enjoy being a part of this event. So, despite my initial misgivings and those of many other cycling fans prior to the race (let's stick with calling it a race), it would have to be labelled a success. Would that be the case if it was a stand-alone event rather than being integrated into the Nationals? Almost certainly not. There are definitely things to be resolved and tweaked, but with some careful management from Cycling Australia this could become a long-term, integral part of the celebration of two wheels that the Nationals already represents.
Would it work elsewhere?
---
It could, but a platform such as an elite road race or championship would probably need to form part of the framework - and perhaps an adjustment of attitude from people like me, who thought a Gran Fondo could never be a race.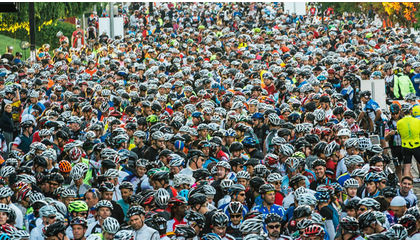 Whether you decided to finally commit to your first gran fondo, or you 50th everyone could use a little help
BikeRoar
has some great tips on how you properly train for...
READ MORE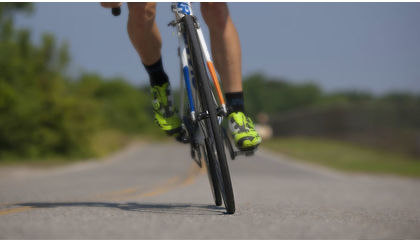 If you've been out putting miles on your road bike you're eventually going to need new tires
BikeRoar
brings you our selection for the best...
READ MORE