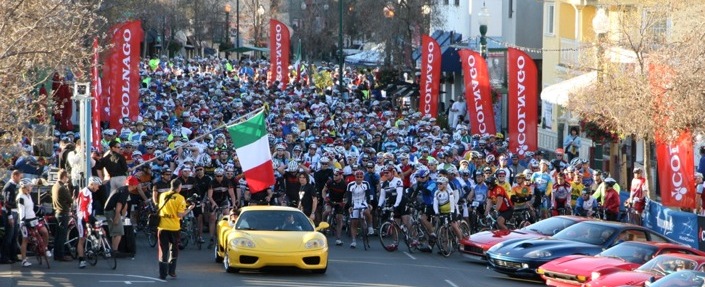 The Gran Fondo: As Italian as the car which precedes it.
We all know there are far too many bikes out there to choose from, let alone different styles of bikes. From road bikes to mountain bikes, commuters through to snow bikes... but what about Gran Fondo bikes? Although it might sound fairly new, Gran Fondo bikes have been around for many years, just under a different name - Endurance bikes. Courtesy of globalization and the Internet, the English speaking world has picked up on the correct and original terminology, now calling these endurance bikes 'Gran Fondo' bikes.
What is a Gran Fondo?
---
The term originates from Italy, where it translates globally into other terms such as; Sportive, Endurance or Cyclosportive. The event is basically a mass start road race of middle to long distance, with riders taking the challenge on as a personal battle against their own limitations, and ultimately that of the clock. Riders generally ride in bunches, formed along the way in an attempt to share the workload. The main benefit of taking part in these events is that they're usually in stunning locations and with full road closures. Participation numbers in these events are huge, ranging from several hundred through to in excess of 20,000+ riders!
Gran Fondo Bikes
---
The bike best suited to this style of riding comes down to a few contributing factors, so keep your individual needs in mind when buying a bike. Some riders will complete the fairly epic distance in a much shorter time due to their fitness level, meaning they'll be riding for less time. For these riders comfort doesn't necessarily take priority over performance and they will therefore be riding more race orientated bikes.
Alternatively the 'everyday cyclist' will be best suited to a bike with more relaxed geometry - people like you and us! These bikes are specifically designed to cater for long distance riders who intend covering 150-200km at a time. They also tend to suit people after a more relaxed and upright position when riding, due to the inherent physical limitations of age, injury and/or a lack of flexibility.
The Bike
An endurance bike used for a Gran Fondo will usually have the following features:
A longer wheelbase for rough surfaces and long distances
An increased fork 'rake' and slacker head angles to give the bike more stability and relaxed steering.
A higher headset and frame, giving the rider a more upright position
Suited accessories like padded handlebars, wider seats and wider tyres for the inherently varied terrain
Greatly altered geometry, giving the bike a relaxed setup and allowing for greater adjustments in position
Frame flex points, allowing the frame to absorb as much vibration and impact as possible.
Although Gran Fondos seem like a new idea, the core concept has been around for decades. Think of the professional cyclists you see competing in events like the Paris Roubaix or the Flanders Classics. These are basically hardcore versions of what we might take part in, but the bikes used are the same as what you and I would ride.

Compare some examples: Specialized Roubaix Elite vs. Trek Domane 5.2 vs. BMC Granfondo
What to Look For
When it comes to the big day and you find yourself tossing a coin on which bike to buy, keep these things in mind to ensure you select the best tool for the job (not just the best bike you can afford either...). The bikes needed for these events are required to be reliable and low maintenance. Who wants a broken chain 60 miles from civilization? The idea of an endurance bike is to outlast the event!
Try to opt for components that will last and are relatively easy to replace. Groupsets such as Shimano Ultegra/105 or around that point will be ideal, as well as robust wheels and slightly wider tires. You must also look at handlebar height to ensure you are sitting in a slightly more upright position, given that you might be sitting there for up to 10 hours (depending on the event and your fitness).
A bike with flex points also helps a lot in the comfort stakes, so look out for this feature. Even if certain areas of the bike are designed to be more flexible, that's what you want!
If you're not in the market for a new bike, but want to make your existing road bike more suited, consider these shortcuts and give it a try:
Double wrap your handlebar tape or add gel inserts
Have your setup professionally adjusted to be more suited to long distances
Wider tires and slightly lower tire pressures
Food pouches that attach to your bike to allow you to carry more 'fuel'.

DID YOU KNOW? Some of these Gran Fondo events contain sections of smooth dirt roads. Choose those tires carefully!
So get out there and give it a go - most Gran Fondo events fill up quickly, so don't leave your entry to the last minute, otherwise you will miss out on the best day riding your bike!