Member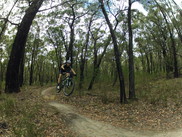 Joey Esterhuyzen
Age: 35 years
Gender: Male
Location: Australia
How long have you been riding? I've been riding since I was 13 years old, stopping at Pro Continental level. Now just race MTB for fun. Off the brakes!
Bikes Owned Trek Madone 5.2 2013 and a Trek Superfly 8 2014 Hardtail
Favorite Bikes: Definitely the Trek Superfly. It shreds like a banshee and climbs faster than me. And it's a hardtail, nuff said.