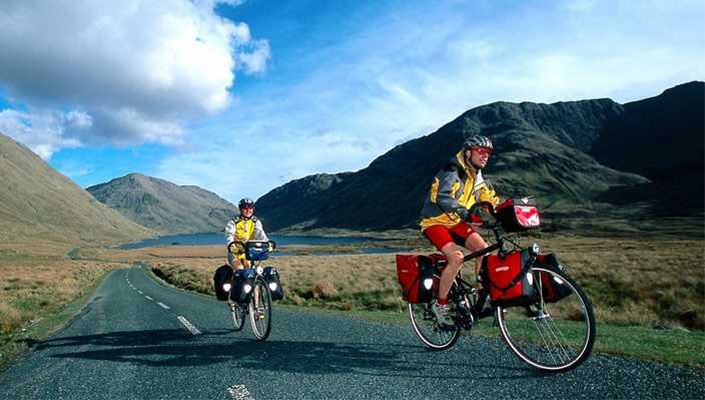 Photo: Ealuxe Luxury and Fine Living
There comes a time in life when you realize it's possibly too late to achieve your wildest dreams. The time when you realize your ideas weren't so stupid, and that riding a bike should actually have been the number one goal in life. Well no matter your age, it's never too late to feel inspired, and to step up to the plate and live your life.
If you lack the inspiration, or just don't know where to start - check out our Top Five below, all bike related of course!
1. Travel with your Bike
---
Do it. It's truly a remarkable experience, allowing you to see the country like never before. Whether it is cycle touring or slightly faster paced riding, you'll never forget a cycling trip overseas. Our article on Nepal mountain bike riding is one such example, as well as the more common French road riding tours. If you're a sole operator, organize your own trip and a hire car, find a map and just hit the road! Make sure you research cycling in your chosen country, and be aware of the seasons!
2. Try a Different Discipline
---
For those who claim to be 'seasoned riders' we suggest you try another discipline. If you've only ridden on the road, try mountain biking for once. The same applies to mountain bike riders; it could be time you tried a social road ride. You may even discover a new love in cycling. The only downside is the extra bikes in your garage when you decide to invest in that new style of riding. Trying different disciplines will allow you to ride in different locations, meet new people and best of all, you can ride ALL YEAR ROUND! We all know road riding in the freezing rain sucks, but not so much on a mountain or cyclocross bike.
3. Teach Someone to Ride
---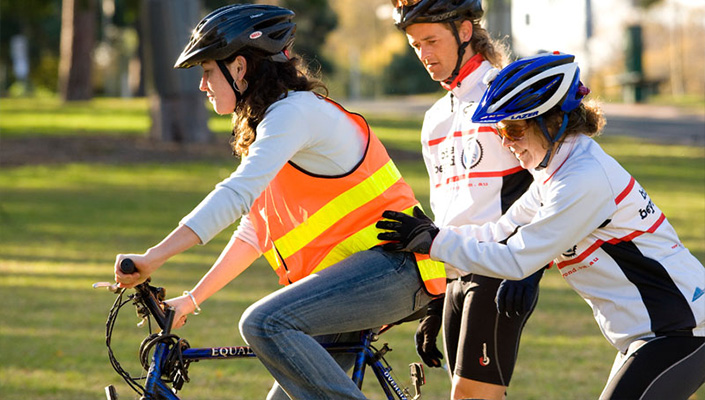 Photo: Ride Ons
On a more personal note, you'll never experience such joy on a bike as teaching someone to ride. Not how to ride a bike, but how to ride in a peloton or master the off-road trails. You might find your partner wanting to ride with you so hire them a bike and take them riding... Start with the basics of gearing and braking, before moving on to mastering small obstacles. Read our skills articles so you know what you're talking about, and enjoy the time together! Always be aware of how complex some simple skills are, and be patient. The result is well worth it, with a lifetime riding buddy keen to mount up with you on the weekends!
4. Become a Home Mechanic
---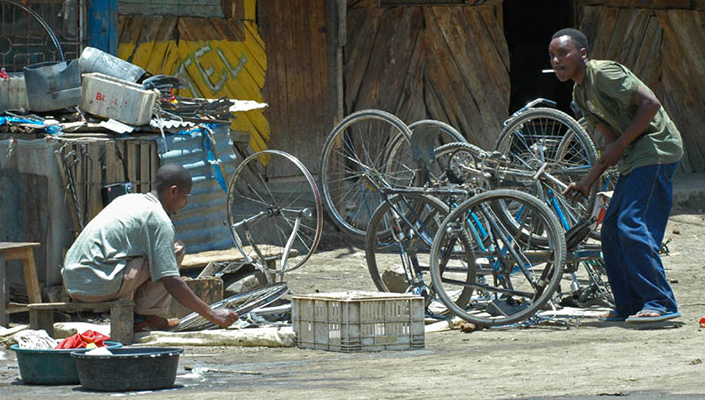 You can save loads of money by learning to work on you bike at home.
Photo: Trek Earth
Cycling is an expensive sport, but with some small investments in tools and time you can save hundreds of dollars by doing simple things yourself. Enquire at your local bike shop about maintenance clinics which will teach you how to look after your own bike. Then set up a small home workshop and get the basic tools. You'll be able to tune gears, adjust brakes, fit accessories and clean the bike in no time at all. If you know zero about this field, go along anyway! The Local Bike Shop (LBS) will also show you how to change a tube...
5. Ride a Century
---
Regardless of which measurement system you use, 100 clicks is an accomplishment. Riding a century may seem daunting to some, but it's something we can all do. If you're quite unsure of your abilities do at least half of the chosen distance to set yourself up for the big one. For our metric friends, riding 50km may take upwards of 2 hours. This means if you can allow for 5 - 6 hours, you'll easily finish a 100km ride. Pace yourself and realize that you must eat and drink substantially if this is new to you! Maintain a steady pedaling speed, and just cruise along. Avoid riding hilly terrain, as this will really make for a hellish experience, one you'll never forget.
If you look at this list and think 'pffft... I wanted a real challenge', well we can only congratulate you! If this happens to be you here is a bonus suggestion!
6. Everesting
---
6. Everesting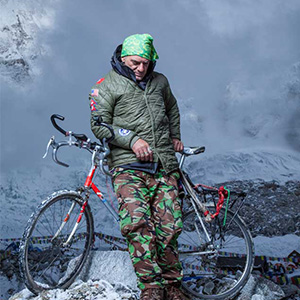 Eversting, not to be confused with planking.
Photo: Outside Online
To complete this challenge, you will need a GPS cycling computer and several mates. These friends are purely there to prove you actually DID complete the challenge. Find a decent climb with a reputation of being steep or long. Ride this climb as many times as it takes, in ONE single ride outing, with the goal of achieving a total elevation of 8,848m elevation gain. This is the same elevation as Mt Everest. It can, and has been done worldwide, with riders doing anywhere between 90 and 300 reps of a climb, in succession, to achieve this magic marker. The feat will take several hours, so pack breakfast, lunch and dinner...and lights.
Happy riding, and let us know in the comments section if you can suggest any other amazing bike experiences we haven't listed!