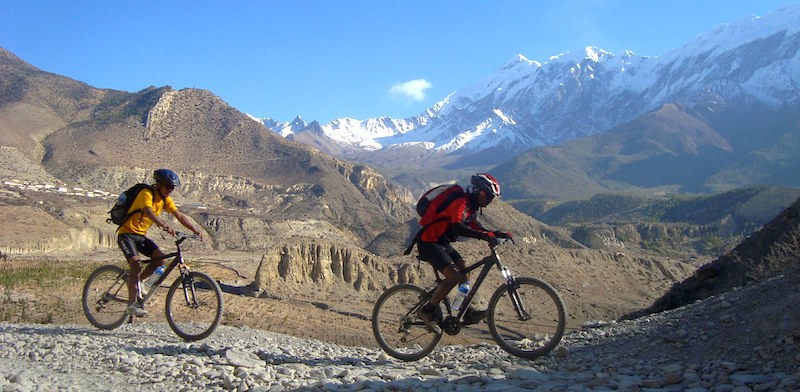 Mountain bike riding in Jomsom area, Nepal
More known for its mountains and trekking than for your next mountain bike adventure, Nepal is fast becoming the 'go to' place for those wanting to explore the land by bike. Surrounded by majestic peaks and dense forests, the capital city of Kathmandu is generally the starting point for any adventure in this incredible part of the world - followed by a substantial drive or flight to your chosen destination.
WHERE TO RIDE IN NEPAL?
---
The different regions of Nepal offer greatly varied traveling experiences, as well as a huge variety of MTB terrain. And given the relatively relaxed management of their tourist destinations, you can ride almost anywhere you want. There are over 5 major destinations to choose from, but we've narrowed it down to number one - Pokhara, Nepal.
POKHARA
This major centre is located 200km (125 miles) North-West of the capital Kathmandu, and is a popular place to visit for many western tourists not intending on climbing a mountain.
Pokhara Mountain Bike Adventure is the most professional of the guided tours available in this region, and have also been recommended by Trip Advisor amongst others. Along with a selection of other tour providers, you'll have access to a huge range of riding tours, so the hardest part will be choosing your adventure.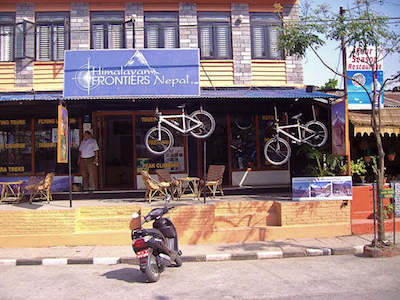 Bike shop in Pokhara
The way in which these companies operate is that you choose your tour ahead of time. Once paid for, you become a member of a particular tour group, based on your requested travel dates and plans. But just because you've paid, it doesn't mean there are sufficient members in the group for the tour to go ahead. Although it rarely happens, you may be required to change plans by joining another group, or by changing your travel dates. This is why it's crucial you double-check this before you book flights to Nepal.
The travel itinerary on these MTB adventures may seem a little on the easy side, depending on your perceived level of fitness. With daily riding distances varying between 10-30km (6-19 miles), you might feel a bit frustrated at first. The riding pace is also not as fast as you might expect, but there is good reason to all of this - 'Acute Mountain Sickness' or AMS. This is a debilitating reaction to your increased altitude, and the only cure is to descend back down to a lower level.
The tours on offer all have highly experienced guides leading them. Not only that, but you'll also have a full support team taking care of your every need. From 3 meals a day, to carrying your extra gear. It's all part of the package, and is very efficiently run. Your support team will also have any medical emergency covered, from a sprained wrist to the dreaded AMS mentioned before. The best thing you can do is trust your team leader, as they are your 'go to man' for anything you may need.
WHAT TO EXPECT
---
When actually on tour, you can expect to be riding at a relaxed pace in small groups. The lead guide will set the pace based on the fitness of the group and his knowledge of the area. Most of the riding will be of basic to intermediate technical difficulty, simply because of the terrain you'll be covering. The tours you choose will obviously affect what you see and experience, but the scenery can range from dense forests to exposed valleys with minimal vegetation.
Day to day, your group will be offered three main meals - however you are expected to bring your own snacks and extras if you wish. We recommend taking hydration drink powder with you, as this greatly assists in dealing with the affects of altitude and dehydration. As far as accomodation goes, this will also be taken care of by your team leader. Accomodation is booked in advance, so you'll know where you're staying before you get there! Be prepared to sleep in permanent tents and occasionally Tea Houses. The latter being a proper 'bricks and mortar' style accomodation, but with basic ammenities on offer including the local staple, Yak butter tea.
ALTITUDE
---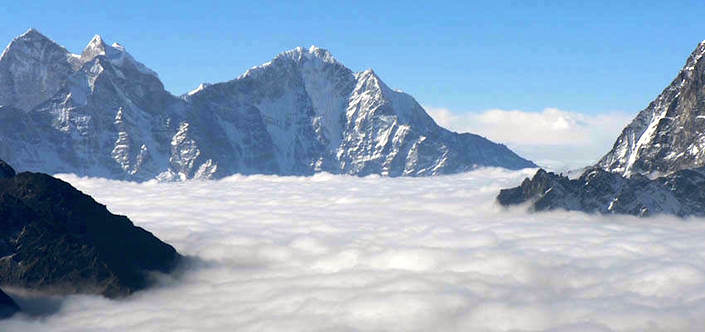 Bike trekking in Nepal - view from Base Camp, Mt. Everest
The effects of altitude vary greatly from one person to another, but generally it seems nobody is exempt from experiencing slight signs of altitude gain. The accumulation of the various altitude symptoms can then turn itself into Acute Mountain Sickness, which is when your reaction to altitude gain becomes critical. This will usually occur when major altitude gains have been made in a single day, or you cross that magic line at 4,000m above sea level.
It's a good idea to allow a couple of days to first acclimatize to the initial altitude gain once you arrive at your starting point. This is especially improtant if you have flown in, as the rise in altitude is more sudden. Then, once on the move, it is important to limit total daily altitude gain to 300m (950') per day. Most tour itineraries will have this factored in.
Aside from this, the best way to reduce the effect of altitude gain is to move slowly. When riding, never allow yourself to become too exhausted or out of breath, otherwise it becomes hard for your body to recover given the lack of oxygen. Your guide will know all of this, hence the relaxed pace and constant stopping along the way. But fear not, very few people experience this condition at its worst - it's more likely you might feel a slight headache coming on, and feel out of breathe doing minor tasks such as rolling up a sleeping bag. No big deal!
IMPORTANT ADVICE
---
A few things need to be considered when planning a trip of this nature. To keep it brief, we've summarised them below:
Contrary to our article "International cycling trips - do I pack or do I hire?" (which advocates using your own bike), in this case taking your own bike is risky, as it may get damaged due to the extent of your travels. You're better off hiring one there, even if it's slightly basic compared to your rig at home. Bikes can often be rented from the tour provider, or from bike shops such as Himalayan Frontiers in Pokhara.
Consult your travel doctor who specializes in medication for traveling abroad. You may be up for a multitude of injections and medications, so budget for this accordingly. Some of these (e.g. Meningitis) often require a series of up to 3 shots over a few months, so make sure you plan for this well ahead.
Consult your insurance provider as to what altitude your insurance tops out at. A large number of insurance options will cover you up to 3,000m altitude. However, if you need medical attention above this altitude, you'll need to pay for a very expensive helicopter evacuation (there is no vehicular access in most remote areas of Nepal). Some tour providers may have additional insurance coverage, but in almost all cases you should organize your own - better safe than sorry!
Pack minimal amounts of extra clothing. Your tour will strictly enforce a weight limit per person. This is because your support team will have to carry them for you, as well as all their required equipment and spares.
Be prepared for a slow drive, wherever you go. The roads are of poor quality and the traffic is erratic and slightly dangerous - especially in Kathmandu and on some of the busier mountain access roads. Right of way is usually to the biggest vehicle, or to the one with the loudest horn! Tell your transfers driver to slow down if you feel uncomfortable.
On a trip of this nature, do not take any risks. The implications are obvious, so be smart and just enjoy being in the middle of the Himalayas!
The best thing you can do is to properly research an appropriate tour itinerary. This will ensure you experience Nepal at its prime. Do some additional research on when to travel and what to expect, as well as learning a little about the Nepalese culture, history and customs. It's an incredible part of the world just waiting to be explored. By bike of course...