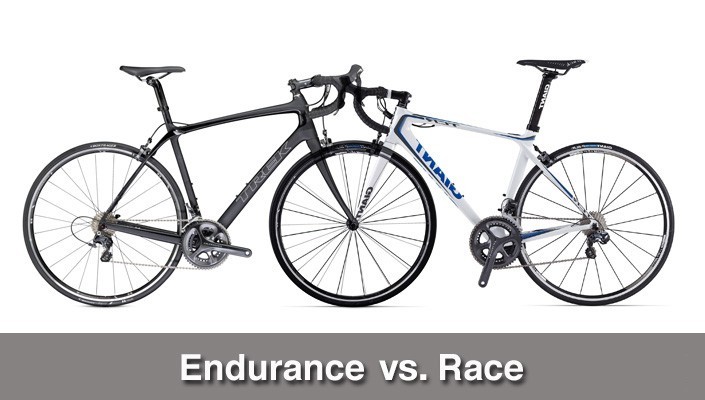 There has never been so much choice when going road bike shopping. Most brands run multiple models with specific characteristics. For example, you could possibly find these three qualities available when shopping for a road bike: race, aero, gran fondo....some brands have even more!
So what is the difference? Here is a list of characteristics of the two most common types of road bikes you will find in any bike shop worth its salt.

NOTE: These are basic guidelines only as many bikes sit across the fence between race and recreation. A "fondo" bike isn't necessarily relaxed, nor does a "race" bike need to be uncomfortable. Bear with me though as I attempt to tell a story about two different styles, then pop down to your local bike shop armed with a little knowledge.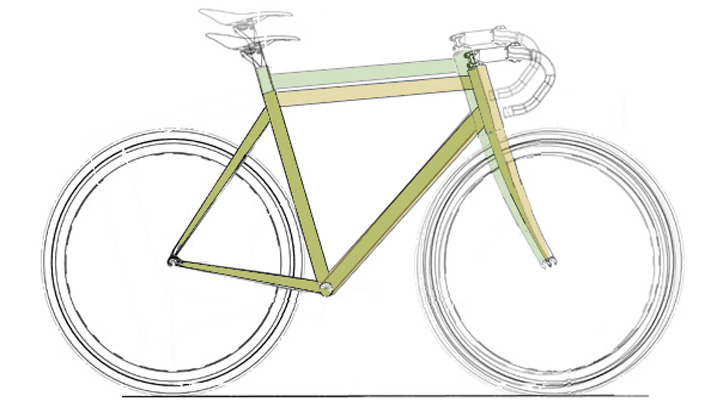 Aggressive vs. endurance frame geometry. Image: highergearchicago.com
Sportive/Gran Fondo/Endurance Bikes
---
Whatever you want to call it, this type of bike is a relative newcomer designed to cater to the huge number of riders discovering road cycling for the first time who perhaps have only a slight interest in racing. These are serious bikes that can be used in a race, but they are also designed to be "lived with" by a wider audience.
1. Compliance
The key term being thrown around in most road bike descriptions these days is "vertical compliance". This term has come to mean the frame's ability to cope with the harshness associated with stiff carbon frames. Generally it means the bike is stiff, yet able to isolate the rider from road vibration. This is achieved in a few different ways: It could be a result of specific layering of the carbon fiber, using thin seat stays, or creating a degree of flex through certain tubes, generally in the rear triangle.
Some brands actually insert rubber elastomers in parts of the frame, fork or seat post to further enhance rider comfort. The result is that you don't get bashed up by your bike when riding less than ideal road surfaces and remain more comfortable and less fatigued after a decent ride. It just makes riding road bikes more comfortable for the average rider.
Compliance can be found on all road bikes, but it is a focal marketing point for gran fondo/sportif and endurance platforms.
2. Frame geometry
Frame geometry can be a key feature of an endurance bike. These bikes will generally have a more upright riding position thanks partly to a taller head tube and slacker fork angle. This puts the handlebars higher, allowing for a less bent over position in the saddle.
Gran fondo bikes are certainly easier on the body for most of us who love cycling but have trouble bending down too low. It makes a good day out in the saddle much easier to manage.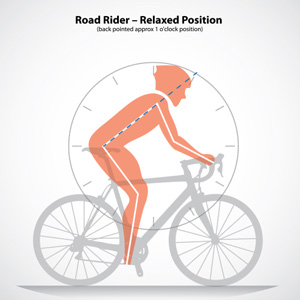 Image: rovobikereviews.com
3. Compact gearing
Another brilliant invention for the growing road cycling market is the introduction of compact and mid-compact gearing options. Gran fondo bikes are often kitted with a "compact" 50/34 tooth or a "mid-compact" 52/36 tooth chainset. This is opposed to the old standard 53/39 which is too big a gear for most recreational cyclists to pedal whilst keeping a manageable and healthy cadence.
It may also be the difference between riding and walking up a solid climb! The rear cassette may also be equipped with lower gear options like a 27, 28 or even a 32 tooth cog.
4. Robust components
Most "Fondo" bikes come in at a lower price point to their racier siblings as a consequence of different component choices. Reliability and durability, rather than wallet emptying weight concerns, are more important to the majority of casual riders. This means heavier yet potentially bomb proof wheels, low-mid range drivetrains and a mix of alloy and carbon parts depending on price.
In saying this, you can still buy a fully race specified version of many fondo bikes but typically the market is focussed on the recreational rider and the components and price will reflect this.
5. Wide tires
Lastly is tire width. This may seem an odd inclusion but it is becoming more and more typical to see 25mm tires as standard issue on a fondo bike. To cater for this the frames require more clearance in the fork and rear stay to accommodate the wider rubber.
25mm tires are more comfortable to ride than 23mm and deform more easily, resulting in better cornering grip and potentially more resistance to pinch flats.

Bike Comparison: We compare four bikes from Cannondale outlining the difference between race and not-so-race! The SuperSix and the Synapse. Available at your local dealer today.

Race Bikes
---
Race bikes are now even more specifically suited to certain types of riding. Expect to find straight out weight focused frames and the ever more popular aero models. A professional rider would use both depending on the terrain of the race.
1. Aggressive geometry
By aggressive I mean there is more focus on efficient "head out of the wind" speed. Think low front end and sharp, precise steering. A bike like this is certainly more suited to a rider looking for race advantages, with more emphasis on power delivery than comfort.
2. "Big" gearing
As discussed above, race bikes come standard with full sized gearing. This usually means a 53/39 chainset and an 11 or 12-25 tooth rear cassette. Professional road cyclists will throw on a bigger chainring for flat races or time trials.
Many cyclists ride with gearing that is too big for their capabilities. If sitting at a cadence of 90 is leaving you completely destroyed, then perhaps even if you opt for the race bike, you would be better served by replacing the chainset with a more compact option.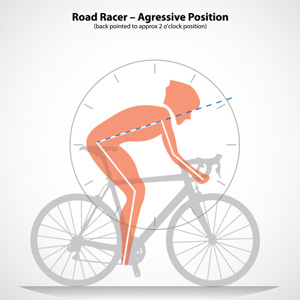 Image: rovobikereviews.com
3. Aerodynamic not comfort
When aero race bikes first came out they were so stiff (a result of the tube profiles and stiff as possible mentality) that even the professionals complained! This has changed a lot over the last few years with better construction methods and application of fondo like compliance attributes into even the most out and out race bikes.
Still, the payoff for aero profile tubing is a loss of comfort for the average rider and as a result the true aero race bike is probably best left for the serious road cyclist, amateur or professional.
4. Power transfer and stiffness
Race bikes are designed for converting big watts into rear wheel power to the ground, and not for nancying around all squishy like! Stiffness, particularly in the bottom bracket and head tube area, is crucial to making a good race machine. The great challenge for bike manufacturers is to create bikes with market leading stiffness and power transfer qualities without making a bike practically un-rideable.
As already said, the technology has come a long way to making this an actuality, but still a race bike has a specific purpose that differs from your general fondo machine.
5. Light weight and expensive
Lastly, although many fondo bikes are available at the top end (especially considering many are actually raced on by the pro peloton during the "Classics" in particular), it is the race bike that generally comes out with the most extreme weight numbers and price points.
Some top end race bikes are too light to actually be used in racing as they come in below the 6.8kg weight limit set by the UCI. Professional team mechanics often have to come up with ingenious ways to add weight to make the bike race legal and hence useable without disqualification.
As you can imagine, this focus on weight means complicated manufacturing techniques, the use of the very top end components and wheels and supreme attention to detail and quality. This comes at a high price which is why top race bikes regularly climb over the $10,000 mark.
---
So when you pop down to the local bike shop with the thought of getting a new road bike, take a minute to consider what you actually want from a bike, what type of riding do you do and how often? Is your body in good enough knick to bend over an aggressive race bike or are you more interested in road bike efficiency but with a bit more comfort?
Take an honest stocktake of your capabilities as a cyclist and go have a chat with the professionals. That way you will always come out a winner.