Words to live by...
Image: vannevar.blogspot.com
Bike shops are the nerve centre, the hub and a microcosm of all things cycling in your local community. Becoming a regular and befriending these people is a crucial part of becoming a better cyclist and it means you will always have your finger on the pulse.
I sat down and in a short time could think of 10 reasons to go down to your local bike shop right now!
1. Get your chain checked
---

Chain checkers measure stretch in your chain
Image: cyclova.com
Bike chains: The consumable item most never bother to replace until it's too late. Why don't you pop down to the shop and get them to give yours a good check for wear. If you leave this too long the final bill will mount up as you will also need to replace the cassette. They will be able to give you an appraisal and time frame for chain replacement....why not order it while you're there?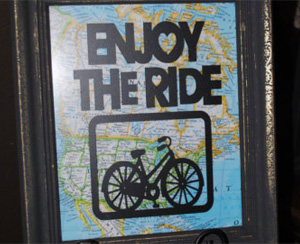 Image: Graceful Offerings
2. Find out about the weekend ride
---
Most shops run social road or mountain bike rides. The only place with better information than a bike shop about the local scene is in the bunch. Go down to the store and have a chat about shop rides. You can then choose which ride suits your ability and cycling goals.
3. Take the girlfriend/boyfriend, husband/wife, buy a bike
---
Grab your other half and take them down to the shop with you. Dazzle them with the latest bling bikes and help your local bike shop by doing the selling for them. It's great being in a relationship where you're both into bikes!
4. Get some spares for the century ride
---
The local bike shop is the numero uno place to get stocked up for a big day out planned for the weekend. Pick-up spare tubes, co2 canisters, energy food and get yourself ready to go. You might even find a willing accomplice in your day of big miles!
5. Tweak your seat
---
Most of us are pretty indifferent to getting our bikes fitted properly. Book in a quick bike fit, ride yourself down to the shop and get your saddle (and everything else) put in the right place. Even a quick look over by an experienced professional can reveal areas in your bike fit that could be addressed.
6. Try (and buy) a pair
---
Okay, we all shop online now and then, but one thing a local bike shop does better than an online store is fitting everything correctly. This is obvious with a bike fit, but also clothing and definitely shoes. Cycling shoes are such a personal thing; every brand has a slightly different shaped last, even if they are the same size. Your local bike shop is the ONLY place you can try on a pair, walk around (or better yet jump on a bike for a few spins) and get the fitting absolutely spot-on.
Just make sure you then buy from the shop where you tried them rather than nipping home and purchasing online once you found your size. VERY cheeky and VERY disrespectful. Don't do it.
7. Quick tune-up
---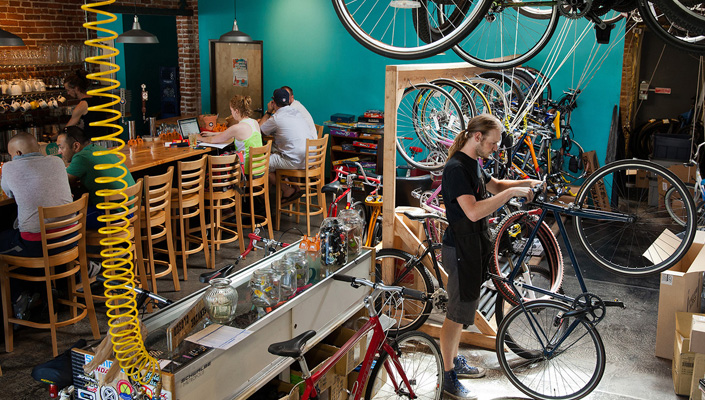 Image: blayleys.blogspot.com
Call ahead to see if the mechanic has 20 minutes to give your gears and brakes a quick squiz. A tuned bike rides so much better; no noise, no skipping and no derailleur rub. It also gives you confidence to ride harder when you know the bike has been checked by an experienced professional.
8. Coffee on the couch
---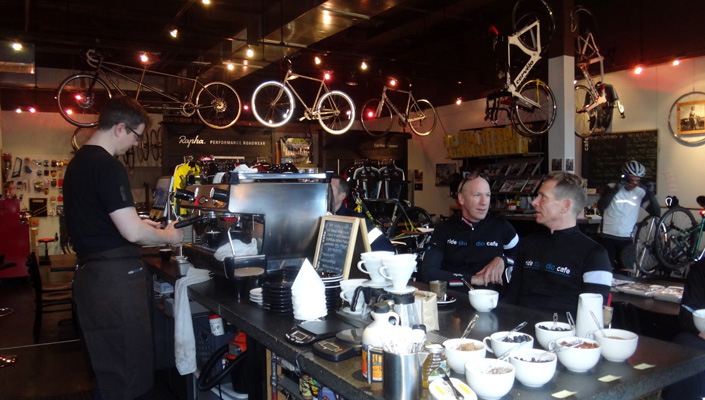 This is the dream bike shop becoming more and more common. Bikes, atmosphere, coffee and a decent place to sit and talk everything cycling (and perhaps buy something special!
Image: blayleys.blogspot.com
Some of us are lucky to have a local bike shop that is moving with the times. This typically means they will be able to make you a coffee (or a beer if you're REALLY lucky) and have a comfy seat setup for the supreme customer service experience! If you don't pay for the coffee buy a couple of tubes or a co2 canister. It keeps the balance in check.
9. Chew the fat
---
A good bike shop can also become a bunch of friends. In the quieter times you could hang out and hear a story or chew the fat. Perhaps you could even help out in the store. Bike shops are about community and the best of them embrace this. (Just be mindful this is also a place of business. Know when it's time to make space for the employees and head back home!)
10. Make a friend
---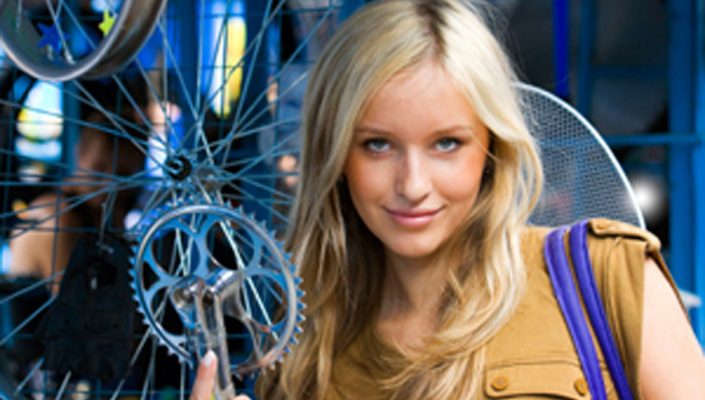 Who wouldn't want new friends..?
You may discover a good friend. Sharing an interest in something like cycling can lead to having an accomplice in some crazy long distance road rides or a buddy on the trails out in the forest. Friends help to motivate us and also keep us honest. The pinnacle of many people's cycling life is a couple of cold beers with mates after a mountain bike ride. Truly, does it get any better?
And it all started at the local bike shop. Get down there today.