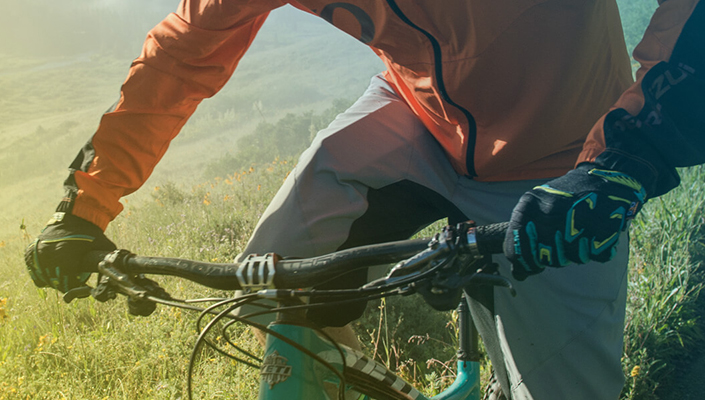 A good set of gloves is essential to your mountain biking kit.
Your hands provide one of two connections to your bike, (your feet being the other), so it's easy to see how important it is to take care of them. Gloves can provide added comfort and grip in poor conditions and over rough terrain, so choosing the right ones is very important.
Fifteen years ago, mountain bike gloves were mostly boring black and the only aim was to give you grip on the bars and some protection in case of a crash. These days, you can get them with gel pads, silicone grippers on the braking finger, touch screen friendly, and so many colors you can match your gloves with your hubs, shifter, and undies. Another 'key feature' of some styles is that they have an absorbent section on the thumb used for wiping away sweat or a runny nose. Ewww.
It is quite apparent that there are fewer brands on display in real life bike shops to touch and try on. It's a big ask to purchase a new brand of glove online without actually trying them on. But sometimes you just have to take a punt and get as much advice as you can and click on the 'buy' button.
Your choice of mountain bike gloves depends on your chosen mountain biking discipline, skill level and the climate where you ride. So what should you look for in mountain biking gloves?
Fit
---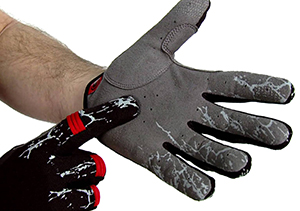 Fit is the most important part of purchasing new gloves.
image: youtube.com
Fit is the most important aspect of buying a set of gloves; there's no sense in buying the most perfect looking gloves if they fit like garbage. All brands of gloves fit differently, so never assume that a new pair of large Fox gloves will fit just like those old worn out Troy Lee Designs gloves you love so much. You want to try every single glove on before purchasing to avoid any fit issues.
You want your fingers to go to the end of the fingers in the glove without obviously being too cramped. The easiest way to tell if your fingers fit properly is to pay attention to how the glove fits in-between your fingers. If there is pressure or pinching when you spread your fingers, then try the next size up. You also want to make sure the palm of the glove fits by spreading your fingers as wide as possible and seeing how tight the palm material is. If it's as tight as a trampoline, then you want a bigger size, but if there's enough material to fold over in your palm, then you want to downsize.
If you're finding the fingers too tight and the palm too loose, try another brand. We can't stress it enough that you need to try on as many pairs of gloves as possible before you buy.
Fingers or no fingers?
---
Fingerless gloves aren't just for road cyclists. If you live in a hot or humid climate they might suit you on the mountain bike. They are also quite useful if you use a touch screen GPS or phone while out riding. Having your fingers free also gives you full contact and feel of the brake levers. Fingerless gloves tend to be difficult to get off if they don't have a tab or a hook to hold onto to pull them off. Look for a pair with this feature. The Louis Garneau Mondo Sprint gloves, available for both women and men, and are decent fingerless gloves.
For colder or wetter climates, full-fingered gloves with waterproofing will suit better. Similarly, if you are into more serious mountain biking where consequential crashes are more likely, the full-fingered option gives more grip and protection. Most people choose full finger gloves for their MTB rides.
Grip and protection
---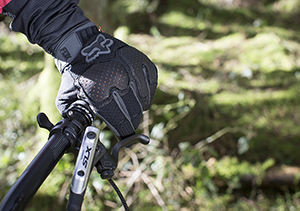 If you need extra protection, look for gloves made from tough leather material or with added knuckle protection. Fox Unabomber gloves have thick knuckle padding in case you clip some trees. If you want something that offers some good protection in a more minimalist design, check out the Sprint glove from Troy Lee Designs.
Heavily protected gloves are good for people who may be new to MTB and want the reassurance that the extra protection gives. Heavily padded gloves are also the favorite for trail builders as they double as both riding and work gloves. If you spend any time on a moto as well as on a bike, you may want to consider gloves with protection.
Comfort features
---
If you tend to get sore hands or tingling fingers while riding, you can get gloves with more palm padding or gel pads. Personally, I find these unnecessary on the mountain bike, as you tend to move around more than on a road bike. But everyone is different! You have some important arteries and ligaments that run through your hands and for some people holding onto handle bars can irritate these - padded gloves and ergonomic grips may help with this issue.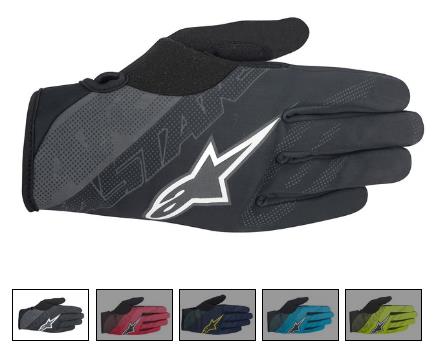 Also look for breathability; more expensive gloves are usually more breathable (this is not always the case, but you often get what you pay for). Ventilation helps keep your hands dry and on longer rides this can greatly increase your comfort level. Having slippery and wet hands while hammering down a trail can lead to you having to grip harder than necessary causing more harm than good. The Alpinestars Stratus glove is a great choice for a midweight glove that's loaded with features.
Minimalist gloves
---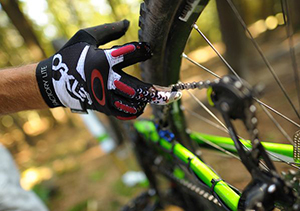 We love the minimalist, lightweight, streamlined glove designs on the market today. They are so thin they are barely there, with maximum touch and usually a cuffless (no Velcro) slip on design. This type of style is cooler in hot climates than other full-fingered gloves and some claim to be 'touch screen' compatible. In my experience this 'compatibility' comes with varying degrees of success. If you have had trouble with Velcro coming undone on your gloves in the past, then the slip on design might also suit you better.
Gloves with lots of seams tend to wear out faster than those without. When gloves fail, 99 times out of 100 they fail at a seam. Seams across the palm can also cause discomfort as they rub and wear against your skin over time. It is for all these reasons why we love simple glove designs. Take a look at the Factory Lite and Automatic 2.0 from Oakley as they are some of our favorite gloves.
Yeti cycles Enduro, Troy Lee Designs Ace, and the Fox Attack or Fox Lynx for women are some other great minimalist gloves.
Women's specific gloves
---
Women's specific gloves are designed to be slimmer in the hand than the men's ones. They also come in 'girly' colors and nice designs. I don't want to be too cynical, but it should be noted that some women have smaller hands than men and some don't. Some women like pretty colors or funky designs; some women don't.
There are also plenty of men with slim hands or who like stylish gloves.
So, for the mountain bikers of either gender; if you think the women's specific gloves might suit you have a look at the Fox Ripley and Troy Lee Designs Ace.
It is also worth considering the Queen of the Mountain brand, who aims to empower, inspire, and encourage women to ride bikes. Their moto is 'I can. I will. End of Story'. The designs are cute, inspiring and positive. The fingerless gloves are great for mountain biking in humid climates.
A tip for the ladies and 'smaller handed riders'; the 'men's' specific gloves in an extra small size are usually going cheap, grab yourself some great bargains!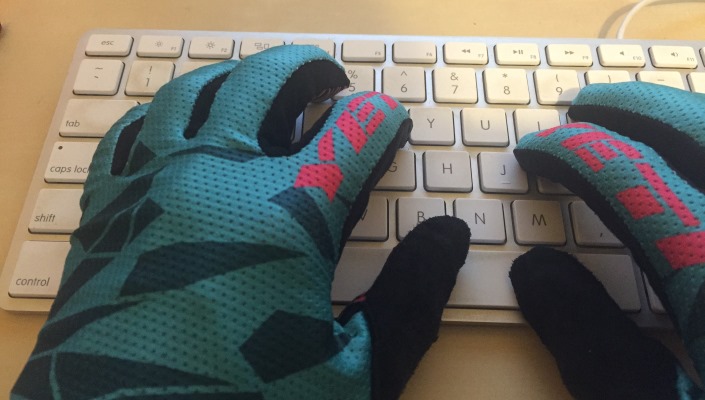 Funky designs
---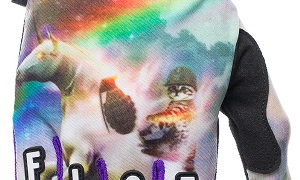 Thankfully for 'larger handed riders' who don't fit into the women's specific styles, there are still gloves with funky designs available! Troy Lee Designs have cosmic colors in their XC glove and Fist brand's Unicat glove has cats riding unicorns with hand grenades. Really.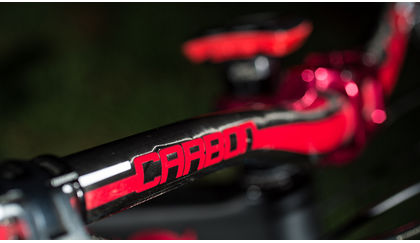 Carbon handlebars are a purchase that can improve your ride from the moment you put them on
BikeRoar
has the information you need to purchase a set of...
READ MORE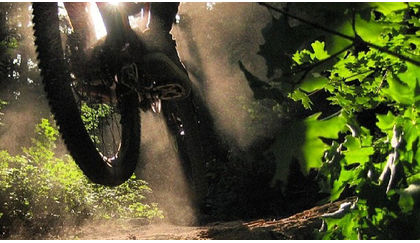 losing your grip? or maybe you're just in the market for some new tires?
BikeRoar
gives you their definitive list of the best tires...
READ MORE