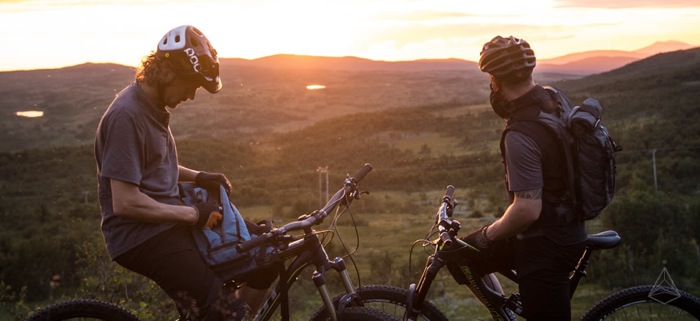 There are many brands of hydration packs out there, and while we can only cover a handful, visit your local bike shop for options and recommendations. Photo: The Coolector
Hydration. It's one word that's enough to fuel a war. How do you hydrate? When, Why, and with what? You might think there are a million answers to your million questions, but there's actually only one answer: Hydration Pack!
Hydration packs have been extremely popular in the off road motorbike world, with Enduro riders using them to make it through their gruelling events. But within the last decade, mountain bikers have made this concept their own, with brands such as Deuter, Camelbak and Vaude to name just a few, offering a huge array of packs to choose from.
Within the last few years cross country racers have also taken a shine towards hydration packs as longer events become the norm, and the added convenience of hydration outweighs the excess weight carried on the rider's back. So what does a hydration pack do other than carry fluids for you?
Hydration packs also double as the 'do it all' backpack - these packs all feature a selection of pockets to stash your food and spares in (actually enough space to carry the tools you require for a full day of riding or racing). Downhill and Enduro riders can opt for a larger pack, big enough to stash their body armor and full face helmets in while they ride the chairlift or walk up the hill for just one more run.
Check out these options and see what style suits you best. We've chosen these at random and they aren't in order... so check out our hydration category page to see the full list of options!
---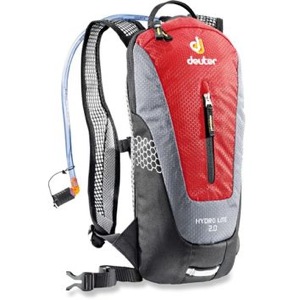 Deuter are known for their quality products, and the Hydro-lite 2.0 pack is no exception. Featuring an anatomically formed shaping, this pack also plays host to airmesh panelling and an aluminium shape retainer for optimum fit and comfort. The size of this pack is deceptive: It can carry 2 litres of fluid, as well as your tools and food (if you pack it tight).
Aimed at cross country riders, this pack is lightweight and very minimalist. A side note is that you can still access your pockets while wearing this pack, due to its minimal sizing. A sternum strap keeps the pack snug and reduces movement while you shred. A BikeRoar favorite. Check it out at your local dealer.
What do you carry on your back? This is what we pack when heading out on the trails: "What's in the bag?"
---
If you want to ride forever and a day, you'll need this! The Camelbak Alpine Explorer has it all, and is perfect for exploring (as the name suggests). With a fluid carrying capacity of around 3 litres, this pack will get you there and back. Believe it or not this pack also has an integrated rain cover, more pockets than you'll need, a tool attachment to carry your ice pick, and a huge 38mm chest strap to keep your load snug against your back even when wearing thick clothing.
It seems more suited to a Delta Squad Mission, but this pack can also carry extra clothing, food, a head lamp, trail maps, trekking poles, ice axe (we weren't kidding), sunglasses, a GPS location system... whatever you want to cram into it! Enjoy riding up the hill though.
---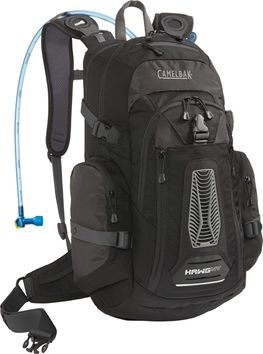 There are those who ride down the hill and catch a chairlift back to the top. There are those who ride all day, having spent the previous day building trails themselves. There are those who kick back on a mountainside and look at the descent that awaits. The one thing they have in common; the HAWG NV.
With the capacity to carry body armor, a helmet, food, emergency supplies and a hydration bag of over 3 litres, this pack is the master of them all.
The pack also features a suspended harness system to alleviate the weight pulldown from your pack as you hit the rough stuff.
As with most larger packs the Hawg does expand slightly to accommodate any extra gear you try to squeeze into it...
---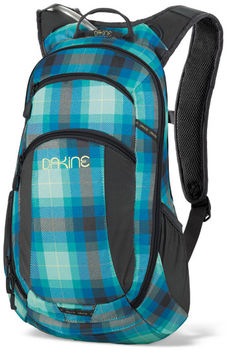 Dakine have some pretty standout stuff from gloves to pads to hydration packs. All their products are well thought out and more importantly, colourful! The female specific Amp pack is no exception! Featuring a sizeable 3 litre fluid reservoir and plenty of mesh side pockets, the team at Dakine even found space to fit a 'deployable helmet carrier' which will come in handy for the gravity enthusiasts as they bum a ride to the top of the hill.
If you happen to hit the deck, or get chased by a bear through the woods, fear not! This pack also features a rescue whistle and enough space to carry a GPS locator, extra clothing, emergency supplies and food - ideal for those who enjoy their backcountry riding.
---
As you can see there's a pack to suit any back. The best thing you can do is pop down to your local store and try some on. You'll find that some packs just fit better than others, given your unique body contours. If you intend filling the pack to the brim, maybe consider opting for a slightly larger size just to make sure you have enough room. If you like to keep things lightweight, consider replacing your water bottles with a hydration pack to save some weight.
Or just carry all your bottles, and your hydration pack and ride all day!