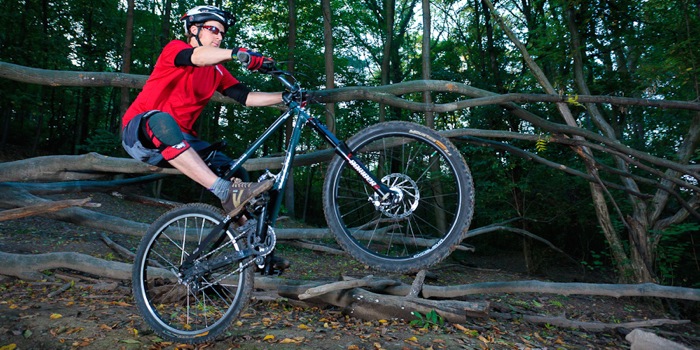 Learning to balance on the rear wheel, (manual), opens up a whole new world of skills and can help with clearing any trail obstacle. Photo: IBC
Mountain biking involves clambering over a huge array of obstacles both man-made and natural. But with the correct arsenal of skills you can turn your clambering into gliding as you seamlessly clear any log, rock or uphill ledge. In fact, you'll become so good at beating the obstacles that you'll hunt them down just to ride over them!
This time around we are focusing on three skills in particular. They are all interconnected so if you learn one skill, you should be able to progress to the next skill easily.
MANUAL
---
This particular skill comes in so many different forms. You can manual over a puddle, or jump onto YouTube and watch some kid manual for 3km down a hill - no jokes. But for our purpose of clearing obstacles on the MTB trail, we want you to be able to manual on a much smaller scale.
To manual, you need to get the bike up to a reasonable speed (fast enough to stop pedalling and maintain substantial momentum).
Next you need to stand up into what's called your 'attack position" - weight centered over the bike.
With elbows and knees bent, you need to lean backwards sharply, and pull on the handlebars at exactly the same time.
To add to number 3, you can also push the bike away from you with your feet, but at the exact same time!
Continue to try leaning backwards, to maintain your manual and cover greater distances.
Practice makes perfect, so keep at it. It's all about timing and relaxing when you try to learn a new skill. Find an empty carpark, and ride towards a white line. When you reach the line, stand up - when you reach the next white line, lean back hard and pull back on the handlebars with fully extended arms! See how far you can go, but aim for at least half a meter to get you started.

TIP: A MANUAL IS ALL ABOUT WEIGHT BALANCE, SO THROW THAT WEIGHT BACKWARDS! IT HAS NOTHING TO DO WITH STRENGTH OR POWER. ALSO, DON'T LET THE BIKE 'SLAP DOWN' AS OPPOSED TO YOU GENTLY PLACING THE FRONT WHEEL DOWN ON THE GROUND AGAIN.
A manual is used on the trail to clear obstacles that are small enough to roll over. You can also use the manual technique to ride off a drop safely. But when you first start using this skill on the trail, go slow and choose small objects to manual over - maybe a branch or even a shallow rut in the track.
BUNNYHOP
---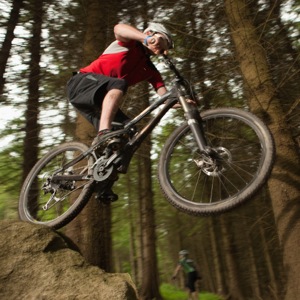 The skill in performing a bunnyhop has been slightly lessened by the introduction of clipless pedals all those years ago. No longer did you have to spend hours practising; instead you could just clip in and well... jump with the bike attached to you. This method of bunnyhopping is almost useless, because you'd have to be riding at an incredible speed to actually safely clear an obstacle. Firstly, your clearance height would be pretty minimal, so forget clearing a decent log. Secondly, your front wheel would clear, but your back wheel would probably hit the obstacle, and thirdly you would need to timing of a Swiss Watch to clear the obstacle.
Here's how to do a proper bunnyhop, although it does involve a little more practice to master. Just know that it is well worth it, and you'll constantly get better at it!
Stand up in your attack position.
Perform a manual (a decent one, covering at least half a meter)
Jump upwards with the back wheel, and push the handlebars away from you as you jump (this levels the bike out in the air).
The timing involved in mastering the bunnyhop comes down to split seconds, so make it snappy. Lean back. Front wheel in air. JUMP that back wheel into the air. It should all be one smooth motion, with your upper body tracing the letter S in the air, starting at the bottom of the letter S.
To do a bunnyhop is quite an art, and it won't come easily. Start small, and be happy with any progress at all. Once you've mastered the timing, try go bigger. To do a bigger bunnyhop, you can pull the front of the bike higher before commencing the rear wheel jump.

TIP: IF YOU DON'T RIDE WITH CLIPLESS PEDALS, YOU CAN STILL DO A PROPER BUNNYHOP. INSTEAD OF JUMPING UP WITH YOUR FEET, YOU WILL NEED TO SCOOP THE PEDALS BACKWARDS WITH YOUR FEET AND THEN UP. SLIGHTLY TRICKY, BUT POSSIBLE.
UPHILL LEDGE POP
---
As if riding up a hill wasn't hard enough, some trail building guru put a ledge there just to mess with your head... How dare he ruin your ride! Well it's time to sock it to him and ride over his ledge obstacle with ease!
Once again, this skill has nothing to do with power. Instead, timing is key to performing an uphill log pop so be patient until you master this basic skill. Believe it or not, this skill is easier to do uphill than it is on the flat.
As you ride up the hill and approach the ledge, shift back on your seat slightly.
Maintain your riding momentum, and begin to time your pedaling to be able to do the next step.
Lean backwards on the bike, and at the exact same time, pedal firmly to lift the front wheel.
Once the front wheel is up the ledge, lean forwards and unweight your back wheel as it follows you over the ledge.
Apply full power to ride away and regain your uphill momentum.
The timing of your pedaling is absolutely critical in performing this skill. You must have your preferred leg at the 2 o'clock position, ready to pedal down hard as you lean back at exactly the same time! The tricky part is this - because you're riding uphill, you can't stop pedaling to allow yourself to position your pedal correctly. You need to time it so that you can continue pedaling, and then apply the steps above within your existing pedaling rhythm.
As always, good luck! Be patient and remember the reward of mastering these skills. Your riding will be faster, more flowing and tons more fun.
Get out there and give it a go!