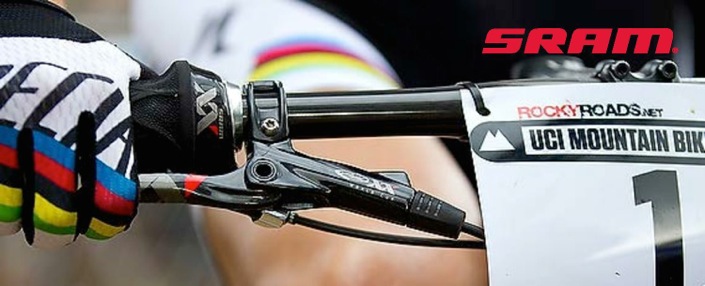 We aren't all out to win the Mountain Bike World Cup - we don't always need the very best components available.
The cycling world is saturated with products and brands for anything you could possibly ever want, but one of the more popular topics of discussion is 'which groupset do I choose' when it comes to your off-road ride. Mountain bike groupsets are divided into two major brands, with each one offering a plentiful lineup of choices. But which do you choose and what are you missing out on? We're about to take the plunge, so join us as we venture into the world of MTB groupsets.
First of all, the two major brands in this discussion are Shimano and SRAM. There are other brands out there, but for the purpose of targeting the majority, we will focus on these two big hitters of the dirt world. Shimano has been around for decades (since 1921), while SRAM is relatively new on the scene, working away in the background since 1987. But in the world of technology, age and tradition don't always count for much - which is why SRAM has been able to so rapidly take over a large chunk of the market.
Both of these brands have strong affiliations with major bike companies such as Giant, Specialized, Cube and Cannondale just to name a few. This allows bike buyers the chance to use a groupset without consciously choosing it, or alternatively, more experienced riders may make a bike purchase decision based on which groupset the bike is equipped with.

What is a Groupset? A groupset is the collection of bike components which could include drivetrain parts, brakes, wheels and other subsidiary parts.
THE LEVELS
---
The different groupsets can be described in three distinct aspects: Quality, Purpose and Price. Obviously as quality increases so does cost, but the most important aspect is the Purpose. Paying attention to this will ensure you get the performance you require without paying for what you don't really need.
Purpose
Quality
Price
RACE / PERFORMANCE:
XTR
XX / X0
Excellent
$$$$$
TRAIL:
XT
X9
Very Good
$$$$
SLX
X7
Better
$$$
RECREATION:
Deore
X5
Good
$$
Alivio
X4
Average
$
This table is just a rough guide to get you started. SRAM has also introduced the XX1 1x11 systems (of varying levels) just to confuse us a bit more!
QUALITY
---
Both Shimano and SRAM have groupsets to cater for all levels, and the manufacturing quality is equally the best going around. Shimano has Alivio, Deore, XT and XTR componentry ranging in order from lowest to highest quality. Shimano has several sub-categories under those banners as well. SRAM equally has X3 through to X9 before moving into the top end items of X0 and XX / XX1. Obviously, certain levels of componentry are of greater quality, but in general, between the brands there's barely a hair's width in it.
PURPOSE
---
Quality filters into purpose with regards to strength/durabilty and weight. Higher quality materials and manufacturing are necessary to produce lightweight yet strong parts for competition level bikes in XC or downhill/free-ride disciplines.
As you can see above, "Trail" is where most of us reside in our mountain bike riding. Trail components are good quality, robust and are heavy enough to maintain reliablility. Recreational gear is for a rider who wants quality components but doesn't do a lot of serious off-road riding. "Race" are the lightest and priciest. They may not be suited to more aggresive trail riders who don't neceassarily need to count every gram on their bikes.
PRICE
---
The number crunching part of this discussion is usually where readers will pay close attention, so that means you! A good price indicator for Shimano and SRAM would be around the Shimano XT - SRAM X9 pricepoint. The Shimano option comes in at around $650USD while the SRAM equivalent comes in at closer to the $790USD mark, with the price difference arguably not really offering any better performance from the SRAM.
You can pay more (a lot more) for race level components. This is probably unnecessary unless you have to be first to the top of the climb, are simply looking for the best you can get, or are seriously into racing.
FEEL
---
Product feel is one of the more 'user based' categories, and is something we can all relate to. Shimano and SRAM both have equally dedicated followers based simply on how their products feel during use. Certain riders will change parts on their bikes to suit their personal preferences - for instance, changing the brakes in favor of Shimano XT or XTR brakes. In terms of gearing, most SRAM users will comment on their preference towards SRAM based on how the shifting feels. SRAM does tend to have a much more definite shift to it, while Shimano users will claim their choice to be smoother and not as 'clunky'.
Either way, there is seemingly no clear cut way of declaring a winner between Shimano and SRAM other than by going with your own personal preference... If you haven't yet ridden enough to have a personal preference, then you'll not be missing out by going for either of these component brands! Both offer equal quality products at the same price points on any given new bike, so be open to trying either option.
When it comes to deciding which groupset you'll go for, take into account that a higher quality groupset is one of the best investments you can make on your bike. The benefits will be felt immediately, with smoother shifting and better braking as a given. From user reports and our own experiences, brand names don't play much of a role in quality despite popular opinion. As always, we highly recommend heading to your local bike shop to to try out bikes with the different groupsets you are considering. Personal preference will always be something you'll develop over time, but until then have an open mind and give both of these groupset brands a go to see what works for you...