Once it was just a matter of choosing a brand. Now, within each brand are a whole myriad of bikes for specific purposes. Here is a quick look at Specialized and some of their popular road racing models.
Specialized has been one of the major leaders in bicycle innovation for the last two decades. Many of their bikes, road and mountain, have gained legendary status among the cycling community.
In the last decade their dominance has grown, particularly on the road, with wins in the Tour de France (overall and stage) and also the classics like Flanders and Paris-Roubaix. It is also interesting to note that these victories were achieved on different bikes. These days there is a bike for every occasion: sprinting, climbing, rough roads, aerodynamics and then on into women's specific and time trialling. Here is a look at some of these bikes and who they are most suited to.
---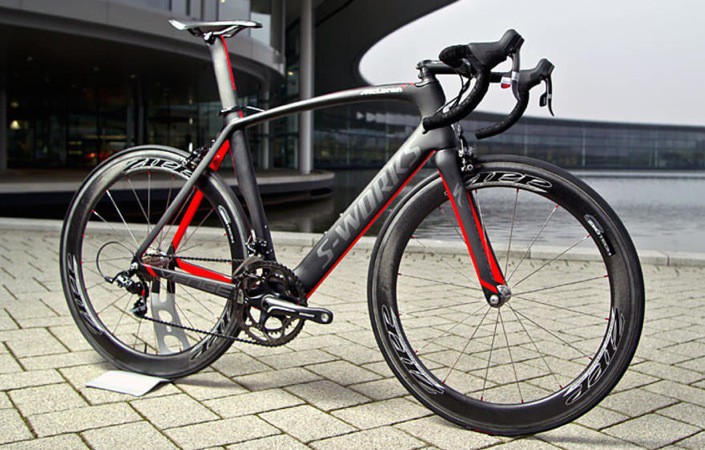 The F1 inspired Specialize Venge is a purpose built aerodynamic road race bike and is suited to the intermediate to advanced cyclist.
The Venge is a super stiff aerodynamic road bike for sprinters and guys who spend much of the day off the front in the wind. The Venge frame is said to result in 20% aero savings over a traditional non-aero bike (like the Tarmac). If true this means faster speed, less time and less fatigue. Regardless of the numbers, testers have overwhelmingly reported they 'felt' as though the bike cut through the wind very well indeed.
The downside of an aero frame has always been additional weight, but then this bike isn't designed for maximum watts per kilogram like the Tarmac. Expect to add a couple of hundred grams extra weight over a comparable level Tarmac. If you have a healthy wallet you could purchase a top-shelf model where weight would not be an issue, but most of us would probably shirk at the price tag.
Who is it for?
You spend your time in the wind off the front chasing a break or just doing the work, or you need maximum speed sprinting for the win. This is the perfect bike for those riders. The good news is that the Venge is also a very capable all-rounder. This is certainly a stiff bike, but far from an uncomfortable ride and could be the do everything bike you've been looking for.
---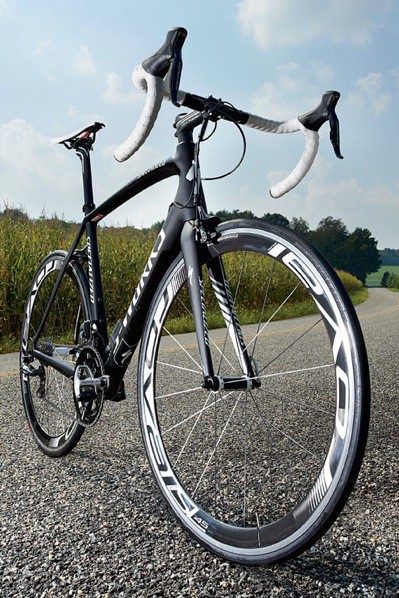 Photo: Mitch Mandel / Bicycling
The Tarmac is the super-efficient race bike with an overall Tour de France victory and multiple stage wins under its belt. The bike is all about stiffness to weight ratio and smooth handling qualities which make it the standard go to bike for three Pro Tour teams this year. The mantra common among all top flight bike companies, particularly regarding road race bikes is "make it stiffer, make it lighter". This is the result from Specialized.
Although the bike continues with a tapered head tube, Specialized have reverted to a 1 3/8" lower bearing to save weight, but have also beefed up the carbon join to retain stiffness. They have also created a one piece bottom bracket and chainstay area. This is crucial for stiffness and power transfer.
Who is it for?
This is a race bike and is all about efficiency, stiffness and weight. Club, amateur and professional road racers would benefit and it is a nimble bike for a criterium or all day training in the hills. The Tarmac is extremely light and climbs well. Specialized women's race teams use the female version called the Amira. This bike has all the technology of its male counterpart but with smaller frame sizes, shorter head tube and shorter chainstays.
---
Photo: steephill.tv / sirotti
Named after the famous Classic and a winner on multiple occasions, the Roubaix helped define the endurance road category. The standard features of these bikes are a tall head tube and technology designed to introduce 'compliance' or some amount of vibration damping and vertical flex in the seat stays and fork. The Roubaix uses rubber inserts in these areas to isolate the rider from fatigue inducing harshness from an otherwise stiff bike.
Who is it for?
Make no mistake, a properly kitted out Roubaix is an effective race weapon (just ask Tom Boonen or Fabian Cancellara). Although the front end is higher than on the Tarmac, with the stem slammed you can get into a good race position and still get the benefit from all that sweet comfy compliance! A good bike for those who ride, rather than race, or maybe you aren't as flexible as you were ten years ago. Look for this type of bike if your local roads are a tad on the rough side, or you might not care what others think and prefer to be comfortable while your legs do the talking.
For the girls, check out the Specialized Ruby. Same concepts but in frame sizing tailored for gender differences.

Compare the Venge vs. Tarmac vs. Roubaix (with mid level specs) side-by-side
Any questions on which bike is best for you? Ask us in the comments below, or find your nearest dealer and organize a test ride.