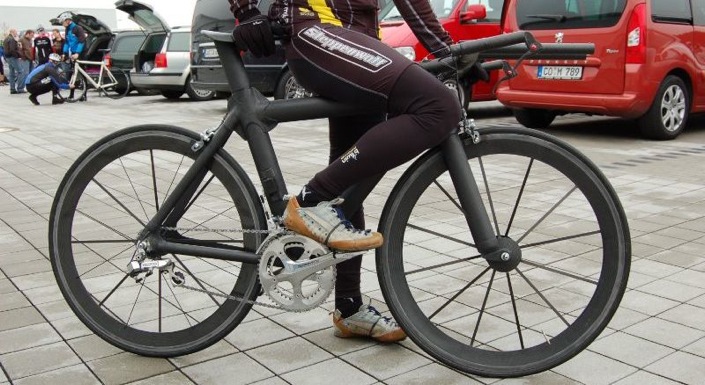 You could try a DIY carbon bike if you're really keen...
If you have ever considered purchasing an aerodynamic bike, you'll have quickly realized there are some serious decisions to be made. Do you opt for a full aero TT bike, or do you settle for an aero road bike and a few modifications? Heck, you could even modify your current bike and save several thousands of dollars. So what gives?
DIY Aero Bike
---
There are plenty of options when it comes to converting your current road bike into an aero TT weapon. The only thing is, you have some obvious limitations. Firstly, the bike isn't designed with aerodynamics in mind, so you're fighting a losing battle when it comes to the shape of the frame or the height of the frontal area of the bike. Nontheless you can still add some clip on TT bars, and purchase some TT wheels and an aero helmet. This will help you perform better, although the inherent costs involved in doing a 'half job' generally push people to making a full bike upgrade in their pursuit of aerodynamic supremecy.
Obviously this option is perfect for those wanting to try their first Triathlon or Road Time Trial - and it is the most cost effective way of leveling the playing field as best as possible. You will find comfort to be an issue if your event is quite long, simply because the bike isn't long enough to allow you to sit in an aerodynamic position for an extended period of time without hunching over and placing excess pressure on your shoulders and elbows.
Aero Road Bike
---
There are an increasing number of aerodynamic road bikes creeping into the market, advertising their ability to cheat the wind. This stems from the pro ranks of the sport, with riders trying to be as aerodynamic as possible, whilst still maintaining the comfort and versatility of a road bike setup - So much so, in fact, that many pro riders will ride a modified aero road bike in the TT discipline if the course is relatively complex or contains substantial climbing.
If you're considering purchasing a new road bike, consider this as an option. Seeing as you're a customer of your local store they may be willing to swap the wheels for some slightly more aerodynamic ones at a much more competitive price. Your local store can also suggest some modifications to cater for your aero fantasy, such as a longer stem and a lower handelbar height. Finally, they can set you up on your clip on TT bars to maximize comfort and aerodynamics.
Check out the BMC Timemachine TMR01 as an example of a road bike designed from the ground up to be as aerodynamic as possible.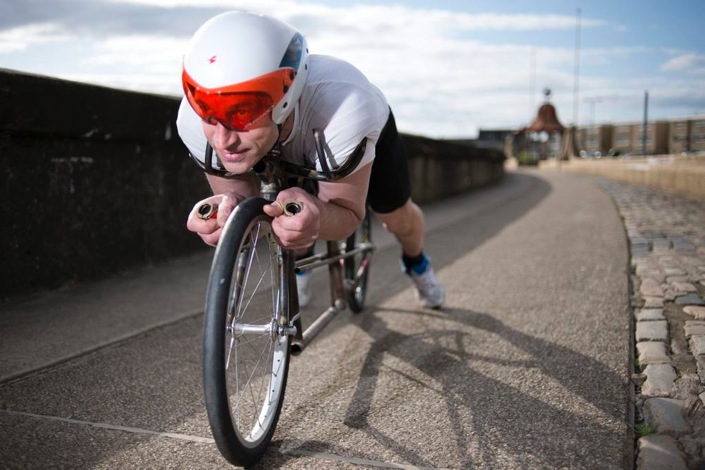 Aero Graeme Obree style? This may be going too far for most!
---
This is the dream bike if you want to get from point A to point B at the speed of sound. These bikes are purpose built for straightline speed, so handling and versatility are not on their list of features. The benefit of these bikes lies in their unrivalled dedication to aerodynamics. There is nothing as fast and capable as a TT bike (sometimes called a Triathlon bike depending on which side of the fence you sit). From the brake calipers, to the wafer thin frame, through to the tyres and wheels.. these bikes are the Fighter Jets of the cycling world, with a killer payload of aerodynamics to boot.
Comfort is a big part of these bikes, given that comfort and aerodymanics don't usually go hand in hand. The geometry and frame design of a TT bike allows the rider to 'lie down' more on the handlebars, as well as flatten their back out by stretching out to the bars more - creating a more wind cheating position and increasing comfort over longer distances.
What Suits Me?
---
When the time comes to making the final decision, you'll need to weigh up some options first. Consider how often you'll be riding in disciplines that require such as specific bike. If you're doing a full season of TT events or are an avid triathlete, then you'll no doubt be looking at a TT / Triathlon bike. If you're on a limited budget, then you'll have to consider modifying your current road bike as best as possible.
If your riding is a mix of road events, triathlons and plenty of bunch rides on the weekend - then consider the option of purchasing an aero road bike. Learning to attach the modified handlebars yourself means you can switch your bike from 'road to TT' in no time at all. Versatility is the biggest feature here, so you can compete in a TT / Triathlon or even a road race... all on the one bike. If you do choose this option, ask your local bike store about headset angles and heights.
Basically, a Gran Fondo bike isn't ideal to fit out with aero bits and pieces, as it has a taller and more upright seating position. However a racing orientated road bike, with a lower front end, is more ideal for modifying.
Take your time in choosing a bike, and remember to target the majority of your riding when figuring out what suits you best. If you've never ridden a TT bike, pop in to your local store and discuss a demo bike or a test ride. This will help you make a sound decision, if not change your mind altogether!