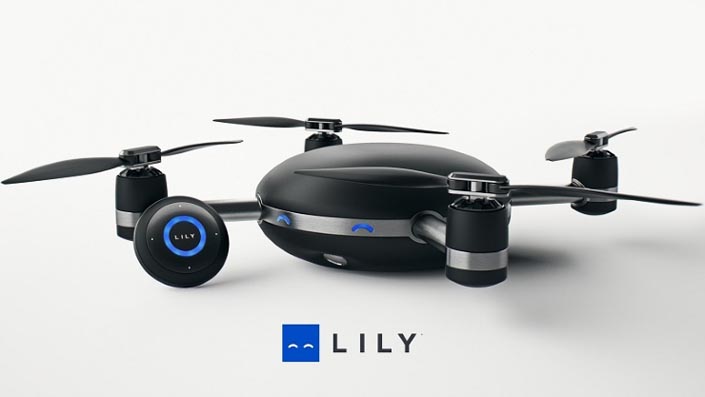 Lily is "the world's first throw-and-shoot camera" - a feature-rich smart drone that follows its owner to capture high-quality cinematic aerial video and photos. It's the next level (or two!) of action video and technology.
No complex controller or piloting here: Lily's website says, "No setup required. Just throw Lily in the air to start a new video. It's that simple."
We've seen more and more cyclists using onboard cameras, like GoPros, to capture ride action, and it seems more cycling events are incorporating piloted drone video, too. It's not entirely unexpected, but still quite technologically amazing, to see action cameras taken to this next level.
Lily's self-flying, video capture, and following abilities are possible from its GPS, computer vision, and use of a small tracking device the user carries. The puck-shaped beacon can be kept in a user's pocket or in a waterproof wrist case. The tracking device is also used to configure and monitor Lily, and it's a microphone that records high quality sound that is automatically synchronized with video.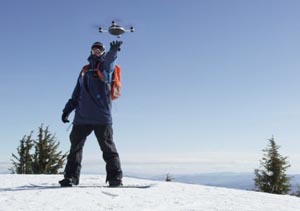 Once tossed into the air, Lily records video at 1080p 60 frames per second, or slow motion capture at 720p 120fps. The camera also takes still photos at 12 megapixels. Shooting modes/shot angles for Lily include follow, lead, fly up, side, and loop.
The device's built-in lithium-ion battery offers 20 minutes of flight time from a 2-hour charge. The drone's max speed is 25 miles per hour and it can fly from as close as 5 feet to as far as 100 feet from the user.
The promo video shows Lily is waterproof and capable of automatically taking off from water. It's also ultra-portable - small enough to fit in a backpack.
Does Lily have obstacle avoidance?
---
Lily does not have any obstacle avoidance capabilities. If you're cycling on the road or otherwise open air space, Lily will probably be just fine following you. But if you're cutting through a thick forest, the company says "there are no guarantees that Lily will not hit anything while it is following you."
Lily is on pre-order now for US$499 through the device's official website. The company expects to begin shipping units February 2016, then at regular retail price of US$999.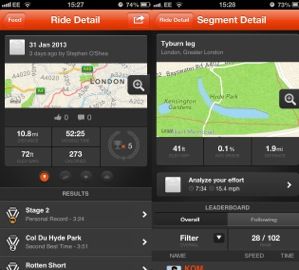 When I started cycling well over a decade ago the most advanced computers had the incredible ability to measure speed, cadence and heart rate. How things have changed. These days...
READ MORE