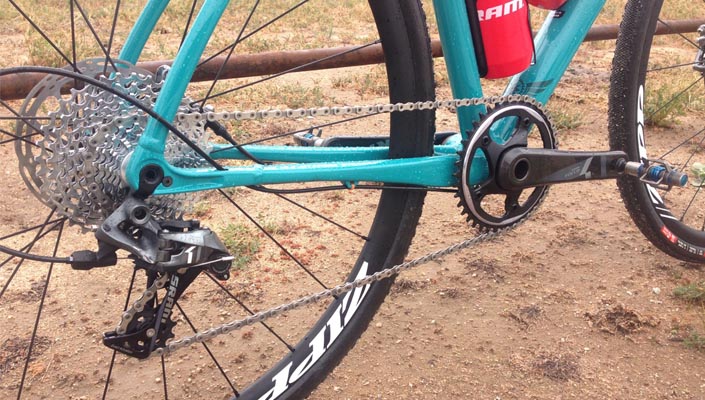 For a number of years now, mountain bikers and cyclocross racers have been streamlining their groupsets by riding with a "single" - that is, a single front chainring rather than the traditional two, or even three, with no front derailleur or front shifting levers.
Always at the forefront of bicycle innovation, component manufacturer SRAM has now extended its patented 1X groupset technology into the road bike market, recently unveiling the Rival 1 and Force 1 groups for the 2016 model year - expect to see them in bike stores by late June.
Both groupsets bring technology from the company's mountain bike and cyclocross single-ring groups and are primarily being aimed at gravel/adventure riders, time trialists, criterium racers, and triathletes.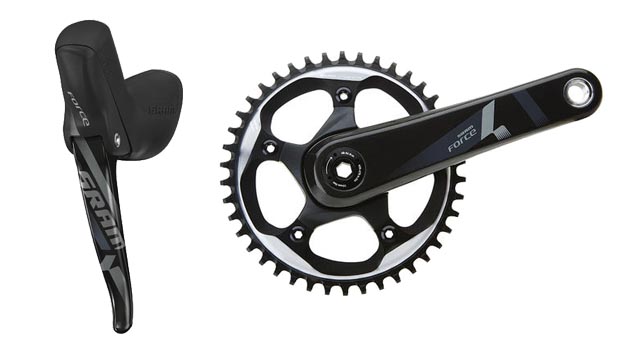 SRAM product manager JP McCarthy is quick to admit that 1X will not be for everyone. "It will present options for people who don't necessarily need an enormous range of gears," he said. "If your riding is primarily on flat roads it could be for you. It's great for the adventure racing and gravel crowd too, as it will minimize maintenance issues and keep things simple. We're definitely not trying to replace 2X groupsets, we're just putting forward options that weren't previously available."
There are a number of other benefits, too. Beginner level riders are likely to benefit from a more intuitive one-handed sequential transmission, it will definitely require less maintenance and will suffer less damage on trails and rough terrain, and will be much easier to pull apart for those who like to travel with their bikes.
From a less quantitative viewpoint, there is something wonderfully simple about riding a bike with 1X - it combines the innocence of a single-speed with the versatility of a regular groupset, and it feels good.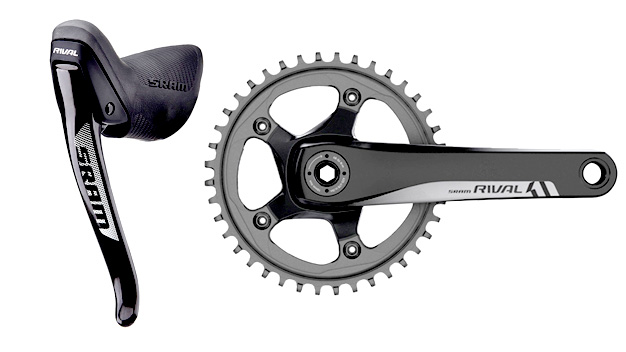 Like all good things, though, it's not for everyone. Even the most masochistic road racer would admit that tackling long, tough climbs would be out of the question with 1X: the hills would just be too difficult, and the jarring changes of cadence within the peloton at race speed would take a bit of getting used to as well.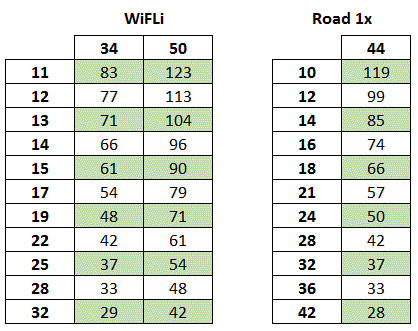 But within the select group of riders that it would suit, it's a winner, mainly because of the enormous variation of gearing options that SRAM have on offer. Both the Force 1 and Rival 1 rear derailleurs are now available in medium- and long-cage models. The medium-cage rear derailleur can accommodate up to a 11-36 cassette, while the long-cage rear derailleur will accommodate the new 10-42 cassettes that are compatible with SRAM XD driver bodies. At this early stage 38-, 40-, 48-, 52- and 54-tooth chainrings are available, with the promise of more to come.
What this actually means when you go out riding is that you're going to be able to cover most of the bases, but you'll still probably fall short somewhere. In other words, a chainring and gear combination that allows you to climb moderate hills is going to be under-geared on flat roads, or vice versa. No matter what cassette and chainring combination you go with, there's bound to be some sort of compromise made compared with a 2X system, but if you consistently ride in a relatively flat area you'll be fine.
There is something unique about a SRAM groupset when compared to its two main competitors - the shifts are assertive, precise, and slightly loud. The 1X family is true to form: it is perhaps a little quieter than its double-chainring cousins, but there's no doubting that distinctive SRAM sound. Decibels aside, it's hard to fault the way it changes, and the chain hugs the X-Sync chainring and never skips. To ride it is to love it.
Pricing
---
At the end of the day it often comes down to money, which brings us to more good news.
Here goes:
Rival 1 mechanical groupset, complete: US$688 / AUD$977/ £551 / €718 (GXP crankset & Shorty 6 Canti Brakes)
Force 1 hydraulic groupset, complete: US$1,475 /AUD$2,207/ £1,180 / €1,539 (GXP crankset & Centerline rotors)
Most of the components are available for individual sale, and those that aren't yet will be by the end of 2015.

SIDE BY SIDE COMPARISON: Rival 1 vs Force 1

When compared to its main rivals (pardon the pun) it's a definite winner - unless you live in the Alps. For the wealthy, neurotic, or just plain bike-crazy amongst us, it's also a great option for fitting out a training bike or commuter.
So, SRAM 1X - yes or no?
---
It's a yes from us... Let people know what you think in the poll below:
[Editor's Note (15 MAY 2015)

After publishing our article, we were in contact with SRAM's Road Product Manager, JP McCarthy, to confirm some pricing details. He appreciated our article as "accurate & fair" and then went on to add some excellent insight we have to share:

"We have been reticent about recommending 1x drivetrains for all-purpose road bikes, but we've received some great commentary on 1x for pavement since the April media launch. The comments from journalists who were equipped with parts for their personal bikes and from pro & amateur athletes who now have time on these drivetrains have been overwhelmingly positive!"

"For all but road & triathlon racers, lopping off the top end the gear range, effectively 1 – 3 cogs, and using one X-Sync chainring and a cassette that provides the low end required by the terrain is a great option. Simpler, sequential, one-handed shifting wins over slower & more complicated FD shifting in all circumstances, for me anyway. The only compromise is having to tuck & coast a little earlier on descents – which is hardly a sacrifice, right!"

"Some triathletes comment that even on hilly courses they prefer sequential 1x shifting in spite of occasionally noticing bigger gear jumps in the cassette. They've observed how FD-equipped competitors change speed & cadence more significantly when the gradient changes than they do with 1x, and that accounting for FD shifts is more detrimental than sometimes having bigger gear jumps."

"In other words, simpler, sequential shifting benefits ALL riders, not just beginners. We may have been too cautious about recommending 1x for traditional road applications. There are always trade-offs, whether choosing 2 rings & a FD or a 1x drivetrain. Simpler, quieter, more secure, & better-looking (i.e. 1x!) is gaining traction."
-end Ed]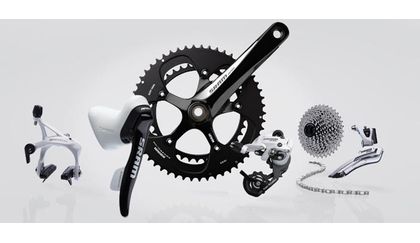 SRAM has been used widely in the professional peloton for many years and has victories at the highest level in the biggest races of the Pro Tour calendar. We want to briefly look at some of the road groupset options for 2015...
READ MORE