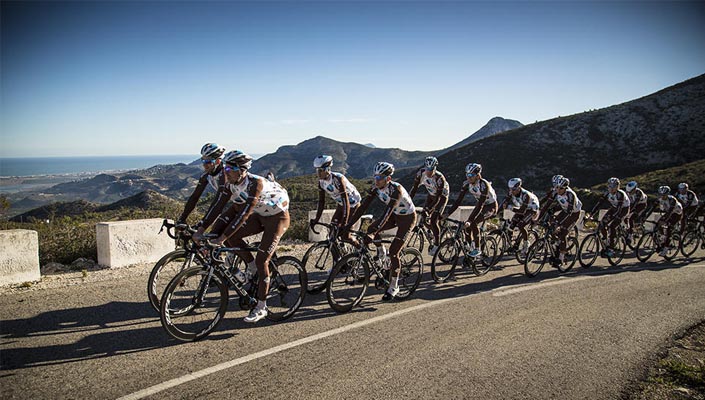 AG2R La Mondiale use SRAM groupsets and components.
SRAM has been used widely in the professional peloton for many years and has victories at the highest level in the biggest races of the Pro Tour calendar. We want to briefly look at some of the road groupset options for 2015.
BRAKES
---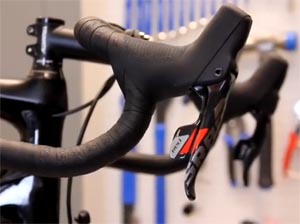 SRAM's New Hydraulic Braking Lever Body for 2015
Before we get into the regular SRAM stable of groupsets, let's just check out the brakes as a single item! For 2015, SRAM is expected to be releasing an improved version of their road disc brakes in four of their road groupset options. So no matter your budget, there will be a disc brake option available.
Major changes have been made with regards to the ergonomic hood design of the brake levers for better hand wrap and lever positioning. Mechanical changes have also been made as far as hydraulic bleed port locations and the design of the master cylinders within the handlebar units. This is all excellent news considering SRAM unfortunately had a voluntary product recall in 2014 because their hydraulic rim brakes experienced minor technical issues.
SRAM APEX
---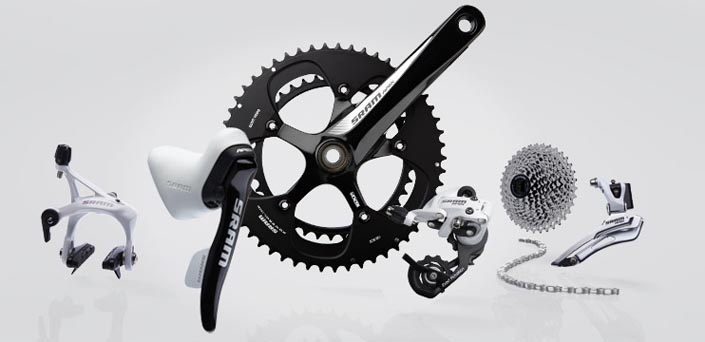 The entry point for SRAM groupsets begins with the Apex model, comprising of the usual front and rear shifters, levers, and brake calipers. Compared to other brands, SRAM components are apparently the lightest at any price point, so even if you're on a budget, it's still, arguably, a lighter choice than anything else.
Performance of the Apex model is reliable and simple, which is perfect for an entry level rider with limited interest in Tour De France performances. Featuring the 'old school' 10 speed rear cassette, the Apex groupset still features a double front crankset without limiting your gear choices. SRAM have incorporated WiFli (more on WiFli below) on their Apex model, allowing the rear derailleur to accommodate a wider range of movement associated with extreme polarities in gear ratios.
You'll find the Apex model on entry level bikes or those targeted at touring and recreational cycling.
SRAM Rival
---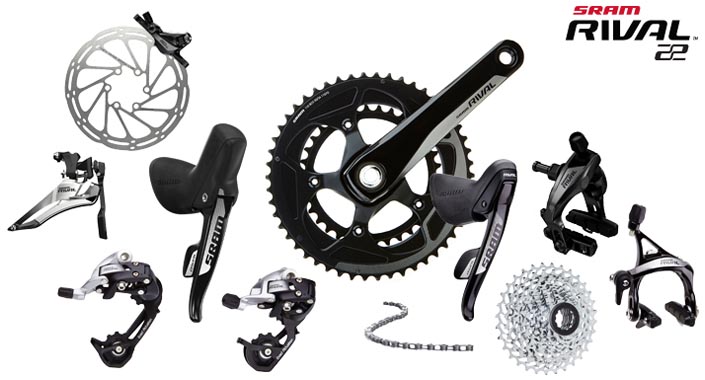 Named Rival as a challenger to the world's most popular groupset (Shimano 105), the SRAM Rival groupset continues to perform and improve. For 2015, Rival will be stepping it up a notch to include 11 gears within the rear cassette (similar to 105). This has been a feature on elite level componentry for around 2 years now, so it's fantastic news to see the mainstream groupsets also getting the upgraded gearing.
The crankset is a double ring setup with the 11th gear on the back offering better climbing ratios anyway. The rear derailleur is gorgeously formed from aluminium throughout, with easily accessible adjustment points. The rear derailleur also comes in a long cage (larger) option depending on extreme gear choices.
The front derailleur is equally shiny, but also features a built-in chain catcher and Yaw adjustment. The yaw adjustment allows the front derailleur to twist to match the alignment of the chain - something no other groupset features.
SRAM Rival is also hydraulic disc compatible for commuting, cyclocross, gravel grinding, and Fondo riders.
WiFli
---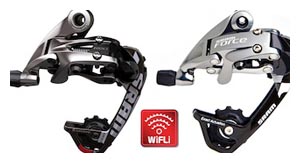 WiFli is a SRAM technology that uses a longer cage rear derailleur to accommodate much larger cassettes. The largest cassette cog available for standard short cage rear derailleur is 28t, with WiFli allowing the use of 32t cassettes. This allows a compact double chainring/32t cassette pairing to offer wider gear options than a standard triple crank.
The benefit is smoother less complicated mechanics and lighter weight. It also allows scope for easy swapping out of cassettes to suit conditions. This makes WiFli ideal for commuters, touring cyclists or anyone whose riding incorporates lots of hills. WiFli has also been used by professional riders on the steepest stages in races like the la Vuelta Espana.
SRAM Force
---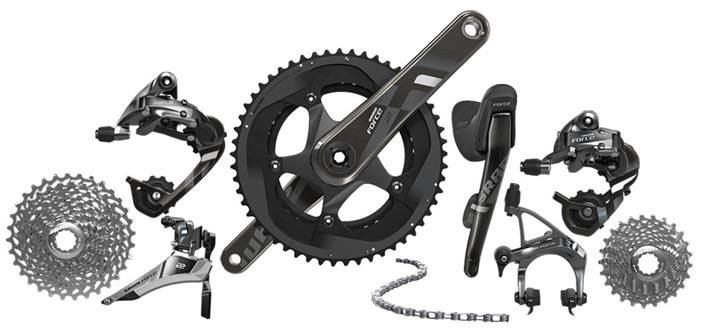 Luke Skywalker from Star Wars used The Force so why the heck shouldn't you!? SRAM Force comes in a stealthy black colouring, blending well into any race weapon. But behind the stealthy look lies a heap of technical wonder, from chain catchers to Yaw adjustments and even hydraulic disc or rim brakes. If you look at the physical performance of SRAM, you will notice that the shifting is almost identical from Rival upwards. Many riders downgrade to Rival componentry simply because of this fact (especially when replacing broken parts from their weekend racing exploits).
Force does come with a carbon outer cage melded onto an aluminium inner cage. SRAM have also refined their jockey wheel design for what they claim to be the quietest shifting and running on the market today. An 11 speed rear and double front chaining keep things standard, however the front crankset is predominantly carbon fibre for added stiffness.
The real claim to fame surrounding Force is the lack of weight, with the entire groupset coming in around the 2100 gram mark, for everything! That's class-leading performance, all in one package.
SRAM CX1
---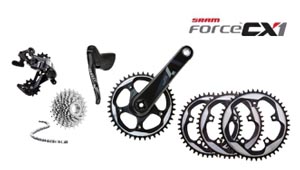 Force is also available as CX1 - a 1x11 version which uses technology borrowed from SRAM's popular single chainring mountain bike groupsets. The system is designed specifically for cyclocross bikes. The simplicity of a single chain ring allows better chain management and smoothness in a variety of conditions.
SRAM RED
---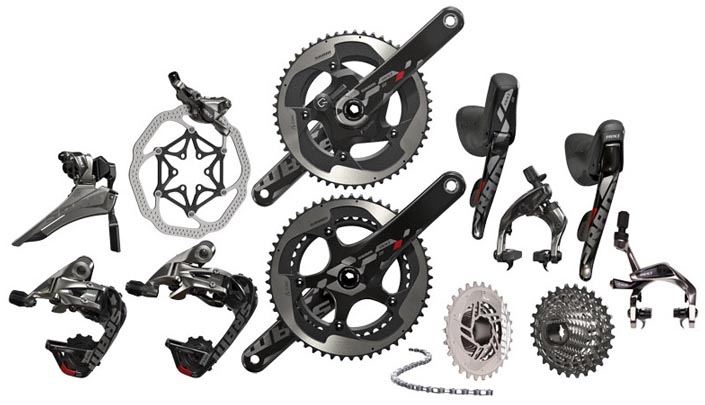 Identifiable through the red colouring on all the components, SRAM Red is the pinnacle of elite performance. The lightest SRAM groupset, as well as the lightest mainstream groupset available, Red really takes it to the next level with multiple Tour De France wins under its belt.
The biggest alteration to this winning horse is the reintroduction of hydraulic braking via discs or rims brakes. This is big, considering the bikes that will feature such a performance driven groupset.
The usual stuff for such a groupset includes carbon cranks, a predominantly carbon rear derailleur shifting an 11 speed cassette and a front derailleur with Yaw adjustment. The carbon cranks can also be selected as Quarq compatible allowing power output to be displayed on your chosen handlebar display device (Garmin, etc.).
Shifting is as snappy as ever with the trademark SRAM doubletap design - perfect for riding with thick winter gloves, if you have ever experienced issues in that area. Ceramic bearings aid the function of the jockey wheels in shifting as well as offering longer lifespan of these parts and quieter function. There is an option to change rear derailleurs to allow for WiFli, again accommodating extreme gearing ratios on an 11 speed cassette.
There is plenty to choose from in 2015, regardless of what you're after. The best thing you can do is to research your preferences, consult your local bike shop and discuss your needs.
And just to really throw the spanner in your works, or the cat into the bag, or out the bag, or whatever... SRAM is the only major player without electronic shifting. All other brands offer electronic shifting, with wires running from one common power source to each derailleur. Photos have been taken at Pro Tour races of bikes equipped with wireless SRAM derailleurs (Each derailleur would have its own power source). This system is not available yet, but watch this space.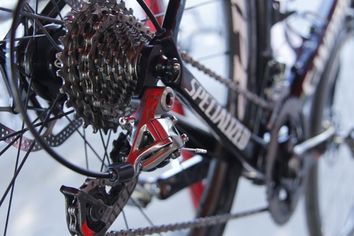 MoWhen describing, promoting or selling road bikes the gearing system is often regarded as the lynch pin in a purchasing decision. Indeed the cynical mind may even believe that some manufacturers doll up their bikes with a fancy derailleur to cover up less than ideal component specifications elsewhere on the bike. The fact is...
READ MORE