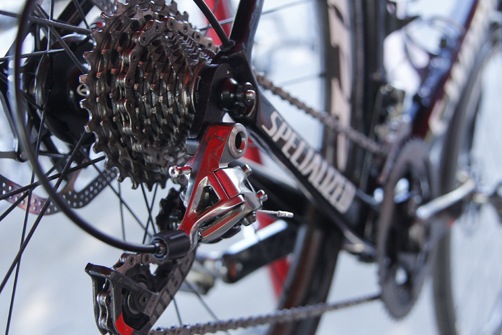 The SRAM 22 drivetrain brings an 11 speed cassette and sublime shifting feel to top end road bikes.
When describing, promoting or selling road bikes the gearing system is often regarded as the lynch pin in a purchasing decision. Indeed the cynical mind may even believe that some manufacturers doll up their bikes with a fancy derailleur to cover up less than ideal component specifications elsewhere on the bike. The fact is that while a bike should be judged as the sum of its parts, the gearing system is typically a good way of discerning the level of rider a road bike is aimed at.
As you move up the range individual components are made from more expensive materials, are manufactured to finer tolerances and levels of finish, and as a result are lighter, smoother in action and more responsive.
There is quite a leap from the casual cyclist doing 50 miles a week up to the serious amateur pumping out 500. It is important to know whether your components are capable of the miles you ride or alternatively if you can save money by buying SRAM Force instead of Red.
If you are unsure what level of groupset you need, have a look at this list to help make a decision when buying a road bike.
Shimano
---
Claris, Sora, Tiagra
Claris, Sora and Tiagra are the entry level gearing components you will find on road bikes up to approximately the $1000 price point. These drivetrains are 8 and 9 speed and suit a recreational or beginner rider looking for the road bike experience without higher cost.
These drivetrains are available as "triple cranksets" as well which is ideal for an infrequent or less fit rider who finds climbing difficult or just wants to take it leisurely. Someone suited to this level would ride shorter distances a handful of times a week or in the case of Tiagra, be keen to step up into more serious, frequent and longer rides.
105, Ultegra, Ultegra Di2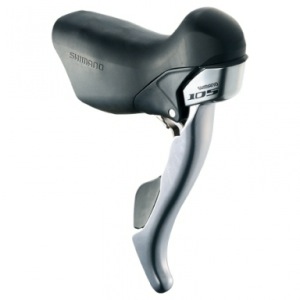 105 and Ultegra have been the standard kit for a massive section of the road bike market for many years. These components are durable, reliable and responsive and just keep getting better as new technology flows down from the top.
105 is the everyman's drivetrain and can cope with the wear from constant high mileage. It comes in a 10 speed version and a triple or double crank so there are plenty of options if you don't always want to be "on it". The next step up is Ultegra which moves into a drivetrain with the longevity of 105 but also is lighter and smoother - much better if you want to get a taste of racing. It now has moved from 10 to 11 speed which enhances performance, but expect to see the prices go upward. Ultegra is the poor man's Dura Ace and the latest version performs as well as the best, albeit with a little extra weight, but also less cost.
Ultegra is also available in an electronic version. Check out how many frames now are made to accommodate the wires for electronic groupsets and you will see where things are going. Ultegra Di2 is a fantastic piece of technology and is becoming very affordable to the serious weekend warrior or amateur cyclist.
Find out more about Shimano here: "Choosing a Shimano road groupset. Dura Ace, Ultegra or 105?"
Dura Ace, Dura Ace Di2
For many years the drivetrain against which all others were measured. Dura Ace demands a high price for its lightweight performance. If you have the money, why not? But more expensive doesn't always equal better and a super light race kit may not be as long lasting as a groupset designed for big training miles like Ultegra or 105.
This is the drivetrain for a true lightweight race bike and was the first to come as a truly reliable, high performance electronic drivetrain.

DID YOU KNOW? Shimano branding can be found anywhere from top of the range pro bikes to supermarket cheapies at $100 a pop. Supermarkets often promote these bikes with "Shimano gearing" as a selling point. Be aware that the name "Shimano" doesn't necessarily mean quality in this scenario. These are "non series" parts that are cheap and useless to anyone who enjoys cycling. Fortunately road bikes don't suffer from this issue as they generally run "named" component sets.
Brand
Recreational
Intermediate
Advanced / Race
Claris
105
Dura Ace
Sora
Ultegra
Dura Ace Di2
Tiagra
Ultegra Di2
Apex
Rival
Red
Force
Red 22
Force 22
Veloce
Centaur
Record / EPS
Athena / EPS
Super Record / EPS
Chorus
SRAM
---
Apex
Apex is SRAM's entry level drivetrain. Although not available in a triple the 11-32 cassette makes up for the loss of a low gear ratio. Similar to tiagra this is a good set to have on a flat bar road bike or just an entry level roadie suited to recreational cyclists.
Rival, Force, Force 22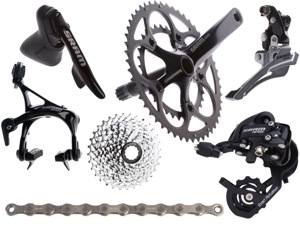 Rival and Force roughly coincide with 105/Ultegra. These 10 (and 11 for Force 22) speed drivetrains suit the bulk of the road bike market and are great for high training miles through all conditions. If moving from Shimano it may take some time to get comfortable with "Double Tap" which dispenses with two levers for up/down shift and replaces it with a single motion to move between gears.
SRAM Force, similar to Ultegra, is the perfect middle man for racing, training and general riding.
Red, Red 22
Red is the top of the line from SRAM and can now be found gracing many pro bikes. Lighter than Dura Ace, yet just as smooth and responsive, Red and the 11 speed version Red 22 are great kits for a road racing bike. Expect a decent price tag as well!
Campagnolo
---
Campagnolo have been around as long as modern cycling and have created quite an image of themselves as well. They perhaps don't appear as commonly as the other two big manufacturers but have earned a reputation for quality, innovation and longevity. An old adage once went "Campagnolo wears in, Shimano wears out". This is not a truth (well, not anymore) but does highlight the attention Campagnolo pays to quality. We won't go deeply into Campagnolo although be aware you may pay high prices for the pleasure of riding with the Italian brand and as with Shimano and SRAM the range is available at a number of levels beginning at veloce and finishing with the ultimate in Super Record EPS.
This is simply a guide, but matching your riding to a gearing system can definitely help when deciding on a new road bike.