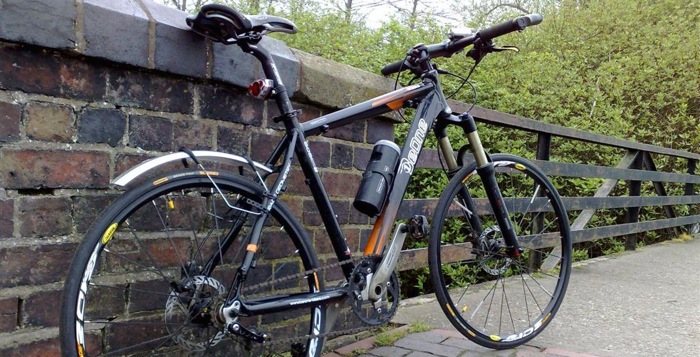 Now that's the way to do it. Slick tires, mud guards, single speed....ready to roll.
It's an all too common scenario - a cyclist has a beautiful road bike which is their pride and joy. It sleeps in the house, gets a wash and polish each Sunday and is taken to the mechanic more than the dog visits the vet. Now try convincing that person to ride their bike to work. Forget it cowboy! But a quick scrounge around the garage soon reveals a mountain bike, barely used in the concrete jungle of today. It just so happens to be the perfect city bike, just waiting for a ride.
But first you have to convert that old steed, and give it a new lease on life!
Most people convert their mountain bikes so they are able to be used as commuters or utility bikes.
TIRE CHOICE
---
First thing to change on your new road steed is the tires. Get rid of the old knobbly tires which were more suited to the off-road than the main road. Throw them in the bin and buy some mountain bike slicks from your local bike shop. Try aim for something with minimal central tread, although with a slight amount of side tread. This is perfect for those rainy days, or any shortcuts you want to throw in as you tear it up through town! Remember to purchase some spare tubes to match the diameter of your new tires, in case they don't match the old ones you threw away.

NOTE: You could alternatively use a very narrow slick tire. This obviously depends on rim width so check with your local bike shop if the tire will fit, or better yet, get them to change it over for you. In some cases going right down to 1.25" or even 1" width is possible and will do wonders for the bikes rolling resistance.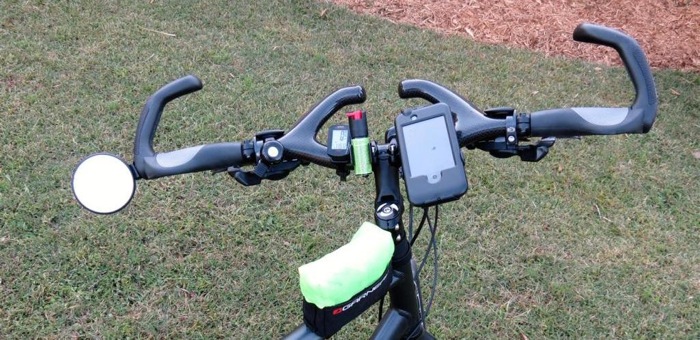 That is a handlebar totally sorted! Lot's of hand position options for comfort and speed.
HANDLEBAR GRIPS
---
If you want to make your bike slightly more comfortable for the long haul fit some bar ends to your handlebars. These allow you to ride in a slightly different position; handy when you're cruising home along a bike path or similar. You might also consider upgrading your handlebar grips to something with a little bit of wrist support, again in the interests of increasing comfort.
Narrow slick tires and a sorted cockpit with bar ends makes a mountain bike into a very useful street machine. It will roll well, while remaining comfortable, stable and, importantly, manoeuvrable when riding through the city.
LIGHTS AND GUARDS
---
Lights are a no-brainer when it comes to riding to work in the mornings. Have a look around you; some car drivers are in a daze as they stir from their slumber, while others are running two hours late, and might not spot you straight away.

MY TWO CENTS: Buy some good lights, as best as you can afford. Safety has no price, so don't hold back.
While in the accessories aisle of your local bike shop, check out some mudguards. Some are mounted semi-permanently, while others can simply click on and off in an instant. Choose what's right for you and avoid spraying mud up your clacker when riding to work. You might even just leave them on all year; after all... it's only a commuter bike now!
BIKE LOCK
---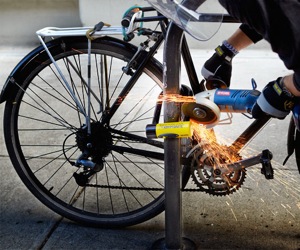 Not many bike thieves are this well equipped, still, a quality lock is a must have accessory for any urban cyclist.
The only monkey you'll find in the concrete jungle is the one who tries to steal bikes. Fortunately, a good quality bike lock is enough to put them off, as they may then search for an easier target. You might think that a cheap lock is enough...think again! Purchase a decent lock with either a combination or a key locking system. If you choose a slightly higher quality lock, it will inherently weigh more. Ask your bike shop to fit it to your bike, so it's there all the time and you don't have to carry it in your bag. The greatest effect of a bike lock is merely the deterrent it offers, so take the effort regardless of where you store your bike at work.
PANNIER RACKS
---
If you plan on riding to work as often as you say you do, then you'll need clean clothes at the other side, and lunch, and a laptop, and some papers, and probably some shoes... Invest in a decent set of pannier racks, and you'll be able to carry all this, and more! Pannier racks are great, as they don't require you to carry your gear in a backpack. This makes for a much more comfortable ride as well as the ability to carry more stuff to work. It's also safer, as your centre of gravity isn't as greatly affected compared to if you carried all your gear like a mule. Most pannier racks are semi-permanent although the bags themselves are removable. This means when you get to work you can take the whole bag off and walk in like a boss.
Fortunately mountain bikes don't need much further modification, simply because they were initially designed to be capable bikes. This means that gear ratios are usually sufficient, while wheels and components are designed to last regardless of the treatment they receive. Mountain bikes are tough, and slowly becoming very popular styles of bikes to convert into commuting machines. Hardly anything needs to be changed, so you're ready to roll in no time at all...
Alternatively you could just go buy one of these: "Are these 5 bikes really all commuters?"
If you're wondering if commuting by bike is for you, make sure you try it for more than a few days. The initial period of two weeks is the hardest, because it takes time to adjust to your new routine of leaving home earlier, packing all your stuff the night before and even having to shower at work instead of the comfort of your own home. No more ballads in the bathroom!
Give it a go, you might just fall in love with the idea...