There's more than one way to skin a cat, likewise riding to work on a bike. You could use practically any bike for a daily commute albeit with different levels of fun and success. Interestingly there are many bikes available that are touted as being 'good for commuting' and often they look vastly different from one another...how can this be? Surely a design is good for riding to work or not.
I want to look at some of the contenders for recognition as a top commuter and see what it is that makes them tick. Do these bikes really stack up for a regular ride through the city?
1. Euro style and class
---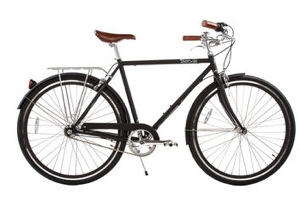 As the name implies, Pure Fix deal almost exclusively with fixed gear city bikes. (Almost exclusive as the 8 spd Bourbon is also available as a 3 speed!) The Bourbon is designed around the classic dutch town bike look.
Commuter features: Steel frame, chain guard, fenders, kickstand, rear rack, bell, multiple gearing options
Is it a commuter? I would say yes. The Bourbon has all the standard features you would expect, plus it also rates highly in the style category with the leather saddle and grips. This is certainly for the more casual commuting cyclist and is probably more at home looking good on a European bike path than lane splitting in the middle of peak hour in a busy and aggressive traffic environment.
2. Hardcore high speed commuter
---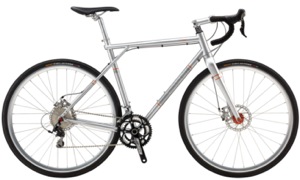 The Corsa is almost a cyclocross bike, but not quite. This is a high speed bike useful for breaking ride-to-work Strava records.
Commuter features: Chromoly frame, disc brakes, carbon forks, 3 bottle mounts, fat tires
Is it a commuter? The Corsa is on the farthest side of commuting. This bike could be ridden well in any road bunch with ease. It is, like a road bike, designed for speed and efficiency. Its qualities as a commuter are in the frame material, the disc brakes which give it all-weather capabilities and the fat 35mm tires. Think flat out riding with a backpack rather than slow with panniers. This is the bike to ride when you're running late for a meeting...would also make for a great touring bike.
3. Flat bar road bike with an MTB twist
---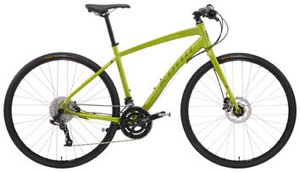 What a beautiful looking bike! At a glance you could be forgiven for thinking this is a mountain bike that somebody put a set of slick tires on. The Kona Dew range are 700c wheeled flat-bar bikes that borrow heavily from the company's mountain bike roots.
Commuter features: versatile alloy frame with fender and rack mounts, disc brakes, fat road tires, double chainset with large spaced cassette.
Is it a commuter? Definitely. The Dr Dew is a flat-bar, big-wheeled mountain bike perfect for an aggressive urban assault. The alloy frame may not be the material of choice for some commuter/touring cyclists, although it is light and can take a bit of stick. The heavily sloping top tube gives plenty of room for cockpit shenanigans and hydraulic disc brakes are the ultimate stoppers - perfect if you typically ride through rain, mud, sleet.
4. The sensible choice
---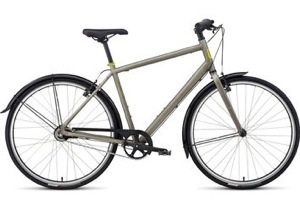 The Globe Work 3 is the sensible commuter bike. It does everything well in a way that doesn't stand out.
Commuter features: alloy frame, fenders, rack mounts, chain guard, internal geared hub, sensible geometry.
Is it a commuter? It just makes sense to ride this bike in the city and to the office. The internal geared hub is ideal for riding daily, fenders keep the mud off and a chain guard means you don't need trouser clips (not a great look). The person riding this bike probably won't manual off a curb or be caught kicking in car rear vision mirrors - they will just ride it to work, every day, in a very sensible way. A well-designed and practical bike.
5. Belt drive
---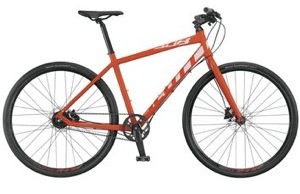 You will never have to say to someone who rides a belt drive "Oh, do you ride a belt drive?" because they will have let you know immediately upon meeting. "My name's Bob and I ride a belt drive"
Commuter features: Belt drive, very fat tires, belt drive, 8 spd internal gears, hydraulic disc brakes, Scott urban kit and did I mention the belt drive?
Is it a commuter? Jokes aside, the Sub Speed 10 is a well-designed bike from Scott. It is definitely a well thought out commuter with Scott's Urban-kit which is a 'snap and fix' fender and rack mount system. This bike has all the features you need from a quality city bike: It can handle all-weather riding, is tough and durable and is a very flexible all-round platform. It also has a belt drive, but I may have already mentioned that.