The hard men take on the toughest one-day racing of the year: the Spring Classics.
The season of spring usually brings with it colorful blossoms, warmer days and chirping birds darting around your feet at the cafe. But in Europe, Spring also brings with it a sense of hell - because if you're a professional cyclist, you'll be readying yourself for an onslaught of the toughest bike races in the world. It's time for the Spring Classics, so grab your popcorn and sit down. Things are about to get hectic...
THE EVENTS
---
The Classics involve taking the entire peloton over an array of ludicrous terrain; dirt roads, cobbles and finally through residential streets with enough 'street furniture' to put IKEA to shame. It's intense, and more a race of survival than anything else. Riders drop out like flies, with team mates sacrificing themselves for the greater good of their team leaders. All this takes place over 250km+ of rough cobbled roads and climbs so steep and rough that some riders are forced to walk.
MILAN SAN REMO
This event was just run, with Norway's Alexander Kristoff taking the win.
GENT WEVELGEM
Sunday 30th March 2014 - The first of the Spring Classics that features substantial amounts of cobbled roads. Watch out for the big strongmen of the sport, like Cancellara and Boonen.
TOUR OF FLANDERS
Sunday 6th April 2014 - Celebrating 101 years of hell, this event is 255 km of monumental racing. Expect to see the Classics experts at the front vying for the title. The notoriously difficult Koppenburg climb is thrown in for good measure, with a cobbled surface making riding up it almost impossible.
PARIS ROUBAIX
Sunday 13th April - Fondly known as "Hell of the North" this race is epic. Featuring numerous off road sections, cobbled roads and open wind blown fields. Everything you need for a ride in the countryside. The Belgian, Tom Boonen, has won this event four times!
AMSTEL GOLD
Saturday 19th April 2014 - Slightly more climbing than any of the others, the Amstel Gold race favors the riders that can climb, and climb 33 times to be precise! This event has been around since 1966, and isn't disappearing soon.
LA FLECHE WALLONE
Wednesday 23rd April - Coinciding with the 70th anniversary of the Battle of the Bulge, this race will be a war in itself. Finishing atop the Mur De Huy, this race is about making hard even harder. Watch out for some daring solo escapes as the riders approach the final climb.
LIEGE BASTOGNE LIEGE
Sunday 27th April - The oldest One Day race on the calendar, this event is turning 100 years old! It was originally created in 1892 to help promote a newspaper (much like Le Tour De France).The majority of climbing is done in the final 100km of the 260km event, so get ready for some epic pace lines before the climbs start... Ouch!
THE BIKES
---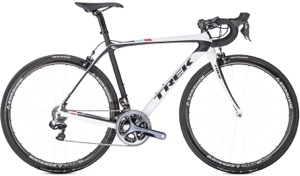 You will need well in excess of $10,000 to ride away on this race ready Trek Domane!
The Classics demand a certain kind of rider to win. A rider that has an exceptional power output and equally incredible bike handling skills to match. But the bikes themselves are even tougher! Featuring a unique set up, the Classics bikes have greatly altered componentry choice as well as frame geometry.
Let's go over it in brief, to give you a better idea...

Bike comparison: Trek Domane, Specialized Roubaix, Cannondale synapse
FRAME
Slightly more relaxed geometry, with a greater fork 'rake' and a longer wheelbase. Designed to skim over bumps, as opposed to slamming into them. Some frames even feature patented flex points to absorb vibrations.
WHEELS
Bombproof. The wheels are usually custom built by the team mechanic, with a flatter and wider rim designed to accommodate a wider tyre. These wheels are less likely to buckle or crack (as some lightweight carbon wheels would).
GROUPSET
Not much change here, except for gear ratios for the given event profile. Electronic shifting is making a strong case for itself, given its reliability.
TIRES
Wider and run at a slightly lower pressure; tire choices are as important as the rider. Tires are also sometimes filled with puncture sealant, a liquid latex that seals any holes.
HANDLEBARS
The handlebars are either double wrapped in bar tape for added padding, or have gel pads inserted under the bar tape. Or both! This gives the riders a more comfortable grip as they rocket over cobbles at 50km/h or more...
THE RIDERS
---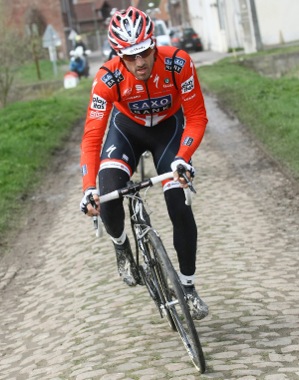 Fabian Cancellara from earlier days.
The Spring Classics play host to a select group of riders, called 'Classics Specialists'. A surprising number of these throughout history have been from Belgium or surrounds. These men are tough, and they know pain better than anyone else.
They're also incredible opportunists, firing their killer shot at just the right moment. But this select group of riders always seems to have a few new additions each year as Lady Luck often plays a pivotal role in the outcome of these events. We won't spill the beans or ruin the show, but we will end this with the following names, just to get you started.
Fabien Cancellara. Tom Boonen. Peter Sagan. Alejandro Valverde. Carlos Betancur. Philippe Gilbert.
Enjoy...