The cobblestone roads of northern France once hosted the armies of Napoleon, with horses and carts featuring prominently...until 1896 when some idiot thought it might be a good idea to race a bike over them, and thus was born Paris-Roubaix.
Technology has certainly moved on since those early years, some modern bikes are now designed specifically for the cobbled classics, but cobbles are still cobbles, and they remain as daunting a prospect as ever.
Let's check out some of the equipment designed for the year's toughest one-day spectacle.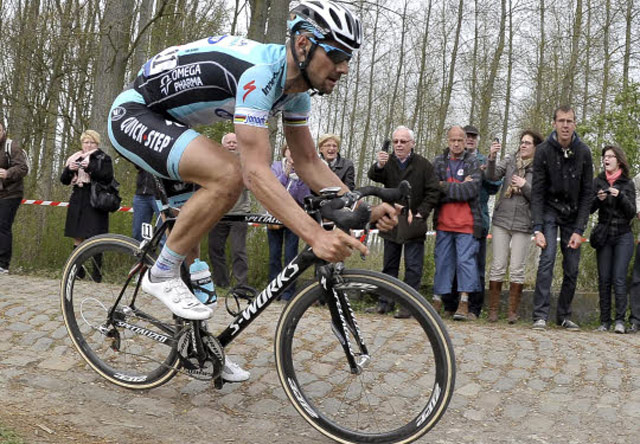 Specialized Roubaix SL4 (Tom Boonen, Omega Pharma-Quickstep)
When released some years ago the Specialized Roubaix was a game changer and met with some ridicule; "a race bike with rubber inserts?" yeah good one. The thing is...it works.
The Zertz elastomer vibration dampers in the fork and seat stay are designed to create more vertical compliance in the frame, resulting in greater rider comfort, yet not affecting the ability to apply power through the drivetrain. Just ask Tom Boonen.
Expect to see Omega Pharma-Quickstep, Astana and Saxo-Tinkoff on these bikes during Paris-Roubaix.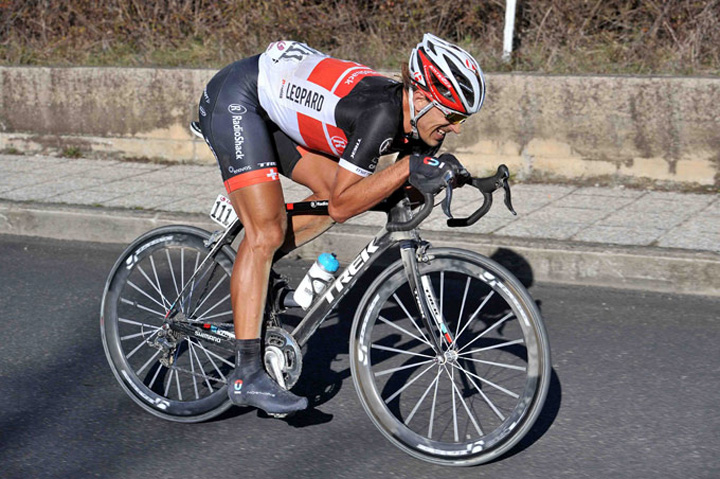 Trek Domane (Fabian Cancellara, Radioshack-Leopard)
The Trek Domane features the IsoSpeed decoupler. Basically this pin joint isolates the seat tube from the frame to create greater vertical compliance.
The bike also features the IsoSpeed fork with a massive sweep and unique dropout placement, and the IsoZone carbon bar with integrated handlebar pads. It is all in the name of creating rider comfort on long or harsh (like Paris-Roubaix) riding conditions.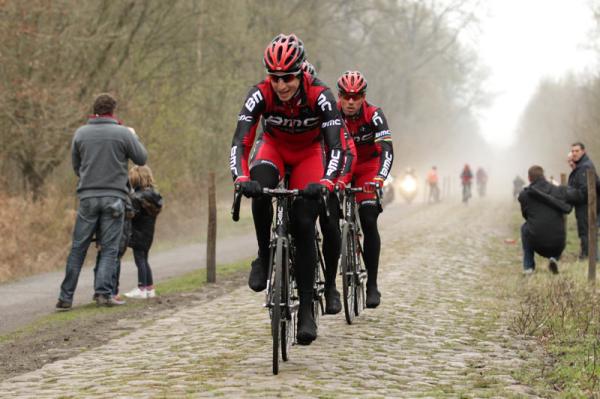 BMC GranFondo GF01 (Thor Hushovd, BMC Racing)
The Swiss company has applied its "consider the bike as a whole" attitude to a Paris-Roubaix and granfondo specific machine. The tuned compliance concept and angle compliance system work as a complete unit.
In the words of Thor Hushovd: "...cannot be too stiff 'cause then you jump around all over, so if you can have more contact with the cobbles you get more grip..."
The idea is similar to mountain bike suspension systems: you want the bike to remain in contact with the road or trail surface at all times, maintaining maximum grip, rather than the rear end skipping around.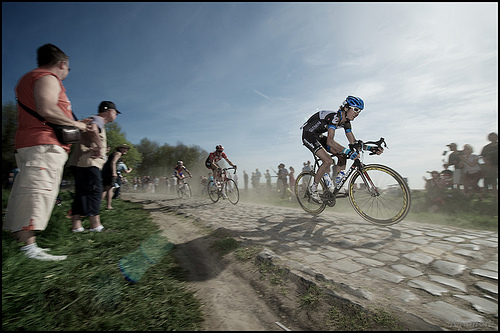 Cervelo R3 (Johan Vansummeren, Garmin-Sharp)
The R3 has won Paris-Roubaix three times so I suppose it should get a mention!
Cervelo use frame tubes that are a mix of square and oval. They call it 'Squoval' (I promise I am not taking the piss). Funny blending terminology aside, this technology works. Cervelo also use their ultra-thin seat stays to create vertical compliance.
As in all these bikes, the lower sections of the frame are designed for stiffness and power output, while the upper sections will have vertical compliance technology applied.
Some other idiosyncrasies of Paris-Roubaix bikes
Wider tyre clearance is common with these frames and forks, in some cases up to 32mm. Most teams will run 27-28mm tubular tyres in the race, and at astonishingly low pressure; I have heard as low as four or five bar (58-73psi), which I found almost unbelievable and have yet to have confirmed.
The race is rough, but relatively flat. Many riders will replace the usual 39 tooth small chainring for a 44-46 tooth, and use 11-21 or 11-23 cassettes. It is all about maintaining speed and momentum over cobbles.
A good pair of knicks lathered with chamois cream and double taped handlebars and we're ready to race!