On the heels of Rotor's announcement of their 1x13-speed hydraulic groupsets, cycling's newest components manufcaturer Y-Ryde has introduced the largest-ever bicycle cassette intended for 1x13 drivetrains.
The Y-Ride LUCKY13 Cassette features a massive range over thirteen titanium machined sprockets: 10-13-15-17-19-21-28-36-46-58-70-82-96.
In case you haven't caught on by now, this is a fun April Fool's joke.
The image above has been Photoshopped to remove the front derailleur and put the chain on the big ring. What about the cassette? You're actually seeing a full disc wheel with a decal image of a cassette. As you can see in this original image by Petr Ukhov, the real, standard bike cassette is there, dark, probably an 11-21. The rest of the silver sprockets are all sticker, and while your mind may have been willing to play along at first glance, you'll notice now the huge teeth that can't be real — a result of scaling a real cassette for the graphic — and the rear derailleur that simply isn't long enough!
Of course, the truth is closing in on fiction. Rotor has really announced 1x13 hydraulic groupsets with 10-52t cassettes and Chinese company S-Ride just debuted their own 13-speed mountain bike drivetrain at Taipei Cycle Show with 11-52t cassettes.
Surely Shimano, Campagnolo, and SRAM can't be too far behind.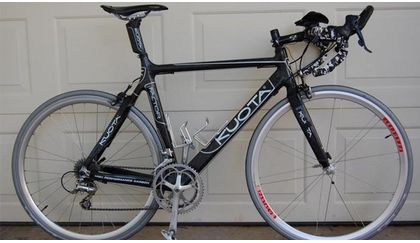 Looking to get into time trial or triathlon and unsure whether to do it on your road bike or to fork out money for a real TT bike? Here is the answer...
READ MORE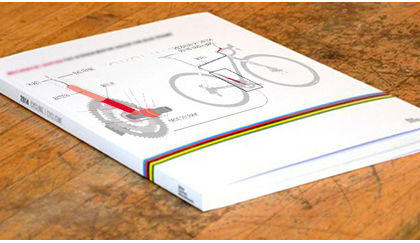 Cycling's world governing body is poised to allow motorized bicycles in select events next year...
READ MORE