Looking to get into time trial or triathlon and unsure whether to do it on your road bike or to fork out money for a real TT bike? Don't worry, you're not the first. Although there are several upgrades that can be made to any bike to make you faster and more efficient, such as new wheels and fit-for-purpose gearing ratios, this article will focus specifically on modifications you can make to create an ultra-chic TT bike.
Ideally, we'd all be millionaires who live in mansions with huge sheds full of dozens of bicycles - each with a specific purpose and which fit us like a glove. If this isn't you, there are products available to emulate some of the benefits that a TT bike provides.
A TT bike is designed specifically to increase efficiency, power, and aerodynamics, and has several key structural differences to a road bicycle which achieve this.
Here are our best mods for turning your road bike into a TT machine.

WARNING!
Some modifications may affect the warranty on the product and/or your bicycle. If unsure, please consult your local bike shop professional for correct fit and installation.
1. Clip On Aero Bars
---
The key difference between a TT bike and a road bike is in the ANGLES of the frame and components. To emulate the benefits those angles provide, a pair of clip on aero bars is an inexpensive modification to achieve a lower, more aerodynamic position.
As with everything, there will be a balance between quality and price. A factor will be how long you will spend in a time trial position.
Although there is nothing stopping you from getting carbon clip-ons for a sprint distance triathlon, if you are doing an event such as an Ironman or any long distance time trial effort, you may want to consider testing a few out first to make sure they're comfortable.
Our Pick
Zipp Vuka Alumina aero bars system: because it's is compatible with all current drive-train systems and all plug-in style brake levers.
2. Stem
---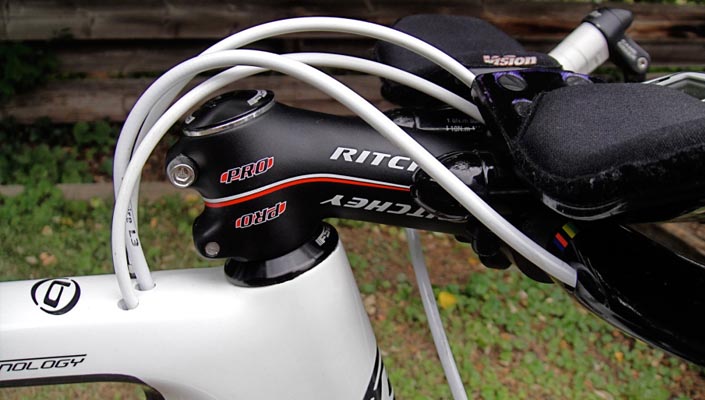 That's what we're saying: Inverted and slammed!
On a time trial bike, the rider is in a much different position than on a road bike. They are leaning forward onto the aero bars with elbows close together to encourage the aerodynamics to do their thing.
Mounting aero bars on top of your handlebars creates a slight increase in height. To compensate for this, there are several modifications you can make to the stem on your road bike to achieve a more comfortable and aerodynamic position.
The first option is to ensure spacers, (circular discs which sit on the headset), are sitting above the stem, putting the handlebar in the lowest position possible.
The second option is to buy a drop track stem which angles downwards toward the ground. These can be purchased at varying angles, so it may pay to try before you buy or get a professional fitting.
Our Pick
Cinelli Pista Track Stem because its alloy, but forged with 3D printing and a 65° angle which is effective, but friendly to get you going.
3. Seat Post
---
The ability to run off the bike is an important consideration in buying a TT bike, as their specific geometry 'opens up' the hip angle. On your road bike, the geometry of the frame and the angle of the seat tube will mean you are sitting too far back to comfortably reach the aero bars.
The solution? An offset seatpost.
A seatpost with offset (where the clamp which attaches to the saddle isn't positioned directly on top of the seat tube) normally allows the rider to sit further back - thereby increasing the distance between the saddle and the handlebars. To get further forward and open up that hip angle, you can either buy a forward-facing offset seatpost, (fit for purpose, but expensive), OR a regular offset seatpost and then turn it around, thereby reducing the reach to the handlebars.

TIP:
Make sure the seatpost you buy is compatible with your saddle.

Our Pick
Profile Design Fast-Forward seatpost in alloy or carbon.
4. Bar end shift levers
---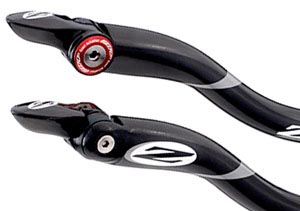 Zipp VukaShift extensions
Bar end shift levers are exactly that, shifting levers which are located at the ends of your bars. Why?
A TT bike is set up so that the rider can stay on the aero bars for as long as possible, thereby maximizing the benefits that go with it. When adding clip ons to your road bike, if you need to shift gears you will still need to get off the aero bars and shift using your brifters (brake-shifters).
Consider having your local bike shop install bar end shift levers so that you can stay on your aero bars for as long as possible during your event.
Our Pick
Zipp VukaShift extensions.
5. Saddle
---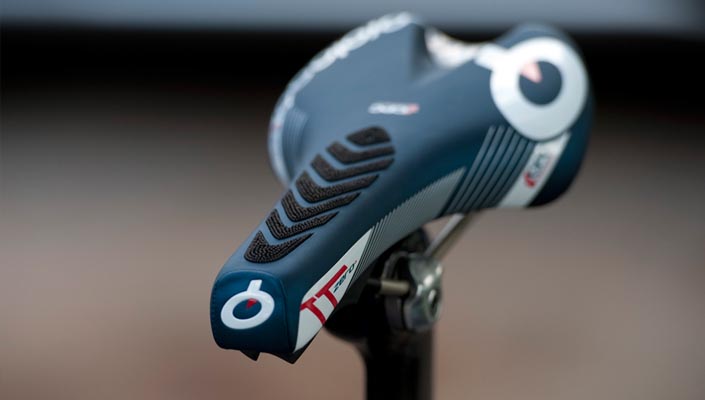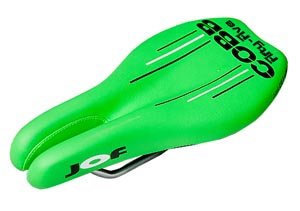 Triathletes and TT riders sit on the nose of the seat when in the aero position. Trust us when we say that you will require a different saddle to relieve the pressure on soft tissue created by your newly acquired aero position.
If you sit too far back or on the wrong part of the saddle it can cause severe pain and discomfort and may also interfere with the open hip angle you have worked so hard to achieve with the first four modifications.
Our Pick
Cobb Fifty Five JOF saddle, particularly for long course.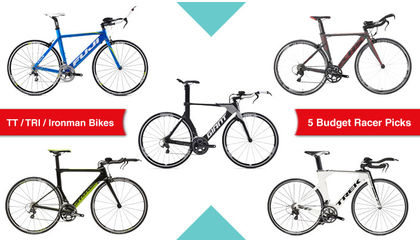 If you've looked at your stable of bikes and felt that something was missing, there's a good chance it was a Time Trial bike. Too many sunny days have passed without you speeding along on a wind cheating weapon of self-inflicted pain and Strava destruction...
READ MORE