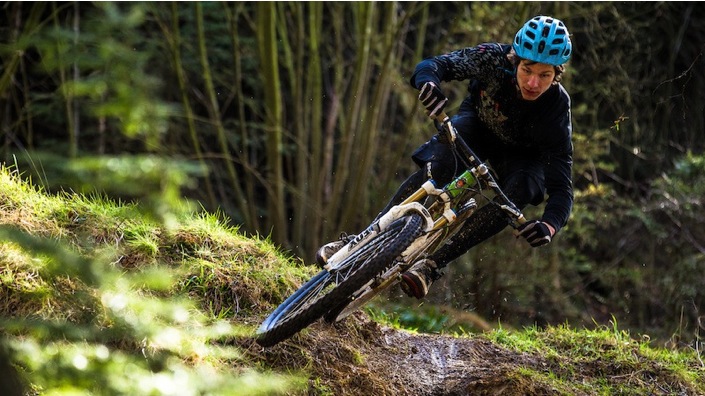 Photo: Duncan Philpott / Coptic Bikes
Not everybody is training for the cross country World Cup, nor are we looking for 180mm travel to nail that vicious double black diamond descent. We all still deserve a decent bike to hit the trails with; A mountain bike that will get us up all the climbs, descend confidently and be comfortable for an all day ride...we might even race the odd enduro with some mates.
"What should I look for to keep up with my mates on our Saturday afternoon ride? I'm not a serious rider but I'm beginning to see that spending a few thousand dollars on a new mountain bike is typical, rather than outrageous as I once would have assumed."
At BikeRoar we believe that $3,000 is a sweet spot for a good quality mountain bike with decent suspension, gearing that will survive a hard day's trail riding, and that's light and agile enough for any type of singletrack you may encounter.
Here are some areas to be aware of when shopping for your new trail weapon:
---
Dual-Suspension
At this price point, unless you are serious about XC racing, you really want to get a dual-suspension trail mountain bike. A typical trail bike will have anywhere from 120-140mm travel and perhaps even more.
There are many different types of suspension designs; some are efficient and better for climbing, others minimize "brake jack" (the effect of braking on the suspension when descending), while many claim to be good at everything!
Technology aside, for the average rider it is more important that it "feels right", meaning it fits your body shape and riding style. This can only be discovered by test riding at a local bike shop.
---
Wheel Size
29ers are the new black, and at 120-140mm of travel is probably the best bet.
Catch-up: See "26" vs 27.5" vs 29" wheel tech and knock-on effects" for details on the various platforms
As explained in the article, 27.5" wheel sizes are coming into vogue and 26" is still available for riders who are smaller in stature.
---
Thru-axle hubs
These are also becoming a standard feature at this level of trail mountain bike and are a definite advantage when riding rough or technical singletrack. Thru-axles beef up the whole wheel/frame/fork interface, creating a stiffer connection with the bike. Better control and less flex results.
---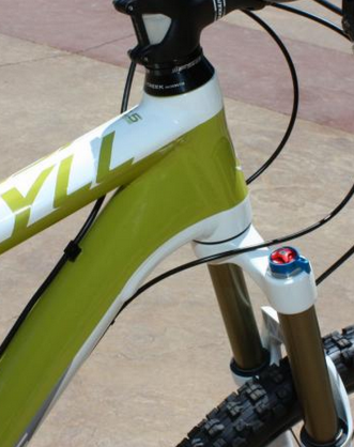 1.5" or tapered headtube
Joining up a solid thru-axle fork with a 1.5" headtube, (or fork steerer to be precise), is the path to maximum stiffness and the elimination of front end flex. This is becoming more common and definitely something to look for if you are a bigger rider, or just like to hit the trails in an aggressive manner.
Tapered headtubes also help to eliminate any movement or flex coming from the wheels and forks and are perhaps a bit lighter.
---
Adjustable shock/suspension
The Holy Grail of dual suspension trail bikes is "one bike to do everything", or a "Jack of all trades". This has been attempted by fitting adjustable suspension shocks and/or frame geometry itself. The Scott Genius 930 and Cannondale Jekyll can both lower the bottom bracket and alter head tube angles to completely change the character of the bike from big travel trail to short travel cross country.
Other brands may simply allow the tuning of the fork and shock for more or less travel, or adjust the platform valve from "full open" for descending, "platform" for pedalling, and locked out to get that hardtail feel.
---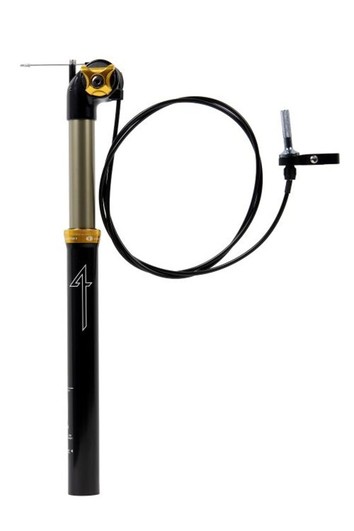 Dropper seatpost
To really get the most from a trail mountain bike a "dropper" seatpost is a great feature. These allow very quick adjustments to saddle height to be made, so you can drop the saddle when switching over to descending after a long climb.

Crowded handlebars? Sometimes it's like being captain of the Enterprise with all these gadgets at finger distance. The list of controls on a fully kitted mountain bike is getting almost ridiculous! Here's where we are at: Front/rear brake levers, front/rear gear shifters, switch for fork platform, switch for rear shock, remote lever for dropper seatpost. We are now starting to see electronic suspension systems and of course gears are not far off. Add a computer and a light and that's some crowded real estate!
---
Components
When speaking drivetrains for a mountain bike at $3,000, look for SRAM X7/X9 or Shimano SLX/XT. This is a comparison of four SRAM rear derailleurs: The X7, X9, X0 and XX.
Likewise a comparison of three of the top Shimano rear derailleurs for mountain biking.
There are other brands but this will get you in the ball park. This level of component is getting close to the highest level without the crazy price tags of the super lightweight race kit.
Brakes will usually be 180mm rotors on the front and 160/180mm on the rear end. There are many brands out there. Personally I believe Shimano make the best brakes but for the non discerning trail rider they all work pretty well these days.
---
Geometry
Well, for the weekend warrior angles and measurements are probably outside the scope. I'll say it again: Get down to your local bike shop and take one out for a spin.