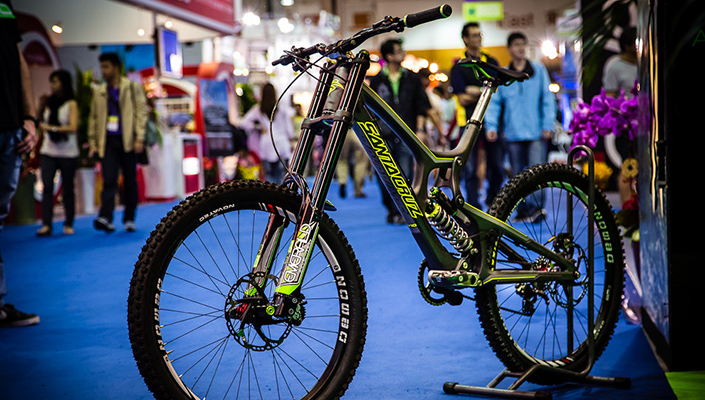 An awesome bike, yes, but is this really what you were thinking when you began looking for a dual suspension mtb?
When an uninitiated cyclist starts the search for a dual suspension mountain bike they will undoubtedly be surprised by the variety now on offer. Multitudes of suspension travel, frame materials, wheel sizes and geometries make the decision difficult even for an experienced rider.
Here are some tips to keep in mind when starting your research that may help when finalising your decision.
1. Avoid the supermarket like the plague
---
There is no dual suspension bike in any supermarket that is worth buying. As a rule if it's under $1000 steer well clear and at $1000-$2000 it could be worth a look merely as an entry level bike. Quality dual suspension mountain bikes are too expensive and require too much after sales service to be worthwhile for a large supermarket retailer to bother with; they just don't move off the shelf fast enough. Dually's are finely tuned machines which require servicing and appropriate care to function properly - something only a good bike shop can do.
2. Choose your wheels
---
There were 3 sizes but by the time you read this that number will certainly be closer to 2! Cross country and trail bikes up to around 150mm travel will be available in 650b (27.5") and 29er. There are many advantages and disadvantages to both sizes:
3. Know how and where you ride
---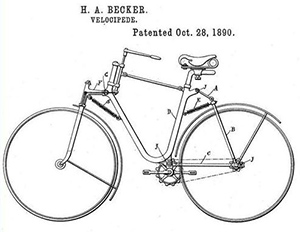 Not strictly a new invention. A suspension bicycle from 1890.
Are you after a super plush bike that excels on the descents, an all-rounder, or a bike that is super-efficient for climbing? Suspension designs all work well but there are differences and frame geometry also plays a BIG role in the bike's handling and purpose.
It is also important to know your local trails. If they are predominantly smooth hard pack this could influence the type of bike that suits. Likewise if you live in the mountains with steep rocky singletrack there are bikes available that are designed for these conditions.
4. Frame materials
---
The frame material will be closely related to your budget up to a point. Similarly to other bikes; if it's carbon it doesn't mean it's better. Be careful of the cheap carbon dually. A rule of thumb to follow is if you are buying to a limited budget get the best alloy bike you can afford. Carbon fibre bikes are often lighter, more expensive and have top end components compared to alloy but this doesn't make them more fun to ride.
5. know your budget
---
And be prepared to break it! As mentioned dual suspension bikes only start getting "good" above $2000. To have the best experience I would recommend your budget begins at $2500. For this money you will be buying quality suspension components that are crucial to the bike performing as you would expect. Going cheap here will result in a less than optimal experience!
6. Suspension
---
Again this relates to budget. More expensive bikes will have a fork and shock with a plethora of external and on the fly adjustments. Some even do this electronically and automatically. At the very least you want compression (often with an air spring) and rebound. This lets you adjust the shocks to your weight and riding.
Suspension doesn't necessarily just mean the fork and shock; it actually describes the mechanics of the suspension design itself. Read our related articles to get a bigger picture about the design and purpose of some of the most common designs.
7. Respect your abilities
---
If you haven't been on a bike for 10 years and love the look of downhill perhaps taking a step back is in order. A big travel bike will allow an inexperienced mountain biker to ride way outside their actual abilities. Respect where you are in the mountain biking world and look for a ride which matches. Perhaps starting on a trail bike with 120-140mm suspension is more appropriate as you learn the skills on standard singletrack.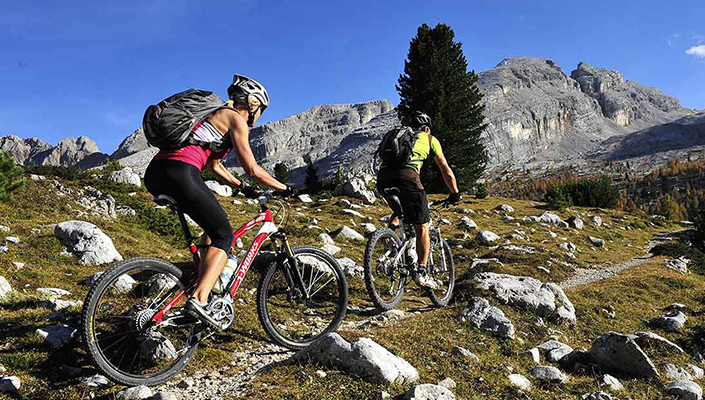 Dual suspension opens up serious trail riding
8. Listen to the local shop mountain bike expert
---
This is where it is important to listen to your local bike shop specialist. As in everything on this planet you get your good and not so good salespeople. This is why building a relationship based on trust and friendship is essential to ending up with a bike that is matched to your needs. Fortunately there are many bike shops who are truly concerned that you get the best bike you can afford. Listen to these people. If your bike shop mate says that $1500 dually is a load of crap, it probably is....
9. Talk to others on the trail
---
Struggling to find someone you can trust in a shop, or just been burnt too many times by hungry salespeople? Get out on the trail on any bike and talk to the local riders. See what they are on, and watch how they ride. Chances are you will find someone who closely matches your skill, riding frequency and style. Talking to fellow mountain bikers is a gold mine of information, especially when you ask them about their favorite lopcal bike shop. Get out there and start talking!
10. Build a relationship
---
As already hit upon, buying a dually requires more responsibility than a typical bike. To make sure the bike keeps running smoothly you will need regular services on the suspension components far more than on your old hardtail. Having a solid bike shop relationship is crucial when investing in a dually. Get to know your mechanic and build trust so you know your pride and joy is in good hands. Dropping in with a six pack of beer helps too!
11. Beware of second-hand
---
Yeah I know we said 10 Tips!! Consider this your bonus FREE Tip.
Last of all is the second-hand bike. There are always going to be some bargains in the second-hand bin. Take great care buying these bikes unless you know the rider and what the bike has been through. If the suspension needs servicing or replacement seals you could be looking at a couple of hundred dollars.
Used bikes are always a gamble and non more so than a used dual suspension mountain bike. Buyer beware.