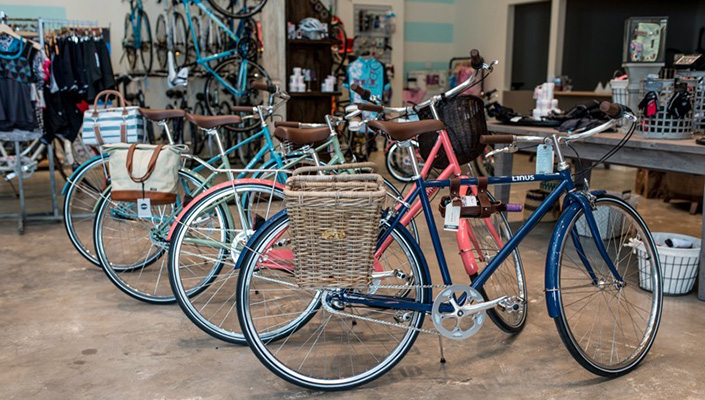 Pedal Chic has a focus on clean, attractive merchandising.
Between competition with online retailers, big bike brands going direct, and margins being squeezed from just about every direction, the good old IBD network needs to work harder and smarter to stay strong. So, we decided to speak to a few bike shops who have been recognized by NBDA as the Top 100 bike shops in the United States and ask them a few questions about staying ahead of the curve and winning in today's bike industry.
Merchandising
---
BikeRoar: Let's talk merchandising. The way your store looks, the variety of products available for sale, and the display of those products will be the biggest factor in stimulating interest and enticing customers to make a purchase. What are you doing in store that you want to share?
Wheel House Detroit: We have a very small space, so much of our merchandising focus has been on maximizing our minimal size. We will be opening a second location this spring, which will give us the opportunity for a kid's area and clothing.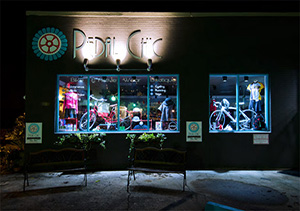 Pedal Chic in Greenville, North Carolina
Pedal Chic: We are re-doing the shop to maximize square footage sales. Really trying to set up the store for success. Our merchandising is about thinking about the flow of the sale. I teach a lot of people on how to sell to women - the biggest difference being we're sensory beings... very sensitive to the visuals and olfactory. For me, it's all about the psychology of retail. Pedal Chic aims to blend the hard and the soft. Chandeliers and a shabby chic look. Slat wall is a necessary evil, but I designed a frame to go around it that looks like an art frame. All my hangers are wooden. With merchandising, I have a massive attention to detail.
Ride615: Since day one, my goal has been to spend as little as possible building out my store. We have built our own bicycle display racks, our own wall units, and our own decorating. All of the build out was done by my hands. Occasionally, manufacturers will supply us with display units, such as Garmin who gave us a beautiful crystal freestanding case, Muc Off who gave us an LED lighted freestanding rack. Raleigh (our main bicycle line) gave us a banner, flags, etc. in the beginning, but since year one they have not given us anything else, so I've used our own funds to create banners, wrap our trailer, etc. Most importantly, we BRAND our store: with Ride615 logos, banners, apparel, bottles, bags, t-shirts, hats, etc., so that we can build and merchandise the Ride615 brand. We need to give customers a reason to choose us instead of the internet, and they CAN'T buy Ride615 online!
Staff Training and Development
---
BikeRoar: What sort of things do you do to train your staff? Do you incentivise them at all?
Pedal Chic: We have a different sales approach to the majority of shops because our customers are all female. For my staff, it's about asking the right questions. We have around a 90/10 split (female to male) staff members. My new training program to motivate staff is based on growth as a team. It's something I've just put in place and I think it's going to work really well. When shared, staff understand what the company goals are and what the departmental goals are. Everyone has to understand what the other departments are doing.
Wheel House Detroit: Our general manager is the primary staff trainer. We have an employment manual that includes a detailed job description that she reviews with any new hire, whose first day is mostly shadowing a more seasoned staffer. We offer a one-week review and a substantial raise after 30 days if things are working out. Long time employees receive phone and/or health insurance stipends, regular raises, and training opportunities.
Ride615: This year, we have begun to offer a small commission, not enough that their salary depends on it but enough to incentivize hard work and closing sales. I believe that completely number driven employees can be pushy and that is NOT what Ride615 is about. But, at the end of the day, if the store makes money, the employees do as well! We utilize online training aids such as Shimano S-tec, 3point5, etc., and we also attend seminars and Interbike to learn more.
Online Sales Strategy
---
BikeRoar: Are you doing any online sales for your store? What's your strategy there?
Ride615 in Hermitage, Tennessee
Ride615: We try to offer what an online store cannot and that is a 100% customer service driven mission. We typically try to turn bicycle repairs around in one day and we handle all warranty claims in house. Our goal is to make a reason for people to shop at Ride615. We know you can buy products online much cheaper, but we feel our service and labor add value to each product we sell. We are not allowed to sell online as stated in all of our supplier contracts.
Pedal Chic: Growing e-commerce is very important to us. I've just brought someone on full time to manage that aspect of the business. I believe the majority of products sold by e-commerce will be our own branded products. Our current website is both info and e-commerce... but we also do bike rental and a saddle fit service which we sell online, too.
Wheel House Detroit: Currently, we allow rental and tour reservations online as well as gift certificates and t-shirt sales. We are exploring expanding that, but haven't yet been convinced that it will be worth the effort and capacity drain.
Services
---
BikeRoar: Services is an interesting one. On one hand there are classic things a bike shop does which don't change (like sell bikes and fix them), but then, on the other hand, it can be a whole bunch of little and different things that differentiate your store. What services do you offer as a bike shop?
Pedal Chic: My focus is on carefully monitoring trends and trying to stay ahead of those. We stand out from our competitors with a recent saddle fitting service we offer. Women come from all over the state to choose a saddle at my store. It's a combination of technology and know-how.
Ride615: We constantly try to be better quality and quicker than our competition. We also try to keep our prices fair and go the extra mile for every customer. We offer bicycle repairs, custom build kits, bicycle fitting, and indoor rides.
Wheel House Detroit: We strive for fast, quality service at a fair price. Our lead mechanic is certified. Lightspeed POS really helps us manage the sales process. We also offer rentals and tours.
Community Involvement
---
BikeRoar: A no-brainer for bike shops competing with the online guys (PricePoint, Jenson USA, SpeedGoat and Chain Reaction Cycles) is to up the involvement with the local community. What sort of community activities are you engaged in?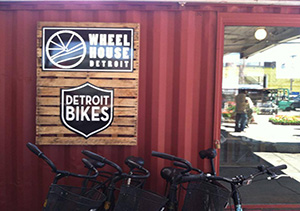 Wheel House Detroit knows space management
Wheel House Detroit: We love to be involved in the community and sponsor a number of bicycle rides by providing sweeper and SAG support. We also offer bicycle valet services, festivals, and sporting events wherever possible.
Pedal Chic: I do at least one event per month. Also, when I sell a bike, I sign someone up for a class and teach them shifting, braking, signals, letting all the air out of their tires and getting them to fill it back up, take the chain on and off, etc... I do 3 group rides per week. One of them is called a 'Spin and Sip' where we go on a ride and then have a refreshment on the patio. I want to add more rides. Maybe a 'Mom's Morning' out. I like to pick an event in the community and then work together towards it.
Ride615: We host 2-3 group rides per week. We participate in ALL Ride for Reading events (you should check them out, rideforreading.org), and we also attend as many local charity rides as possible. We also host our own rides/races throughout the year.
Marketing - Social Media and Email
---
BikeRoar: I've saved the biggest until last. Many bike shops are finding this a really challenging piece - not only because there isn't a lot of time to dedicate to it, but because establishing a brand identity and then reinforcing that message through social media takes a lot of work! What are you doing on social media and email marketing?
Ride615: We have a HUGE social media presence. We are on Facebook 2-3 times per day, we update our website at least weekly, we have an active Instagram page and Twitter feed as well. We connect with many of our customers online and even utilize Facebook messenger since people seem to love it for letting them know about shop happenings. We also utilize MailChimp for free. We usually send about 3-4 emails per year to our list, we don't want to bombard people with sales info. We only send emails regarding BIG shop events and races and usually get a great response rate!
Wheel House Detroit: We basically use everything! Facebook, Twitter and Instagram. We also do monthly e-blasts via Mailchimp.
Pedal Chic: Our social media strategy relies on 1/3rd inspirational posts, 1/3rd selling posts and 1/3rd educational posts. My big thing is you have to have a reason to engage with your audience. I always look to bring value, to bring exciting content. We established a product review system and Pedal Chic seal of approval.
Want your bike shop to feature in our next article? Get in touch with us!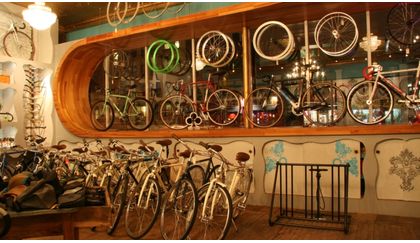 Recently moved too a new city? or looking to make your first bike purchase? It's time to find a new bike shop.
BikeRoar
has some great tips on how you can find the right...
READ MORE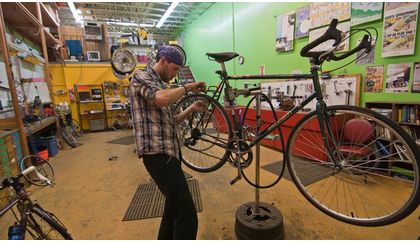 Bike in need of some love? If you aren't quite sure whats wrong with your bike you might have troubles getting it fixed.
BikeRoar
put together a few questions to ask when you drop...
READ MORE