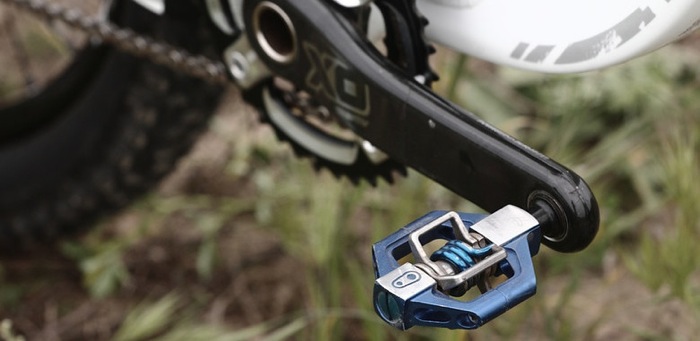 Toughness and durability, solid engagement and mud-shedding abilities are all qualities we look for in a good pair of MTB pedals. Photo: Vital MTB
There's nothing more rewarding than sitting back and looking at your mountain bike after having recently upgraded a part. You haven't tried it yet, but the main thing is...it looks the business!
With handlebar through to wheels or suspension fork upgrades available, you might look at your bike and think "where do I start, and what's the benefit to my riding?". We suggest starting with your pedals, simply because it's the cheapest and one of the most noticeable upgrades you can make to your bike.
Mountain bike pedals are available in a large range of brands; however we've chosen five of the most common currently available. Unlike road pedals, the shelf of mountain bike pedals at your local store will have some wild designs on show! Road pedals are pretty boring compared to MTB pedals, equally so regarding the discussion about which are best!
TYPES OF PEDALS
---
Let's get straight into the types and brands of pedals you can choose from. These are just suggestions and by no means are these shown in order of rank or quality. Your local bike shop will advise what's best when you actually get to that point!
1. Shimano XT or XTR pedals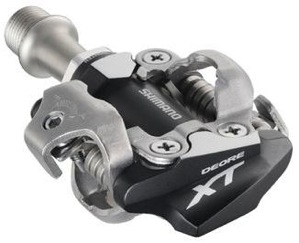 In the world of MTB parts, Shimano is well known for their Shimano XT or XTR pedals. The Shimano XT pedal is a very popular choice amongst cyclists, due to their reliability and availability. As well as a lightweight design, these pedals are very compact and easy to engage into while riding. More importantly, these pedals function very well when caked in mud and also have the ability to shed any mud quite quickly.
Due to their robust design SPD's can take one hell of a hammering. From slamming into rocks or riding to victory in your local marathon event, these pedals do it all. The XT is available in a trail version which includes a "cage" for greater foot security and robustness.
The XTR version is just a slightly lighter upgrade of its XT brother, with almost zero performance benefits to the average rider, but a good choice for xc racers. It has the same shape and exactly the same mechanical function as the Shimano XT pedal and is a few grams lighter.

NOTE: These are the top tier SPD's. For riders on a budget the most reliable, bomb proof and easy to use pedal is the venerable M520. This pedal has been gracing mid-level mountain bikes for years and offers the best "bang for buck" in the Shimano range.
2. Time Roc S pedals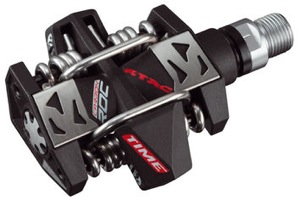 Time pedals are becoming a popular alternative to the other clipless pedals out there due to their positive 'locked in' feeling when clipped in, as well as their durability. Time pedals come in a range of models. The Time Roc S pedals weigh in at around 372 grams a set, so definitely not the lightest of the lot, but perfect for a mud filled ride, hammering through rock gardens and hoping for the best!
3. Shimano M545 pedals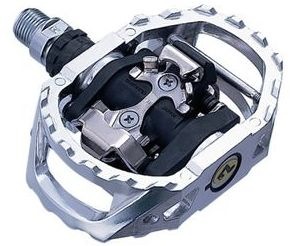 For those who like to get a little sideways when they ride and expect a solid pedal under their shoe clipped in or not! The Shimano M545 pedal has set the benchmark for 'caged' clipless pedals for some time.
The alloy cage around the pedal itself offers substantial support for a wider shoe as well as a good platform to stand on until you can clip in again. Perfect for trail riding or enduro, these pedals still shed mud well and receive a little added protection from their cage. The benefit of the cage lies in the fact that it's much easier to clip into the mechanizm, as the cage prevents the pedal from rolling under your feet.
4. Crank Brothers Eggbeater 11 Ti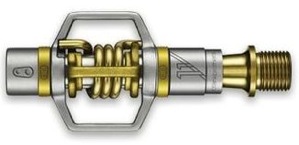 Coming in a variety of quality levels, the Crank Brothers range of pedals has something for everyone. All of their pedals are based around their unique eggbeater design, with some of the pedals also offering a caged pedal for those wanting peace of mind of the added platform support.
The Crank Brothers 11 Ti is made primarily of titanium, hence their name. These superlight pedals are well known to the racing fraternity, due to their extremely good mud shedding, as well as their mind boggling low weight. These pedals come in at around 175 grams a pair! Their slightly minimalist design has no compromise on durability when encountering any rocks, although these pedals do require some DIY servicing from time to time. It's a 5 minute job, so anyone can do it at home.
5. Ritchey Pro Paradigm
More known for their handlebars and seatposts, Ritchey have proven that they can make anything to an exceptionally high standard! The Ritchey Pro Paradigm pedals are robust, lightweight and even compatible with Shimano SPD cleats.
This is handy for those wanting a different pedal, but with the same float and feel as a Shimano offering. The main selling point on the Ritchey Pro Paradigms is their reinforced pedal spindle and axle bearings, perfect for those who consider themselves slightly heavy in the handling department, or just like to ride hard. Very hard!
Before you shoot down to your local store and buy some new pedals, have a think about what you want first. You might be after the lightest pedal out there, or would possibly prefer an all-rounder. You might even consider something we haven't listed, based on the advice given by your local experts. Pick their brains, and walk out knowing you've got the pedals for the job at hand.