Cycling lights are becoming smaller and more refined in design every year, with companies pushing the boundaries of what can be achieved with new technology. The front line of light design is its light output, measured in Lumens - a small unit that cranks out some serious lumens is usually the favoured product (until you see the pricetag!) But do not despair, there's plenty out there to tick the two most important boxes in shopping - value and quality.
1. Lezyne Micro Drive 200L
---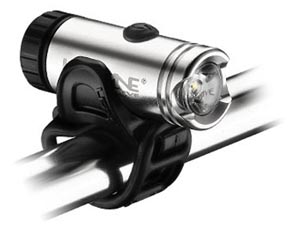 If you're after a lightweight light, look no further than the Lezyne Micro Drive 200L, weighing in at only 52 grams. The light itself features USB recharging, a 2hr charge time, and around 4 hours of burn time. Perfect for commuting or road riding in the darker hours, this removable light is easy to use and to remove and charge.
Encased in an alloy body, this little unit is packed with technology, from Optical Reflection lenses through to side visibility and Power Level indicators - there's a lot of light in this little package!
Max Lumens: 200
Run Time: 1-4.5 hours
Weight: 52g
Charge time: 2 hours
2. Light And Motion Urban 800
---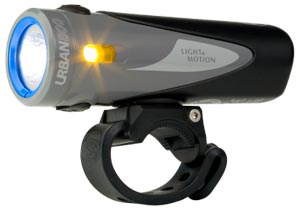 Light and Motion have thrown everything into their latest product, with 800 lumens crammed into a streamlined body and a quick connect mounting system. Offering a well balanced throw of light, the Urban 800 allows you to see what's in front of you as well as what's further down the path. Whether you're hitting the trails of an evening or commuting home from work, the Light and Motion Urban 800 has what you need. Waterproofing up to 1 metre (for 30 minutes), USB charging, alloy body, battery charge light, and 5.5hrs of run time. We think you'll be home by then...
Max Lumens: 800
Run Time: 1.5-6 hours
Weight: 121g
Charge time: 6 hours

How much light do I need? A good question and not one easily answered. Check out "Bike Lights: 5 Things to look for in your next purchase" for some insight into the measure of brightness and purpose of bike lights to help with your decision.
3. CatEye Volt 1200 EL1000
---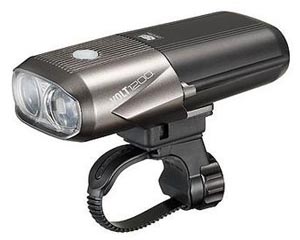 With two LEDs pumping out over 1200 Lumens, you'll have to be careful you don't blind other road users! The Cateye Volt 1200 is perfect for longer commutes, night time training or even mountain bike rides in the dark.
The Volt features five different brightness and burn time modes. Whether you mount it on your bars or your helmet is up to you, but you'll have around between 5 and 15 hours to figure out which you prefer. A 10 hour charge will see the light reach 100% charge, so you can tell this unit is for more serious night riding (or very early starts). Be sure to learn about each mode, as burn times vary greatly; from a 2 hour window on Overdrive through to 100 hours on flashing mode. Worth every cent, and also probably worth removing from your bike once you arrive at your destination.
Max Lumens: 1200
Run Time: 2-15 hours
Weight: 214g
Charge time: 8-14 hours
4. Bontrager Ion 700R
---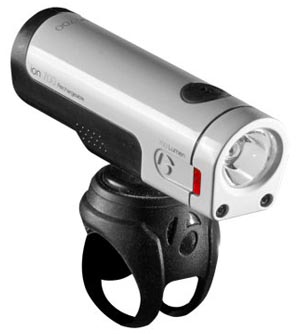 Bontrager make some top notch gear, and their lights have been proof of that. The Trek Bicycle owned company has seemingly pushed the limit even further with their 700 Lumen Bontrager Ion 700R unit. This versatile light features an alloy body, USB recharged battery, 20 degree adjustment, 270 degrees of visibility, 5 modes, and a replaceable quick mount system. A quick 5 hour charge window will leave you with 2-40 hrs of burn time depending on which mode you use.
A feature you wouldn't notice until you need it is Bontragers Elastic rubber mounting system. Allowing the light to fit onto irregular bar shapes, or handlebars ranging from 22.2mm through to 35mm in diameter. That's quite a size range!
Max Lumens: 700
Run Time: 2-40 hours
Weight: 141g
Charge time: 5 hours

Check out the Comparison
4 of the best front bike lights of 2015 from Lezyne, Light and Motion, CatEye, Bontrager

BikeRoar Editor's Pick
5. Exposure Axis XML Mk2
---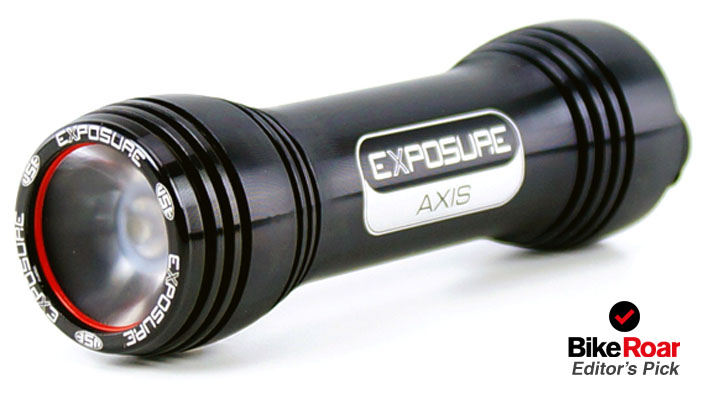 Exposure lights are well crafted alloy-housed pieces of art. Each light model has useful features, user friendly shaping, and a quality finish. The Axis XML Mk2 is no exception, with cable free design, quick connect attachments, and something called Tap Activated Power (more later).
The light itself puts out 850 lumens of light, claiming to project itself further down the path than most lights. Depending on which mode you use, you'll be able to ride for anywhere between 1.5-24 hours. Exposure lights also offer various connections for various uses. For example, you can choose to mount the one light on your bars or helmet, depending on your connection choice. You can also choose from various connectors depending on your handlebar profiling etc, which makes this light very user friendly indeed.
Weighing in at only 91 grams, it's the perfect road light for early training rides or late finishes at work. Oh, and back to that Tap Activated Power - apparently a gentle tap to the helmet or the light will instantly change modes for you, making for a faster and safer light use while riding.
Max Lumens: 850
Run Time: 1.5-24 hours
Weight: 91g
Charge time: -
Before you start making excuses not to ride, pop down to your local cycling store and check out their demo lights! You'll be able to see most of these examples in the flesh, plus many more... Make sure you remember to charge them though!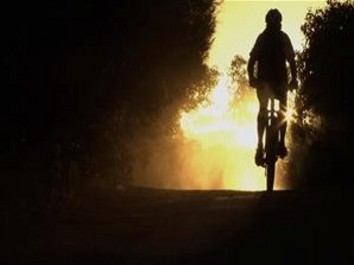 Imagine what you could spend a couple of hundred dollars on... I bet you weren't thinking along the lines of a new helmet! Today's market is flooded with choice, and when it comes to shopping for a new helmet, things are no different...
READ MORE