I once spent five weeks in the United Kingdom visiting relatives over Christmas and the New Year and honestly it felt like it was night the whole time i was there.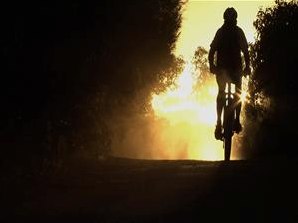 I once spent five weeks in the United Kingdom visiting relatives over Christmas and the New Year and honestly it felt like it was night the whole time i was there. The morning seemed to start at 10:30am and darkness came at 4pm and in between the sky was so low and grey that I felt to always be stooped; lest be crushed by the depressing confines of a heavy atmosphere.
They even have a name for my woes: Seasonal Affective Disorder (SAD), and coming from sunny Queensland, where the sky goes forever and light and happiness abound, it was quite a shock.

Not long from this experience I became a bicycle commuter, and even though the air is clear and everybody is happy where I live, night does fall and in winter it can be quite dark by 6pm.
Also, just because the people bask in a glorious blue sky all day and are, as i said, happy, it doesn't stop them from driving straight over the top of a cyclist if the cyclist happens to be in the way. This is a particular issue at night, and as the days draw in for the northern hemispherers (is that a word?) it is a good time to get visible, put some lights on the bike and become a pedal powered Christmas tree.


There are a lot of variations of bicycle lighting systems. Nearly all modern lights use LED's (light emitting diodes) because of their small size, unrivalled longevity and low power drain. The older style halogen lamps are now really a thing of the past.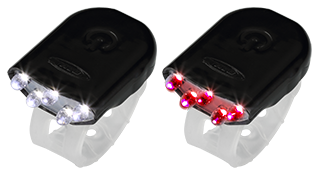 The most basic LED is the standard safety or 'be seen' light. Using a white for the front and red for the rear, these units will keep you visible in traffic and are best used in street-lit environments as they do not project any forward light. Activate 'flashing' mode and it will help prevent a car from hitting you, but won't stop you hitting a pothole. Regular commuters will attach several tail lights; one at the back of their helmet, one hooked onto a backpack and one mounted to the seatpost. When you see a triple combo like that, you know this cyclist has seen some action!


All I have to say about rear lights is to make sure they are bright, replace batteries regularly and use as many as possible!


The next level of front light is still a compact LED, but it will be 1 or 2 watts and therefore capable of projecting a bright enough beam to see several metres ahead. These are a great option for the casual or infrequent commuter and some models can even double as a torch (it's true. I use one for camping!) The downside is; as the light still runs on AA batteries (or similar), run times are quite low compared to the flashing safety light (from which you can get 100 hrs plus). An AA powered 1 or 2 watt light might give you 24hrs on steady beam only. I used to ride 40kms (25miles) each way to work and in winter at least half of that was in the dark. I would manage about 2-3 weeks of commuting before the gradually dimming headlight required replacement batteries.
Fortunately there are options. Please now enter the world of lithium batteries and Cree LED's.
The world of high-end bicycle lighting systems is vast, and everyone has an opinion on which model is best, so i will merely brush the surface here. In my experience the only safe way to ride through the city at night is to use good quality lights or don't bother riding in the city at night at all. Every regular cyclist has had close calls in the daytime hours; at night it just gets worse.


I would recommend at least a 250 lumen light (there are lights with a single Cree LED capable of this), mated to a lithium type rechargeable battery. This is minimum requirement for safer night commuting. Most reputable brands will accurately display their product's measured luminous flux (lumens). Although there are many smaller companies making outstanding products, it is highly recommended to avoid those advertising massive lumen ratings for a pittance, unless thoroughly checked out. User review websites and forums are a good place to investigate an unfamiliar brands claim.
A work colleague from my days in the bike shop bought a cheap yet powerful lightset for night riding in the bush. Poor battery performance, among other light related issues, had him limping home in near total darkness!! Not fun. There are more things that can poison, bite or kill you in the Australian bush than anywhere in the world. I prefer to see them before they crawl up my leg...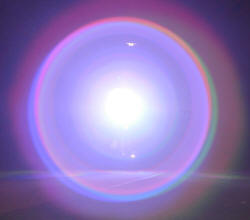 So, 250 lumens for commuting, how about mountain biking? I must say that even considering the creepy crawlies, one of the greatest experiences to be had on a bike is riding in the forest at night with a good set of lights. The brighter and better the lights, the faster you can rip up the trail! I currently run a quad LED light rated to approximately 1000 lumens on high beam and I can get 3 hours run time from the lithium polymer battery. I have been told (but unconfirmed) that this is equivalent to a car headlight. This light comes as a single unit, although there are some great brands offering helmet and handlebar mounted combinations which are perfect for complete trail coverage.


In the forest I mount the light to my helmet so I can see in the direction my head is pointing and therefore am able to look into corners to see what is coming up on the trail. The light also comes with a handlebar mount which I use on the road bike for commuting. In this mode I have to run it at the lowest setting to prevent blinding oncoming traffic (I have had people flash their headlights at me on more than one occasion).


In conclusion I honestly do love the United Kingdom (and I'm not just saying that because it's where my partner grew up and all her family live and I still want Christmas presents from them). I love the dank and the grey, it wouldn't be right if it was as perfectly bright and warm as my home. On reflection I realise if it wasn't for the darker places in the world, like Britain, we might not have such wonderful bike lights to play with and I would end up riding over more cane toads and into more Golden Orb webs, and that would truly be a bummer.