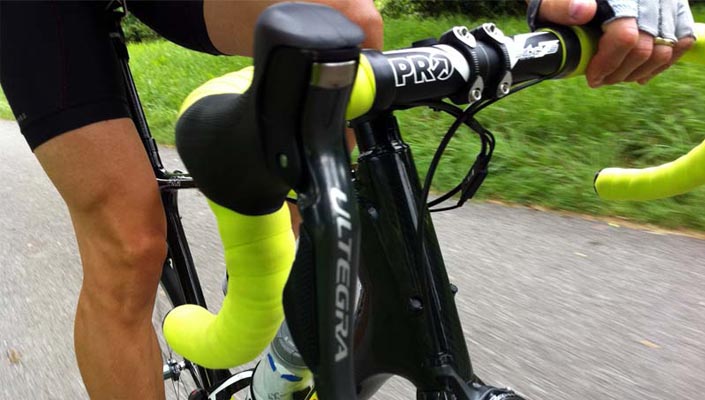 Your bike needs a groupset - but which one's right for you?
Buying a new road bike often means deciding between groupsets. The term 'groupset' or 'gruppo' (Italian for group), refers specifically to the drivetrain (derailleurs, crank, chain, cassette, shifters), brakes and wheels. For this article we are going to concentrate on the two main areas: drivetrain and brakes.
While there are many factors which separate entry-level, mid- and high-end bikes, (for example: quality of carbon, wheels, weight), the groupset is a good place to begin to get an idea of a particular bikes purpose and whether it suits your riding style and ability. It is also an easy way to gauge the price range of the bike - for instance if you have a $2500 budget you can ignore any Dura-Ace bikes that appear in your search.
Claris
---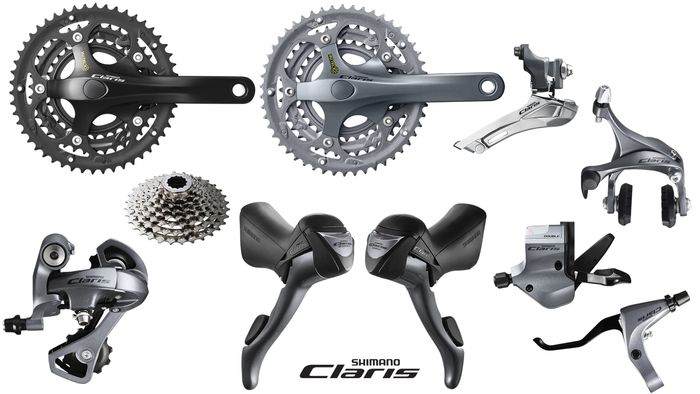 The entry level begins with the 8 speed Claris which was previously known as "2300". This system is found on bikes under approx $1000 and is designed for the recreational rider. The flat bar shift levers make this system versatile for more than just your standard drop bar road bike.
Budget commuting groupset
Found on basic commuter/fitness bikes
Comes in double and triple chainset versions
Plenty of gearing options available
Shifters/brake levers available for flat handlebars
Sora
---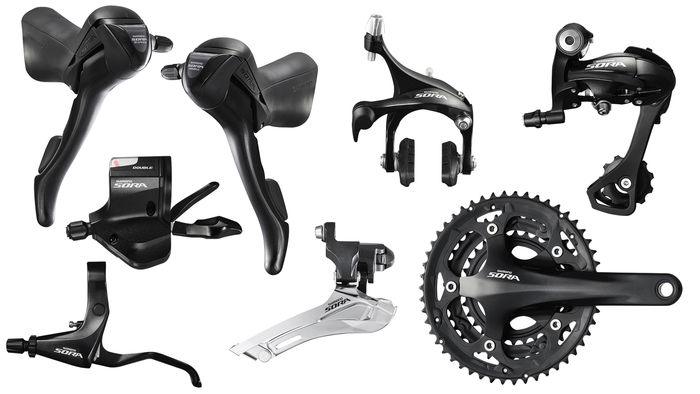 Sora is another recreational groupset found on bikes over the $1000 mark. It moves up to 9 speed and is a good choice for beginners or infrequent riders buying an entry level bike. Most entry level road bikes come equipped with this groupset. Sora is a good place to dip your toe into the world of road cycling without too great an outlay.
Budget road cycling groupset
Inexpensive yet reliable
Also comes in double or triple chainset
Recent updates have made Sora much smoother than previously

DID YOU KNOW?: 'Speed' in this context refers to the amount of cogs found on the cassette. As you move up through the component levels the amount of cogs goes up (8,9,10,11), the chain becomes narrower, parts become lighter, speed of gear changing become faster and smoother, and performance increases.
Tiagra
---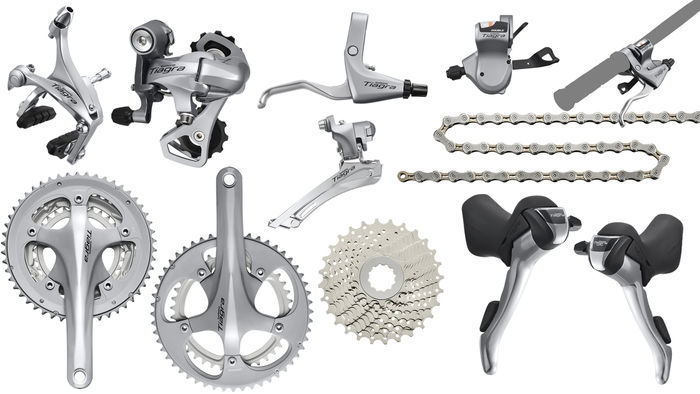 As technology advances you see qualities once only found at the top, filter down into the everyday components. Tiagra is a good example. This groupset is now 10 speed and borrows much of its technology from 105 which is the next level up. Although still really an entry-level product, this groupset is where a semi-serious recreational rider may begin their search and is typically found on bikes in the $1200-$1500 price bracket.
First stop for enthusiast cyclists
Smooth clean shifting
Found on many road and fitness bikes
Solid and durable
Relatively inexpensive to repair/replace parts
The Qualities
---
You can describe a groupset in these terms: Weight, performance, durability and value.
WEIGHT: Basically a cheaper system will weigh more. Higher end components are constructed from light weight alloy and titanium and are shaved down to within an inch of their life.
DURABILITY: This leads to durability. 105 or Ultegra are the best bet for a serious, mile crunching rider because the cheaper systems will wear out quickly. Ironically though, Dura-Ace may not be as durable for these riders because the weight shaving can impact on overall strength and longevity.
PERFORMANCE: Narrower chains, better materials, finer tuning all means faster, smoother shifting and instant power through the drivetrain.
VALUE: The best bang for buck has always been 105. Cheaper systems don't have longevity and the top end can just get too expensive to be worthwhile for many cyclists.
105
---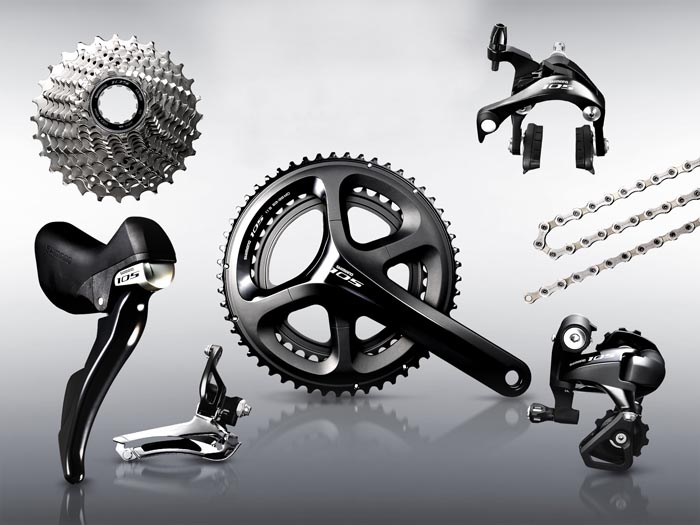 This is the mid-level in all its glory. As mentioned Shimano's 105 has been the goto groupset for many cyclists because of its cost vs performance qualities. The system is getting even better as it moves to 11 speed like its older brothers Ultegra and Dura-Ace. Expect to see 105 on road bikes around the $2000 or even more on advanced carbon bikes.
Best value groupset on the market
Price vs performance unbeatable
Good for frequent training rides, sportifs, club races
Strong and reliable
the "goto" groupset
Don't forget the brakes!
---
Brakes are an important ingredient to the groupset pie. Like other components, as the price rises so does the performance, quality of materials and weight savings. Most groupsets come with a dual control lever which, in Shimano terminology, describes the gears and brakes being operated from the lever. Entry level models, like Claris, also come with shifters and brake levers designed to be mounted on flat handlebars like a mountain bike system. This is what you would see on a flat bar road bike or commuter. Brakes rely on the quality of the lever and caliper, but also are dependent on the pads. A cheaper brakeset can be transformed with a good set of pads!

TIP: The importance of the 'complete' groupset. When it comes to purchasing a bike it is good to be mindful of what you are getting. As a price saving measure many brands opt to mix and match drivetrain components - with greater or lesser success. In my experience bikes with a complete groupset run more smoothly than those with a mix: The chain engages more precisely with cassette and crank, the cables seem more adept at holding the fine tuning between shifter and derailleur and it just looks better!
Ultegra
---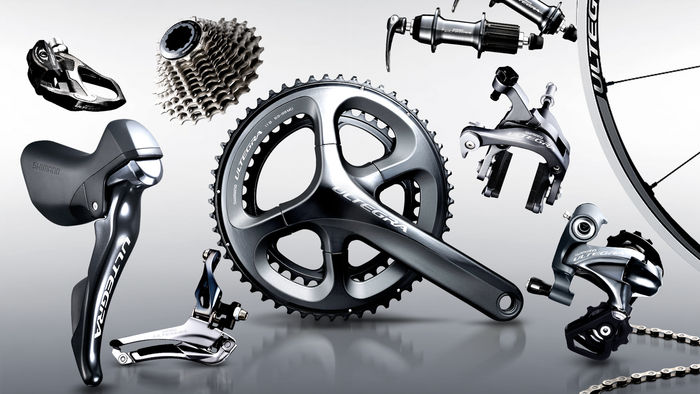 Ultegra is the high end groupset that the majority of road riders will ever need in a drivetrain. It features much of the trickle down technology from Dura-Ace, is light weight but also robust and is affordably priced.
Ultegra is also available as an electronic groupset which uses the same chain/cassette/crank components as the mechanical version but with electronic derailleurs and shifters, and, of course, a battery.
11 speed is smooth and precise
Great race groupset
Relatively affordable performance (compared to Dura-Ace)
Trickle down means this was top technology not long ago
Light weight and solid
Dura-Ace
---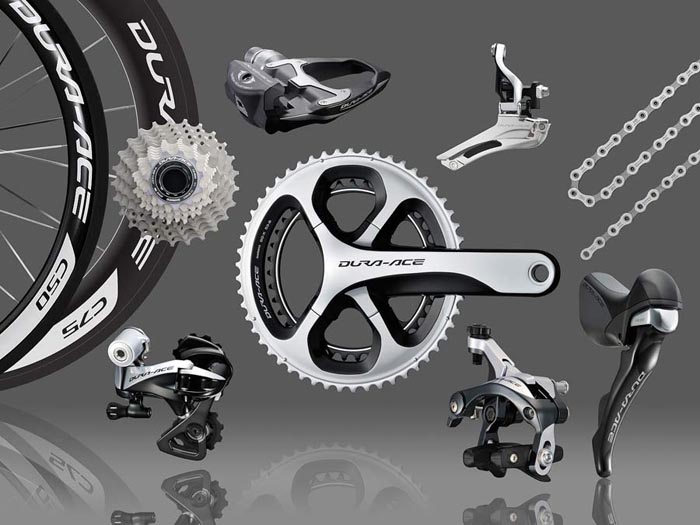 Dura-Ace is the race groupset. It is the pinnacle in the Shimano line-up and is designed to be the lightest weight, highest performing drivetrain available. It is also by far the most expensive! Dura-Ace is also available in a Di2 version for the ultimate gear shifting experience. This is the gruppo if you are serious about racing, but if you blast out the miles, day after day, you might want to use a groupset with cheaper replacement costs.
Elite level performance
Pinnacle of materials and workmanship
Lightest groupset option
Shifting and braking top of class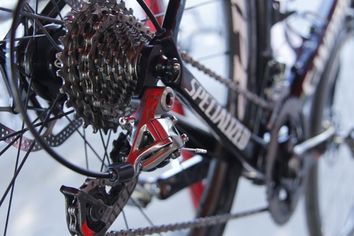 When describing, promoting or selling road bikes, the gearing system is often regarded as the lynch pin in a purchasing decision. Indeed, the cynical mind may even believe that some manufacturers doll up their bikes with a fancy derailleur to...
READ MORE