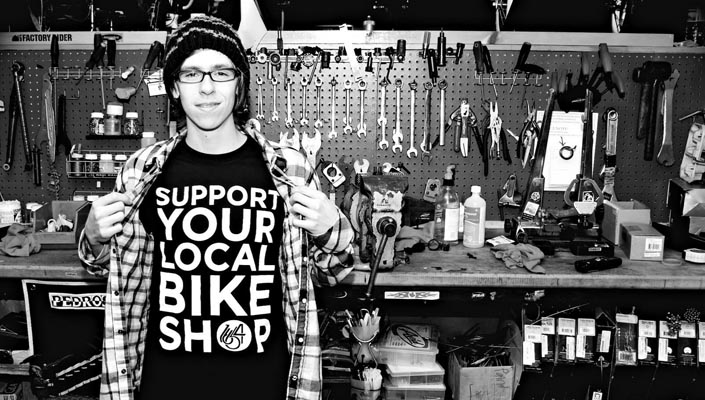 Sometimes it's okay to buy online, but it's always good to support your local bike shop
The topic of online shopping is often frowned upon by retailers, as many of their 'bread and butter' customers choose the internet over real customer service. Retail stores are left empty, while shopping websites sell out of parts during their almost weekly "special sales" to lure you in. Shopping online certainly does have a hint of convenience - however it leaves you in a sticky situation (assuming you have some standard of respect) - since you bought your gear online, is it fair to expect your local bike shop to fit your parts or offer advice? Why should they help you when you haven't helped them? No doubt you'd expect the advice or assistance for free, seeing as you aren't buying anything there anyway...
The Customer
---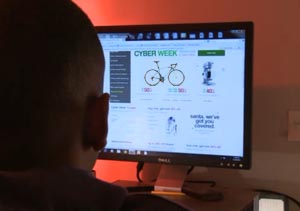 Be aware when buying online
As a customer, you might be browsing for a bright yellow Pikachu onesie. You've been trawling through sites and finally find one in your size. TRANSACTION CONFIRMED! You saved money on parking and fuel and even get it delivered to your house! It's amazing how far technology has come and this is truly a convenience of the highest order. You knew what you wanted and figured there was little knowledge required in obtaining the correct item.
The next site you visit is an online bike retailer because you think you need a new cassette. You know all cassettes are different, so you Google your bike and find the cassette model, but not the gear ratio. So you call a bike shop and they help you out accordingly. They suggest which ratio to use given your local terrain and also suggest you replace your chain for optimum chain meshing and performance. They even offer to fit it for you, free of charge. Of course you ask how much, before saying you'll think about it. Based on an average retail wage of $20/hour, that 10 minutes cost the bike shop $3.35 in wages, and a few bucks in overhead costs such as internet usage, electricity and everything else... So let's just say $5.00 for 10 minutes of time spent on the phone with YOU.
It seems a bit unfair that you proceed to find the described cassette online and at a cheaper price. With knowledge you didn't have, and answers provided for free by an expert. Do you phone your dentist up to ask why your teeth hurt when you eat ice cream? No. You visit your dentist for a consultation. An exchange of services goes both ways...Knowledge and experience for cash. Simple.
The Bike Shop
---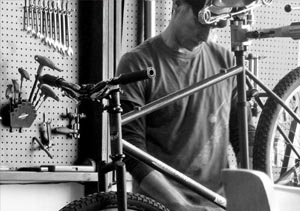 Expert knowledge from a bike shop has value.
Denver Bicycle Cafe
As a bike shop, you would definitely have noticed a huge drop in bike parts sales, clothing sales, and accessories. You'd have also noticed an equally substantial spike in technical support requests, free adjustment requests, failed parts, incorrectly fitted parts, false warranty claims, return requests, malfunctions, and total confusion as to what the hell to buy - online, of course.
Bike shops also get accused of ripping customers off, especially when "I can get that cassette online for $85.00 instead of your $110.00. What a rip off". What you fail to see is the low mark-up of retail products. As a very good example, Shimano Australia sells parts to bike shops at the same sort of price a customer would buy it for, delivered, online. Shimano Australia is making very little per item, and the bike shop makes even less.
Another example is Garmin, with most cycling outlets exempting them from their annual sales because the wholesale price is so close to the retail price. (Garmin is one brand that discourage discounting whether online or instore) How then, are the local bike shops ripping anyone off? Out of all things, they're helping you achieve a higher dollar / service equivalence. Once they've fitted the product, calibrated it and explained how to use it, you've definitely come out on top.
When online is fair
---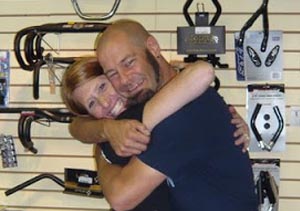 Blatantly labelling online shopping as wrong is probably going a bit overboard. After all, we've all done it at some point. Some items aren't that hard to buy, such as casual clothing or electronic goods for the house.
The main issue with online shopping is when you obtain information and advice from an expert and then proceed to bypass the very reason they helped you - to land a sale transaction. To sum it up, you can't expect anything for free. The bike shop helped you because they sell stuff. They also assumed you were playing the role of a customer. You call for help, and you buy it from the person who helped you. It's fair play.
If you want to shop online, email the website of your preference, and ask them which cassette you need. Within 3 days you'll have a reply, asking which year model of bike, brand and whatever else they need to know. Again, three days later you might have a little more information regarding which cassette you need. Finally, you can buy your cassette (and the chain whip, the cassette removal tool, some spare spacers for gear alignment, and a new chain, plus a new cable, cable ends, a cable crimper and a dropout bender) and wait for its arrival.
Once it arrives, you can fit it and tune it as needed, and replace all associated parts as required. Whatever you do, do not visit your local bike shop for help when your gears jump or won't change. Putting them in that position is just a little bit rude. No doubt, if they have the guts to charge you for what is a 5 minute job you'll be outraged at the service fee. A whopping $30 gear tune is the going rate, which is THE AMOUNT OF MONEY YOU SAVED BY BUYING IT ONLINE. Once you remove the mechanics' wage for that time frame, and the overheads, the bike shop has made $25.00 out of you. Is that criminal?
But at the end of the day, it's your choice. Just make sure you make the right decision for the long haul.

TIP: If you consider yourself a 'smart shopper' then look at your bike shop as an investment, with the intention of gaining a return on your investment. If you spend enough time, and play the role of an honest customer, they will worship you. An honest relationship will grow, and soon you'll be getting discounts on every single item you buy. Heck, you'll even get a customer profile with a set discount rate. Your services will take priority, and warranties will be sped up and prioritised. You'll even gain some riding buddies, and a heap of friends at the store. Now that is smart shopping!
Interesting Facts
---
Online websites buy so much stock, at huge bulk prices, that manufacturers cannot supply importers or bike shops. Online stores buy out the market preventing actual stores from buying products. This leaves shops with no product and customers flock online.
Online stores sometimes make single digit profit margins on products, just to sell them in their thousands. Bike stores make between 5-20% on a product, with far more overheads to pay once you leave the store.
Online retailers often pay no tax on their transactions even though you pay credit card surcharges and postage fees. Your local store does pay tax, and deals with the increased price from the importer. (Manufacturer to Importer. Importer to Bike Shop. Bike Shop to You.)
Some product manufacturers blatantly refuse to have their products listed on online stores. So strong is their stance against the market shift.
Sometimes you can't process a warranty from an online store. You need an authorised stockist to confirm the product is faulty, before it is sent back for warranty processing. That authorised stockist is your local bike shop. The bike shop did not sell the product, so they will not process it for you.
Share the love with your local store, and compare prices with other bike shops, not online stores. Good luck buying that Pikachu onesie!
Related Articles
---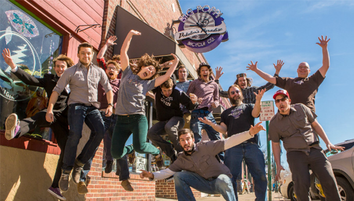 Why right NOW is the best time to get to know your local bike shop
There has never been a better time to get friendly with your local bike shop. This may sound an interesting statement considering the rise of the online retailer and the bargain basement deals now available with a mouse click and a short wait for front door service...
So why is NOW the best time? The increased competition with online retailing means that the local bike shop has...
READ MORE