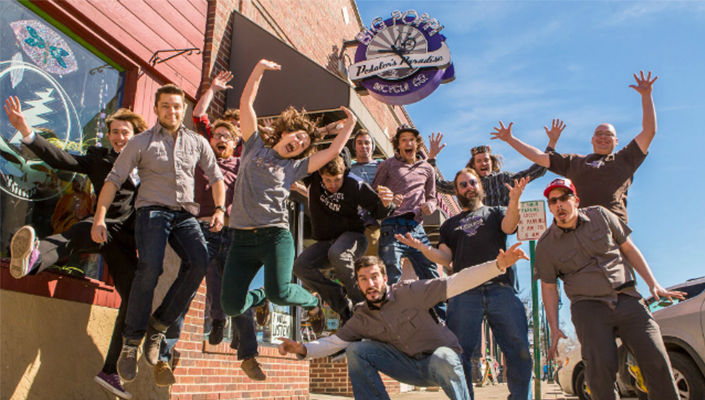 The Big Poppi Crew
Image: Big Poppi Cycles
There has never been a better time to get friendly with your local bike shop. This may sound an interesting statement considering the rise of the online retailer and the bargain basement deals now available with a mouse click and a short wait for front door service.
So why is NOW the best time? The increased competition with online retailing means that the local bike shop has a difficult time matching prices. Fortunately there are organisations like the NBDA that are working hard to create extra value for local bike shop customers and to ensure that our shopping experience isn't necessarily tied only to margins and prices. What this means is that even if you aren't getting the lowest price, you will be receiving the best service possible.
What are three things local bike shops are doing to increase value and challenge aggressive internet pricing?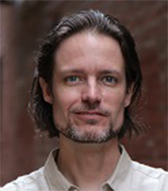 Jeff Koenig
Image: NBDA
"Well the best things that stores can do are excellent customer interaction and customer service."
He goes on to say;
"It's important that they are excellent managers of inventory...stocking wisely, trying to offer 98% of what everybody is likely to come in and ask for, keep it turning, keep the orders coming in and keep the shelves stocked. The third thing I would say, they need to be excellent in their mechanical abilities and work. You know, really try to turn every bicycle out and done so well that it doesn't come back."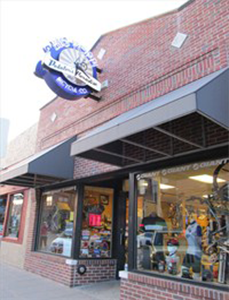 image: Big Poppi Cycles
The NBDA is working to create benchmarks in how bicycle retailers approach customers and offer the best possible practice to make the local bike shop a crucial and necessary factor in cycling; a go to place with the best service, the stock you want and the skills to make every bike work flawlessly. These are qualities online stores attempt to match by creating a YouTube video...not quite the same thing I'm afraid.
Jeff goes on to talk about the importance of highly trained staff in a bike shop;
"On the mechanic side we have spent thousands of dollars per year, going the extra mile, to send our mechanics to master classes and training, we have a lot of shop and individual certifications around places like Barnett's Bike Institute, Park Tool, SRAM Technical University and similar. We can do things like shock and spoke repair in-house and turn it around, even complex repairs, generally within 28 business hours, and so that's been an important element. I think another important element is we do a lot of building on new bicycles that most shops do not...spending an extra 30 to 40 minutes on tension balancing the wheels..."
Perhaps not every bike shop goes to this detail, but the point is attitudes like this from the top tend to filter down, especially when competition may mean skill-up or close shop. The internet isn't the enemy of brick and mortar retailing - it is actually a great benefit in the process of marketing and informing customers;
"Well, you know one way that the internet is an excellent tool, if a local bike shop has a well-managed website that presents its products and services as well, then it can certainly be blogging and talking about changes in technology. It can be displaying product and linking to manufacturer's websites and telling they're brand stories...that creates consumer interest and then hopefully come in and see the product"
If you want to get the most out of your cycling then signing up to your local bike shop's subscriber list is a great way to find out about what is going on in your area, about social rides and events and also about shop related activities. Bike shops are an ecosystem of cyclists and all things bike related in the community. It is difficult to put a price on voluntary involvement!
"Dealer education is job number 1 and with NBDA seminars and webinars and newsletters, it's constantly disseminating information, making available to dealers what the latest trends are, what the industry numbers are saying, how to cope with hard changes on market conditions..."
Bike shops affiliated to NBDA are getting smarter, better educated and making service the absolute priority. Even non-NBDA shops can benefit as the ethos of smart bike shop retailing becomes more widespread.
This is why now is the best time to visit and form a relationship with your local bike shop. Increased competition has made many stores really look at their current practices and what they can do to better serve the average cyclist. There are just some things money can't buy. Bike shops are learning this and in doing so are finding the courage to evolve into more than a "lowest price guarantee" superstore. In the end we all win.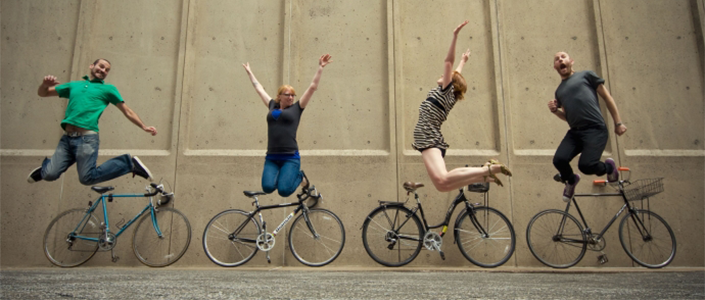 Another happy customer
Image: BicycleMovies.com