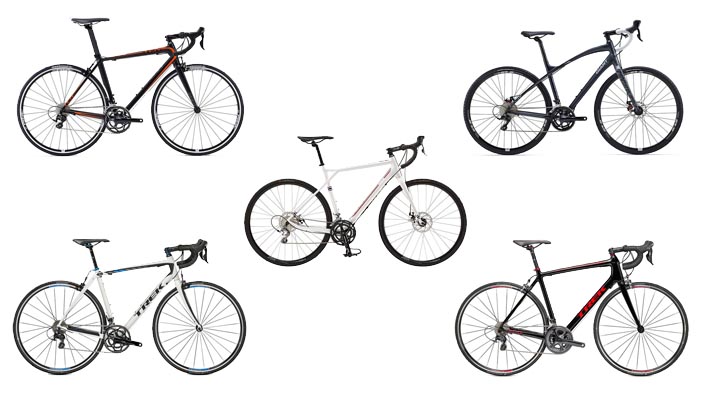 Five of the best 2015 road bikes under $3000
Finding a bike under $3000 is relatively easy even if you have an eye for quality. This is the entry to mid-level price point where budget considerations are paramount. If you are looking for a good road bike without having to take out another mortgage, this is the place to shop. You may even be pleasantly surprised at what you get for the money these days.
Take a quick look through our starting list of five 2015 road bikes - they're chosen with one factor in mind. Quality... and price - so really there are two factors. Clearly we aren't mathematicians... but we do know a good bike, even if it's cheap!
TREK DOMANE 2.3 2015
---
The Trek Domane 2.3 alloy endurance road bike features the industry-leading IsoSpeed shock absorption pivot point, as well as an array of shiny bits and pieces. Starting with the frame, Trek have used their 200 Series Alpha aluminium frameset which features sophisticated internal and external shaping for added strength and reduced weight.
The bottom bracket is directly associated with frame stiffness under power, and the Domane 2.3 features a BB86.5 to make sure all the effort you put in goes to good use. Continuing with the theme of maximising your input, Trek have wisely included the well proven Shimano 105 groupset throughout the majority of the bike.
A whole collection of Bontrager parts finishes the bike off nicely, leaving it well detailed and reliably spec'd for a budget roadster.
Why Buy?
The Domane frame is comfortable and more upright than a purpose built race bike. It also has many vibration dampening technologies going on. This ultra-affordable version benefits from top tier traits in a very smart package and would suit a recreational road cyclist looking for comfort over out-and-out speed. Perfect for long days in the saddle and, with a 105 groupset, still rolls well enough to keep up with the boys!
GIANT ANYROAD 1
---
Giant have a habit of breaking new ground and examples of this can be found throughout the history of the brand. Sticking to the tradition of creating trends, Giant have released a revamped version of the AnyRoad - a bike they claim is perfect for long road rides, gravel paths, and cyclocross. Yes, riding off-road on a proper road bike...
To live up to this, one would be pleased to know the selection of components is up to the challenge, which is good to see especially at this price. A light alloy frame and composite fork set the foundations for the ride, followed closely by an ensemble of Giant branded components. From stem to handlebars, to seatpost and saddle, the whole bike is decked to the nines in budget-friendly alloy stuff!
Components are Shimano but with a twist. Giant has selected individual parts for the job at hand as opposed to choosing a complete groupset. This has resulted in a mixed bag starting with Tiagra shifters, R350 10 speed rear shifter and a Shimano R460 crankset. This means that budget considerations are probably more paramount on this bike than top road bike performance.
Why Buy?
The AnyRoad's greatest strength is its versatility. This bike is usable in a recreational bunch, but it is so much more than that. The almost mountain bike look and disc brakes means this is also a purpose built gravel grinder that is capable and comfortable in conditions most road bikes would certainly avoid! While we aren't big fans of swapping out components to save money, the AnyRoad is such a well-priced bike that we'll look the other way this time. This bike is hard to categorize: Basic road cycling, commuting, gravel - an enthusiast cyclist now only needs one bike.
GT GRADE ALLOY
---
More triple triangle goodness from GT, the 2015 Grade is the perfect way to dip your toes into the world of road cycling. This alloy framed bike features a carbon fork and hydroformed frameset, lending itself to some very sexy lines.
Sticking closely to the current trends, the Grade comes standard with disc brakes, opening doors for venturing off the beaten track. Components are mixed, with bits and pieces from across the board. Shimano Tiagra takes care of the shifting, as well as a nice set of mechanical disc brakes for added stopping modulation (and bling factor).
A slightly more robust pair of wheels is good to see, given the temptation to take this bike off road on some light gravel paths. All you'd need to do is fit some suitable tires and you're set!
Why Buy?
The Grade is an endurance road bike which means it is designed with greater rider comfort in mind to help with long days in the saddle. Components say entry level, but still this bike has some decent capabilities. You can rely on the solid GT frame, the wheels and tires are slightly heavier duty than your average roadie and disc brakes mean all-weather stopping power. This adds up to what would be a durable and stable, (although perhaps a bit weighty), ride that can handle much more than smooth tarmac.
GIANT TCR SLR 2
---
The TCR SLR 2 is labelled as "the pinnacle of alloy performance". Giant continue to create quality bikes at an affordable price, even for the discerning criterium racer who isn't keen on binning their carbon toy. Real cyclists ride alloy, end of story.
Giant have included the usual array of 'in-house' alloy parts to keep the costs down and control the level of quality. A speedy set of Giant P-R2 rims keep you rolling and here is a good look at the brand new 11 speed Shimano 105 gearing. With many of these Giant road bikes we see a real mix of drivetrain components. The SLR 2 is an affordable bike, but I personally would prefer a few less corners cut.
Using rim brakes tell us a lot about the TCR: It's definitely a race bike. Other finishing touches like the carbon fork and seamlessly integrated seatpost create an exclusive look to what is actually a fairly entry level road bike.
Why Buy?
Firstly, it's a bargain race bike. The TCR SLR2 has the design and looks of a bike far above this basic price point. Unlike many of the bikes already mentioned the TCR is not an endurance bike designed for comfort, it is a racer designed for speed! If you are looking to get into road racing/criteriums, or just want a less expensive bike to put through the dangers of hard racing, this is a great option.
TREK EMONDA S 6
---
The Emonda has been spoken about for a while now as the new road race model from Trek. It has been much touted as the "lightest production bike in the world". This is not that model but a scaled down version allowing us mere mortals to take advantage of the latest technology in an affordable package.
The S6 is still a serious bike and features the latest Ultegra 11spd groupset (complete, thank goodness!) and sleek carbon frame. The bike is rounded out with Bontrager components. The price of the S6 is unbelievable. Not too long ago a quality carbon Ultegra bike would be closer to $4000. That Trek have managed to get this bike close to $2500 with a complete Shimano drivetrain is just awesome.
Why Buy?
The Emonda completes the triumvirate of road bikes from Trek. The Domane is their endurance and 'classics' platform, the Madone is a straight-out race bike and the Emonda is the lightweight model for mountain whippets. If you want the latest technology and a no holds barred component set this category killer is a top bet!
Related Articles
---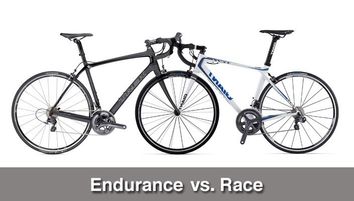 What is the difference between a road race and endurance/gran fondo bike?
There has never been so much choice when going road bike shopping. Most brands run multiple models with specific characteristics. For example, you could possibly find these...
READ MORE