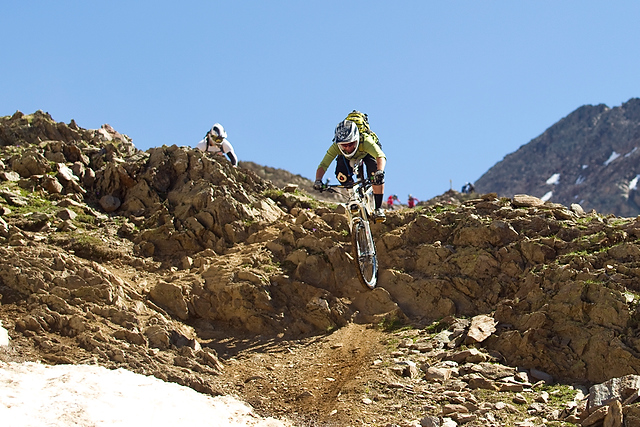 Riding the technical terrain of a rock garden.
Technical riding ability is one of the best skills to possess no matter your riding/racing discipline. Honing your off-road skills can pay dividends not only on the trails, but also when riding on the road. Last month I had the honor of being a coach at one of USA Cycling's Junior Development Camps. One of the main reasons that the development camps were created was the lack of skills U.S. riders showed when they competed on an international level, compared to the riders of other countries. The week I spent at camp – with some of the most promising junior racers in the region – gave me a chance to observe the riders' technical abilities from a coaching perspective.
What is technical riding? Technical riding can mean different things to different people, depending on their experiences. In general, I would classify technical riding as any riding that pushes your skill limits. An example is a particularly twisty section of road, or a road that has roundabouts and signs that need to be avoided or other obstacles in the road itself. An off-road example can be a twisty section of trail, or a section that has obstacles that you wouldn't normally ride, such as rock gardens or manmade obstacles like jumps. Regardless of what you consider to be technical terrain, there are some techniques that, when practiced and implemented, can improve your riding ability.
For many of the junior riders at the camp, the areas that gave them the most trouble were the rock gardens. As I watched them approach and attempt the rock gardens, I noticed several areas of trouble. They were:
Approaching in the wrong gear.
Riding with their weight un-balanced, sometimes too far forward – a typical racer's position.
Looking immediately in front of them, watching their front wheel.
After returning from camp, I was curious if this was just an isolated segment of the riding and racing population, or if technical riding deficiencies were widespread. I spent two days riding and watching riders on a series of trails that are known locally for being very technical. I regularly saw riders displaying the same errors that the juniors were making at the camp. This led me to believe that most riders can benefit from tips to ride the technical sections on their local roads/trails more effectively.
Tips to ride technical sections
---
We'll start with the approach. The technical section we'll use for this scenario will be a slightly uphill rocky section of trail. Depending on the entry to this section, you may not have the option to carry any speed into it, but this doesn't matter. Select a gear that is easier to spin than what you're currently in.
Time after time, I watched as people approached a technical section and tried to muscle through it. By downshifting to an easier gear, you can spin more fluidly through the section. This also provides you a better opportunity to keep momentum when your front wheel gets hung up on a rock, root, or other obstruction. This simple step alone will help most riders get through ("clean") a section that has haunted them in the past.
Body position is important, too. The proper body position depends on the trail, but for our slightly uphill technical section, a rather neutral body position (generally centered over the bike) will provide the best balance. Since it is uphill, you may have to shift your weight slightly forward, but not too much. Having your weight too far forward in a rocky section can cause your front wheel to stall out when it hits the face of a rock.
By having your weight slightly forward, you can shift it back as you encounter those rock faces, unweighting the front wheel and allowing you to easily lift it over the obstacle. With practice, you'll find the perfect balance point for each section, one which allows you to feel comfortable on the bike and helps you to unweight the wheels in order to navigate obstacles.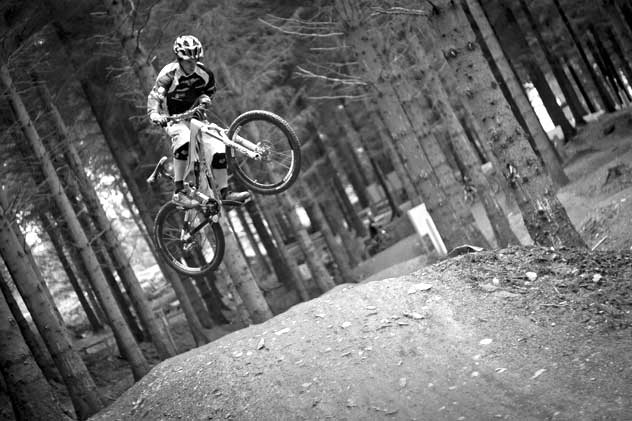 The final tip is by far the most important for any riding situation: look where you're going, not where you are. By keeping your head up and looking down the trail, you have a good chance to spot the better lines. If you keep your head down and focus on what's immediately in front of you, you can't prepare for what's coming up ahead. Whatever the terrain – even out on a road ride – keeping your head up and looking ahead allows you the most opportunity for staying safe and picking the best lines. Don't always assume that the line that is worn in is the best or fastest line. Looking ahead gives you the opportunity to see lines that others may miss.
As with all riding skills that you have learned, practice them regularly or you will lose those newfound abilities when you need them most. By using these tips and practicing them, your handling skills will improve on any terrain. Keep working at it, and most importantly, have fun!
Editor's Note: This article was originally published Wednesday, Jan 23, 2013, and has been revised for editing and accuracy.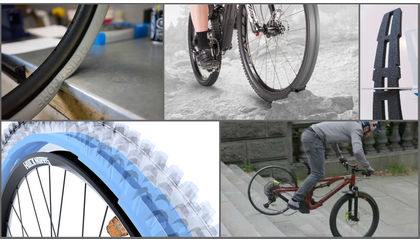 More and more mountain bikers are considering foam tire inserts. We test and compare different types to find out if they deliver on tire, rim, and flat protection...
READ MORE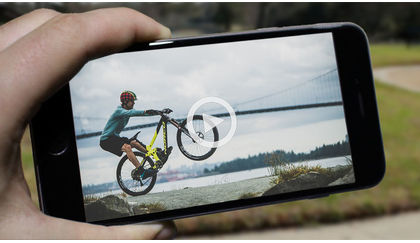 Legendary trials rider Ryan Leech offers an online video coaching program he guarantees will help develop your bike skills. We ask him, how effective is it and why?
READ MORE