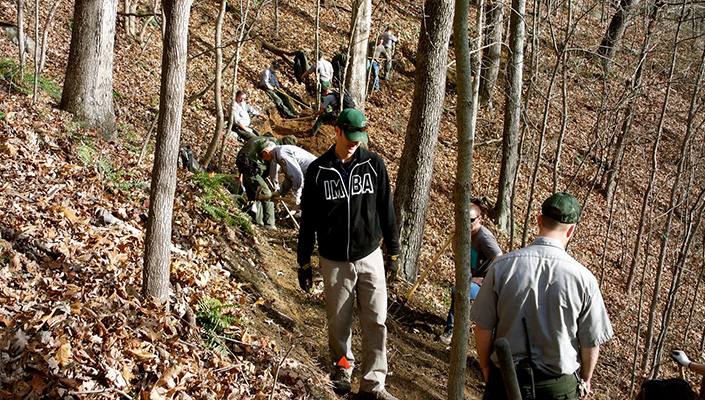 Photo: Levirose Blogspot
Just recently we touched on the topic of cycling advocacy groups. We outlined what these groups do for the cyclists around them and suggested ways we could help support these groups through our actions. After much reader interest we've decided to delve a little deeper into one group in particular - none other than the biggest mountain biking advocacy group in the world: IMBA or 'International Mountain Bicycling Association' for those wanting to fully utilize their widescreen smartphone!
Before we outline how you can support them let's learn a little more about IMBA first. Founded in 1988, the team behind IMBA have constantly been pushing for greater trail networks, cycling infrastructure and rider acceptance from the greater global community. It's no secret that IMBA reaches out further every single year, and this has been the case for the past 25 years. Let's take a look at some figures, to give you a brief overview of the organisation - the biggest trail advocacy group on the planet!

THE NUMBERS
---
35,000 individual members
750 chapters, clubs and patrols
200 corporate partners
600 retailer outlets
50 full time staff members
The organisation is classed as a Non Profit Charity Organisation, and have received a respectable 4 star rating from American based Charity Navigator group. In other words, the IMBA is a good group of people, doing charitable things for people like you, for no financial gain to themselves. This is why you should support them!
SUPPORTING IMBA
---
The best way you can contribute to the cause is to become part of the solution. It's as simple as helping IMBA gain more credible places to ride by getting your hands dirty and helping to build the trails we all so desperately want to ride on. It's easy to say "there aren't enough places to ride" and then go tinker on your bike. Why not turn up to an IMBA trail building day and get into it! All the work required of you will be outlined, with solid guidelines in place as far as building in an environmentally sustainable manner. So really, all you have to do is put shovel to dirt.
IMBA also have a very strong focus on supporting clubs in their attempts to increase the number of young riders taking part in the sport. 'Take a Kid Mountain Biking' pretty much sums it up. These take place mainly in October (in U.S for our international readers) and are a fantastic way to meet other parents, and namely other kids on bikes!
INDIVIDUAL BENEFITS
---
The IMBA isn't all about taking and not giving, so you'll get something back for your charitable efforts. All of these benefits are through companies that in turn support the IMBA group. All members are given a small Propaganda Pack with stickers and information leaflets to help you spread the word. You'll also receive a membership card, which you will need for the other benefits available to you!
Subaru VIP Program: You'll save up to $3,300 off RRP when buying a new Subaru car. All for the driver? More like 'All for the IMBA member'. Subaru will in turn make a contribution to the IMBA fund for every vehicle sold under this benefit agreement. Neat!
Travel Benefits: IMBA Destinations can help you find really awesome places to ride, with information provided on who to contact, where to stay and what to do when you're over there. From tour operators through to skills camps the guys at IMBA will hook you up in a big way.
As a member of IMBA, you're also privy to Insurance offers, from health care to accident cover. It's all part of the deal.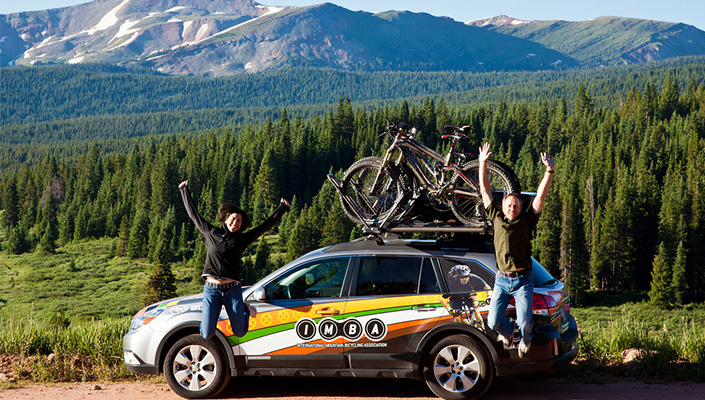 Photo: Single Tracks
WHAT ABOUT MY CLUB?
---
If your local MTB club is associated with IMBA, they will receive a whole range of support to ensure they are successful in their attempts to organise events and provide a platform for local riders. Any club that is a part of IMBA will receive technical support from the organisation, as well as advice and training on how to appropriately run a mountain biking club. The team at IMBA will suitably introduce your local club to methods on increasing rider participation and how to make it enjoyable for people just like you.
When it comes to making it all happen, IMBA also offers financial support to local mountain bike clubs, to assist them in maintaining trails and supporting their local members.
HOW TO JOIN
---
As you can see, joining the IMBA as an individual has plenty of benefits to thank you for your participation. But most of all you're helping all the riders that ride in your area. Even the people who don't join a club, build the trails or attend trail advocacy meetings... The very riders you should send this article to!
If you want to join IMBA, it's quite easy! You can join as an individual, as a club, or even as a cycling retailer. Just visit the IMBA website and read a little more about the organisation.
You can also sign up to the IMBA free newsletter, which is a sneaky way of gaining insight into the organisation from a bystander perspective. Once you've received a few newsletters, you'll have a clear understanding of what these guys do for you! Follow here for membership: Join IMBA.
All we can say is that it's a good feeling to do good things. That's what fuels the IMBA team every day and there's no reason it can't fuel you on your next ride. Hit the trails knowing you helped build them. You helped fund them. You helped maintain them. They become YOUR trails. Nothing beats that feeling, we know first-hand.