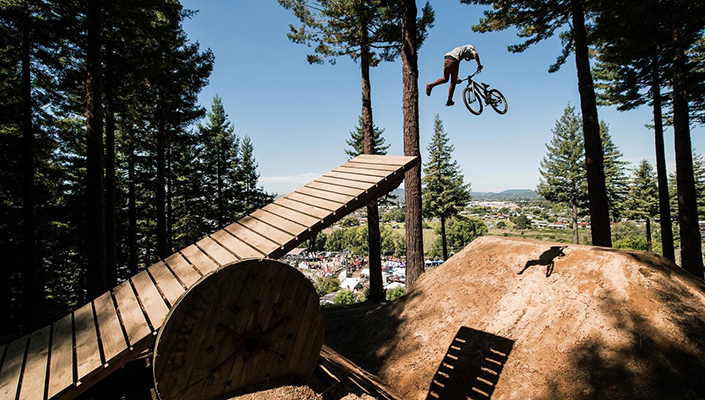 Brett Rheeder whipped his way into 3rd place in slopestyle at Crankworx Rotorua 2016
Since 2015, the appearance of Crankworx in our fair hemisphere has been most exciting for those south of the equator! As one of several hundred (thousand) Kiwis-in-Aus, without a doubt, my favourite part of heading to the somewhat ruffian yet charming town of Rotorua is explaining to New Zealanders who don't ride (taxi drivers and bus drivers for example) why people flock there in droves.
Those outside of the mountain biking scene may look at you as if you've grown a second head, but the rest of us understand that Rotorua is a mountain bike mecca well worth the pilgrimage. The trails are 100% world class, the soil drains so well it's a year-round destination and the pubs are fantastic, not to mention the accents are adorable.
Crankworx is a great time to visit Rotorua - you can easily fit a 4-5 hour ride (or other adventure) in the morning and have plenty of time for lunch and then head over to Skyline for the show of the day. I was lucky enough to head over as part of an all-girl contingent a few weeks back, so here are my top tips for organizing a trip to Rotorua and get some riding in yourself!
1. Multi-Day Crankworx Pass
---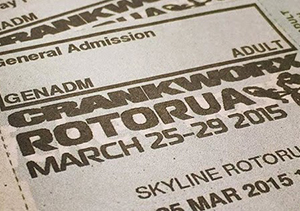 Multi-day passes are the way to go
Get a full multi-day pass with the luge tickets - it's by far the best way to go. The ticket includes unlimited gondola rides (unless you are riding - those tickets are sold separately). This will get you into all of the shows plus the event village and food stalls whenever you want.
Don't short change yourself here: if you've come along way to Rotorua for Crankworx you want to have the best experience possible. You can be choosy on which days you purchase lift passes for riding, but the Crankworx experience is happening everyday.
2. Rent a bike for a day
---
There's nothing like shredding your bike down some new trails, but on this trip, I would recommend trying out a new bike for a day. Whether it's a demo from the event village, or a Talon, Reign or Glory rental from Mountain Bike Rotorua or Skyline, the trails are different from anywhere else in the world - you will want to experience it from as many perspectives as possible. Plus, it's sort of cool when you just give the bike back all muddy and watch your friends scrubbing theirs while you already have a cold beer in hand.

Did You Know?
Global bike tour company Roar Adventures is a BikeRoar sister company and offers incredible deals on amazing bike tours from around the world, including New Zealand.
3. Skyline MTB Park
---
Get over to Skyline and experience the wonderfulness that is the gondola ride up. That's right - no climbing. Simply pick the trail you want to ride (within your capability of course), zoom down, get back in the gondola, repeat.

TIP: If you can clear the gap at the start of the trail, don't miss out on Mr. Black.
4. Shuttle laps
---
There are 130 kilometers of trails - more than you could hope to ride in a few short days, but some of the best runs are best accessed by shuttle. Grab your manky, check out the Southstar Shuttle timetable, and make sure you get in as many runs as you can of the amazing tracks in the Redwood Forest.

TIP: Don't miss out on Eagle vs. Shark. Seriously.
5. Get a manky
---
What on earth is a manky? Only the best invention EVER. Anyone who's anyone has a manky - a map and hanky in one. It's essentially a cloth map that you can fold up (or scrunch - depending on your preference) and put in your pocket with the entire trail map network on it for the Redwoods. This comes in super handy for cleaning your goggles or your GoPro.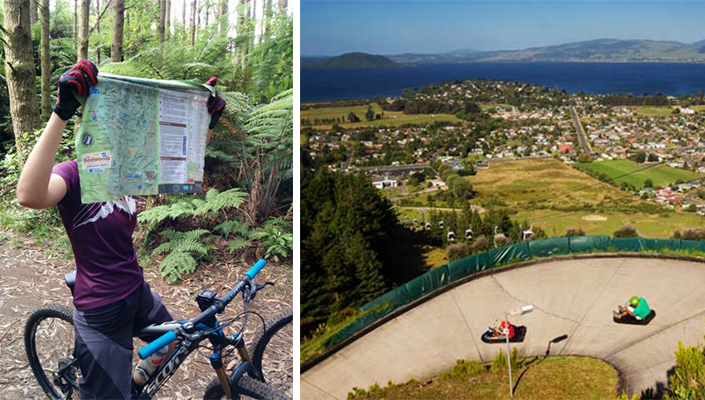 The Skyline Manky!
image: Jordana Blackman | BikeRoar
6. Do the luge
---
While you're at Skyline, try your hand at the luge! If you got a multi-day pass at the start of your trip, the luge runs will be included. Not sure what this is? It's like downhill go-karting down an asphalt track that is purpose built with hairpin turns, lumps and bumps, and fantastic views of the city and lake. Oh, and YES, you can Strava it. Ahem.
7. Sample the craft beer
---
A pretty solid reason for a holiday in its own right, if you fancy yourself a beer aficionado, you simply cannot go past the craft beer in Rotorua. Head to one of the many pubs or restaurants at Eat Street and peruse the menu for your favorite. Coconut Porter? Sure!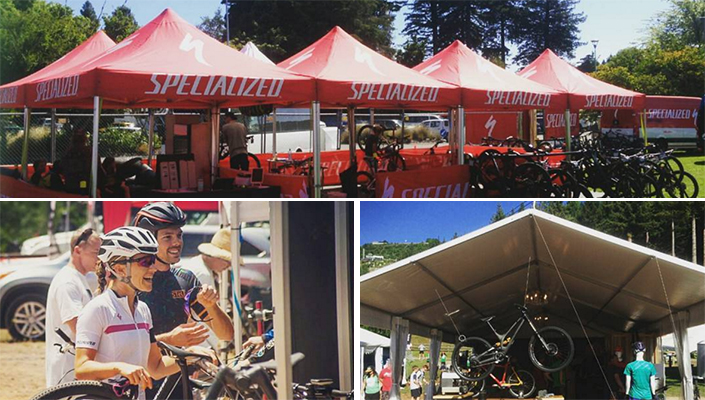 The event village is a great place to nerd out on the newest gear
8. Event village and expo
---
Spend time looking around and talking to the stallholders. You will discover some great Kiwi brands (like Hukkit and Zerode) amongst the global big boys, and you will even be able to demo and test ride some pretty rad bikes for FREE! If you plan properly you may be able to get away with riding all types of demo bikes all day for free - saves on the cost of a rental.
9. Support the local bike shops
---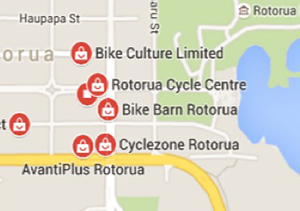 Basically a bike shop per block in Rotorua
It's actually harder to avoid bike shops than it is to find them in Rotorua's quaint downtown. Here is a map screenshot of bike shops within 3 blocks of one another. Because Rotorua is growing as an MTB destination, the bike shop industry is absolutely booming! Take the time to pop in, say hi, and take home some kiwiana souvenirs that will remind you of the trip after you head home.
It's also helpful to scope out what each bike shop carries. If you break something on your bike you want to know exactly where to go to get a replacement part. Wasting a day or two trying to find a derailleur hanger instead of riding is the absolute worst!
10. The events
---
The 5-day pass will get you into any of the Crankworx events throughout the week. Here are tips for each:
Downhill - Catch the gondola all the way up to the top of the hill and then make your way down the track throughout the afternoon. To get an appreciation for how psycho the descent is, you need to scramble up and down it on your hands and knees. Remember to wear sturdy shoes unless you are part mountain goat.
Slopestyle - You will fluctuate between not wanting to watch in case something goes wrong and not being able to look away in case it goes right and you miss it. Slopestyle is not for the faint-hearted, but an essential if you can appreciate a good 30-foot double backflip.
Pump Track - Not to be missed, the pump track challenge is a head to head, dual eliminator showing off some serious pumping skills. This is an evening event, so bring a jacket and get there early to reserve a good spot up close to take in the action.
Dual Speed and Style - I can't recommend this one enough. The "love child of dual slalom and slopestyle", riders battle the clock and one another in this eliminator getting points for both time and artistry. Will speed trump style or will style trump speed? You'll have to watch to find out.
Whip-off - No nay-nays here, these jumps have been designed with one purpose in mind: the whip. Get a position that's slightly higher than the ramp itself to see the best jumps in action. The action here is fast paced and continuous; bring a noise maker and be prepared to party!
Editor's Note: This article was originally published Friday, May 6, 2016, and has been revised for links, editing, and accuracy.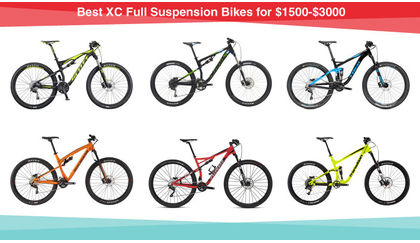 Looking for a new entry to mid level full suspension bike?
BikeRoar
has you covered with 6 of the best bikes for...
READ MORE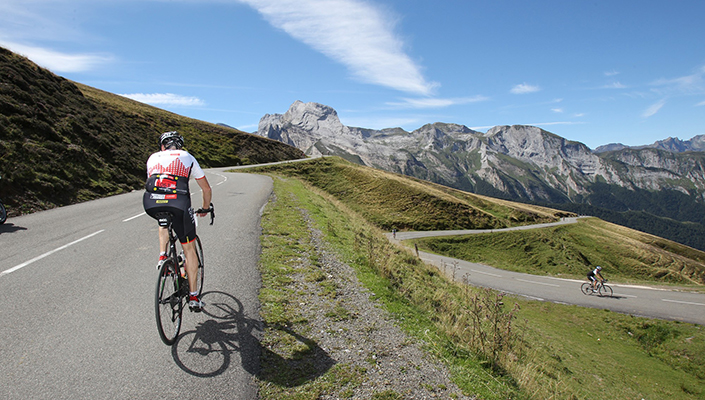 If you are looking for a new challenge, the Haute Route may be it
BikeRoar
first hand look at what it takes to ride the...
READ MORE