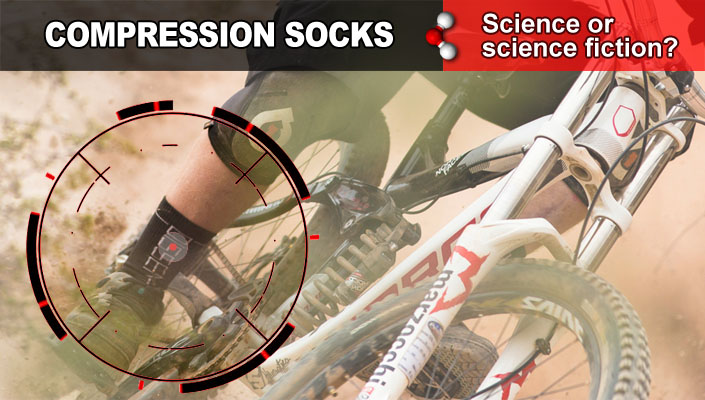 Compression socks have been marketed to bicyclists, but do they actually work?
For some of us, they are the afterthought of our cycling kits. For others, they are the centrepiece of a carefully crafted and coordinated outfit. Whichever camp you belong to, this much is clear - if they're not comfortable, your performance will be compromised.
It's common knowledge that the ubiquitous, humble sock is critical for comfort on the bike as it wicks sweat from the foot while you are riding. Those who have made the mistake of riding in cotton socks on a hot day or in the wet would have noticed the floppy, horrible bagginess that now occupies their shoes. In fact, with a drying time 3 times longer and a propensity to swell NINE TIMES MORE than their synthetic brethren, cotton socks plain old stink.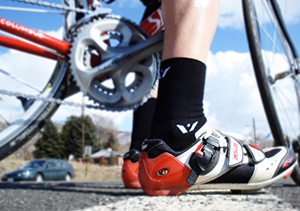 Socks are an easy way to be more comfortable on your bike | image: kdayracing.com
"Ok", I hear you say, "so I won't buy cotton... but come on. Socks aren't made of carbon so they can't really enhance my performance, right? How important can they really be?"
Sure, cycling socks might not be the first item that comes to mind when you think of splashing out on something of premium quality for your riding collection. But, as it turns out, quite.
Enter compression socks. Yes, the same ones that have already swept the world of runners and triathletes by storm... It's reported that they can help you ride in variable weather conditions by making you feel more comfortable.
Despite claims on whether the 'recover quicker' mantra of compression wear has any scientific basis, there actually is research by Drake University in the United States to support that wearing compression socks is strongly linked to comfort and satisfaction through perceived foot temperature.
For a better understanding of how compression socks work and why they are useful to cyclists, let's take a closer look at Dissent Labs and Swiftwick, two performance sock brands at the top of the sock game.
How Compression Socks Work:
---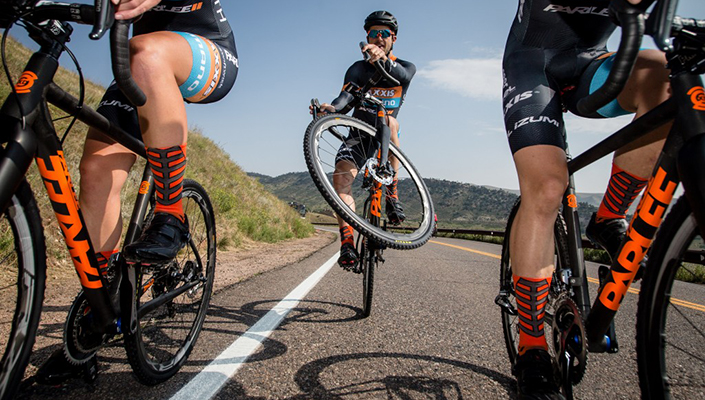 Swiftwick is trusted by some of the best competing road and cross teams
Swiftwick have been providing compression socks to performance athletes for a number of years now. They offer 8 product lines that all vary in cuff length, compression level, materials, and so on. According to Swiftwick's Katy Holmes, compression socks provide a number of benefits for your feet that may help you perform and recover better from physical exercise. The compression technology used in Swiftwick socks stabilizes your feet's 200 ligaments and 35 muscles, increasing circulation and reduces swelling. How, you ask?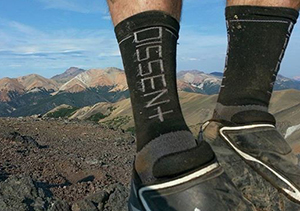 With a little compression, your feet can stay comfortable and heal faster | image: Dissent Labs
Compression socks fit tight and are built to apply a certain amount of pressure on specific parts of your foot, ankle, and calf muscle. This is claimed to increase blood flow, increase lymphatic fluid movement, control swelling, and reduce unnecessary muscle movement while you're out exercising. Typically, a medical compression stocking provides knee-to-foot coverage as this properly helps to manage the lymphatic fluid and blood flow in the foot and ankle. Long story short, it's said that compression saves energy, increases recovery, and reduces the chance of injury, or so they say. There are mixed scientific findings on how much compression socks actually affect your performance, but it's been noted that they can aid in shortening the recovery time needed by your muscles.
The compression also helps keep your feet from swelling during hot weather and under heavy exercise. This helps your shoes fit consistently, reducing the chances of hotspots and blisters developing over longer times of exertion. Swiftwick socks also use Nobel Prize winning Olefin fabric, which retains less than .01% of its weight in moisture and resists deterioration due to perspiration and detergents. It's easy to see why Swiftwick has won many fans in the world of road racing, triathlons, and running.
On the other hand, owner of Dissent Labs Josh Hall, who holds a degree in kinesiology, has stated in the past that he doesn't want Dissent Labs to only be known for its compression technology and that there are many other benefits to wearing his performance socks while riding.

Check out the Comparison
Compare 4 of the best performance socks from Swiftwick

Other benefits of performance socks:
---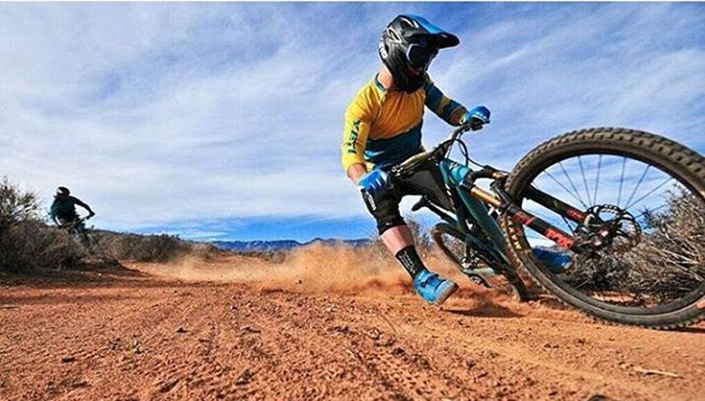 If they're good enough for 2015 EWS Champion Richie Rude, they're good enough for me
Performance socks require the use of premium fabrics, high needle count construction, and a second skin fit to work properly. All of these attributes bring benefits to the wearer. Hall found the rigorous demands placed on our feet while riding mountain bikes in British Columbia still far exceeded that of your average compression sock. Not just relying on compression technology, Dissent Labs takes a few extra steps in their design separating them from pretty much every other performance sock manufacturer. Dissent Labs offers 3 socks specifically for cycling, all of which have a higher cuff and extra padding than those offered by most other bike sock manufacturers.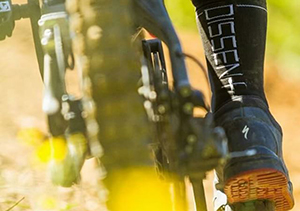 There's more to performance socks than compression
image: Dissent Labs
Hall found that ankle socks were too short to properly provide compression techniques, and that dirt and debris easily found its way into the socks, so Dissent only makes 6" and 8" cuff socks for cycling.
Dissent Labs socks use Nanoglide, a Teflon infused thread, in specific areas and combined with a second skin fit, allows the sock to slide in the shoe without twisting or shifting on the foot, even when soaking wet. The socks vary in their level of padding, with the thickest sock being roughly 3 times thicker than the thinnest sock. Padding is strategically placed to help protect the foot as well as increasing comfort in shoes, including while wearing ankle braces/supports.

Check out the Comparison
Compare 3 of the best performance socks from Dissent Labs

Should You Buy Performance Socks?
---
With the science behind the benefits of compression cycling socks a little unclear, it seems it isn't until you consider the other benefits of performance socks that you can justify spending more. The quality of construction and the second skin fit of most performance socks is as important, or more, than their compression technology. Helping keep feet from swelling, keeping blisters at bay, moisture wicking, comfort while wet, and protection are all positive attributes and should be considered when purchasing socks.
Performance socks should be a part of a rider's kit, and the nice thing about them is they make for the perfect gift. They may be expensive, yes, but they're still affordable for Father's or Mother's Day, birthdays, Christmas, and any other holiday that requires a $15-$30 gift. So, add them to your list. There are no excuses for riding in cotton socks, and if you're finding your basic poly-sock just doesn't last long enough, try spoiling yourself with a set of performance socks. Who knows, maybe you will end up riding that much faster.
You've spent a lot of money on your kit, don't let it rot away in a cloud of stink!
BikeRoar
gives you some tips on how you can keep your kit...
READ MORE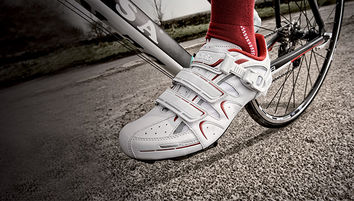 Your feet are a crucial part of your cycling experience and good shoes are essential to a good ride
BikeRoar
gives you 10 tips for choosing the right...
READ MORE