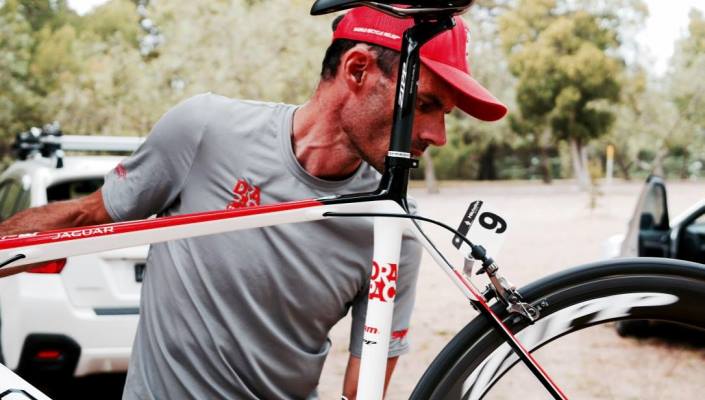 DRAPAC Cycling's Andrew Ward keeps the team's fleet of bicycles running smoothly
Many weekend cyclists dream about being involved in the professional side of the sport - traveling the world, rubbing shoulders with the superstars, and generally living large. But for some members of the WorldTour - some would say the hardest-working members - life at the top is not always so glamorous.
Team mechanics generally stay out of the limelight, but without them no team could survive. Often doubling up as drivers, cleaners, car-washers, massage therapists, and amateur sports psychologists, these overworked men and women are regarded as some of the most valuable members of their organizations.
DRAPAC Professional Racing's Andrew Ward is a good example - friendly and understated, it is his responsibility to keep every single SwiftCarbon Ultravox TI and every Swift Neurogen TT bike in the DRAPAC stable running perfectly.
BikeRoar: Tell us about your job as a pro wrench.
"It's a great job - an awesome place to work," Ward says enthusiastically. "But there's more effort and attention involved than people might realize. There's the obvious things: every bike has to be primed and ready to go on race-day mornings. Then at the end of each race or each stage all the bikes need to be inspected, safety-checked, lubed and cleaned. That's if nothing goes wrong all day. If there's a crash, there are going to be repairs or modifications or replacement parts needed. And of course if the crash is serious then the rider will need to grab a spare bike - and obviously it's part of my job to make sure all the spare bikes are in perfect working order, too. Even if there are no crashes and no real dramas, there are always going to be ongoing adjustments and swapping out wheels due to punctures."
BikeRoar: What does an average day look like for you?
"So my work day starts at about 6 AM. I prep the bikes and make adjustments until the race starts, then I'm in the car all day, either driving, swapping out wheels, or handing over food to riders in the feed zones. Then after it's all over I need to check the bikes and get them ready for the next day, so generally I'm not done until about 9pm."
BikeRoar: OK, that's a lot of work - but at least you can take it easy between tours and races, right?
"I wish!" laughs Ward. "When the team returns, all their bikes need to be unpacked, inspected, serviced, and then re-packed before being sent to the next race destination. And don't forget, when these guys aren't racing they're training, so all their training bikes need to be taken care of, too."
It sounds like the work is never-ending, and this impression is confirmed when Ward tells me he only had five days off for the entire racing season last year!
"It's not really so much a job as a lifestyle," he admits, "but it's definitely worth it."
BikeRoar: So what actually takes place in the workshop?
"Groupsets and shifting systems are so advanced now that there's not nearly as much you need to do with them. So mostly it's maintenance and cleaning, which go hand in hand anyway. If you keep chains, cogs, derailleurs, and cables clean they last much longer. We will generally get by with only two new chains per bike per year, and only one new groupset. When you take into account the power these guys are putting out, and the strain they put through their machines, that's pretty good."
BikeRoar: What are some tips you'd offer to those amateur riders who like to tinker with their own bikes?
"Firstly, keep everything clean. Wipe your chain clean then apply a little chain lube after each ride, and degrease your chain and groupset once a week. Look after your chain and everything else will generally be OK. Keep it clean, like I said, and replace it when it begins to stretch. You should replace your chain twice, maybe even three times, before you'll need to replace your rear cassette."
"Keep your frame clean - it looks better and it makes it easier to spot imperfections or tiny cracks if they appear. Make sure your bike is ready to ride at all times - that way you won't start to put things off or pretend you'll do them later. If you find you have a flat or a loose spoke when you get back from a ride, fix them straight away. Respect your bike and it will last much longer and save you serious money in the long run."
BikeRoar: Finally, what are the five tools or pieces of equipment you never travel without?
"My T-handled Park Tool ATD-1 - Adjustable Torque Driver. It's always handy, and small enough to stash in your pocket."
"My Whip-It Chain Whip from Abbey Tools. You can't get by without a chain whip, and this is one of the best."
"I always carry some Anti-Seize by LOCTITE - it's the best for loosening up nuts and screws that have tightened up over time, and it's particularly useful when you"re dealing with titanium parts."
"Pro riders tend to break a lot of stuff, so I always have some LOCTITE Super Glue handy, and I've always got a pair of vise grips with me, just in case I need to grab, hold, rip, or twist something... you never know!"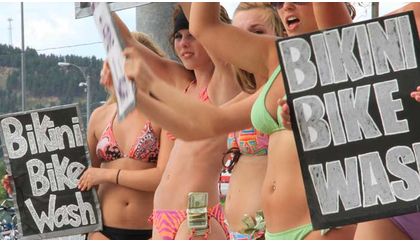 Have you ever been caught out in the rain halfway through a mountain bike trail ride? Chances are you had the ride of your life... But once the fun is over, it's important to look after your bike for next time...
READ MORE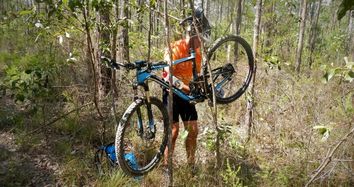 Mountain biking is all about escaping the daily grind and getting out there to have some fun. But sometimes things can go awry and you can be left with a multitool of absolutely no use, or alternatively a couple of clever ideas in your head to get you out of strife...
READ MORE